Set4Success Awards 2020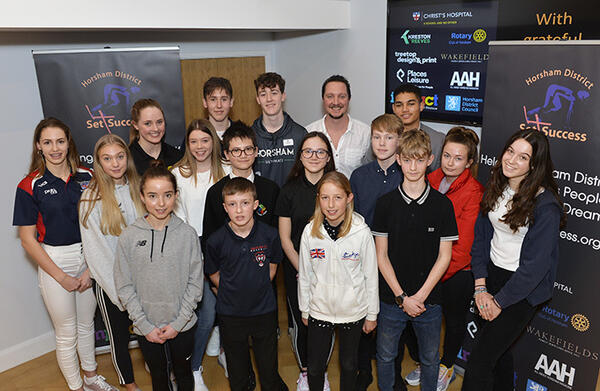 Published: 1st March 2020
Outstanding young sportsmen and women were recognised at the annual Set4Success awards, held at Christ's Hospital School on 31 January.
Twenty-four applicants representing sports ranging from football, netball and hockey to baseball, karate and motocross received a Set4Success award, which includes a financial contribution towards coaching and expenses, as well as free use of fitness facilities, courtesy of Places Leisure.
Set4Success is a charitable organisation, created by the Rotary Club of Horsham in 2010 and run in partnership with representatives of Horsham District Council, local schools, businesses and sports and leisure providers. To be eligible for an award, candidates must be aged 11 - 18, live or attend school in the district and be competing at a high level.
To date, S4S has supported more than 200 people, with previous winners including hockey player Lucy Wood (a Commonwealth Games silver medallist) and golfer Marco Penge, now playing on the PGA EuroPro Tour.
This year's recipients are Fynn Talley (football), Gavin Cherubini and Ace White (Muay Thai), Andrew Harrison (badminton), Esme King (motocross), Jodie Cherubini (Brazilian jiu jitsu), Madeline Giller (netball), Isabella Hayes (triathlon), Cecily Turner (water polo), Charlie Denton (karate), Emily Oliver (pentathlon), Alex Richer (cross country/athletics), Mame Sow (athletics), Leo Walker (shot put/discus), Anna Sayers and Millie Weeden (swimming), Siena Keijasers (hockey), Cameron Weir and Albert Maskell (frisbee), Ranjuo Tomblin and LeAnne Tomblin (synchronised swimming), Maddy Barnes (shooting) and Louis Dean (baseball).
Set4Success also presents an award for Outstanding Achievement, sponsored by Christ's Hospital School. This year's recipient is Fynn Talley, currently on a two-year apprenticeship at Brighton and Hove Albion FC. The goalkeeper has represented England at junior level. Fynn was away with his club, so his parents attended the on his behalf.
Hosting the ceremony, S4S Committee Member Mike Sutton paid tribute to the charity's founder, John Le Rossignol. John used his extensive local network to mobilise businesses, schools, clubs and Horsham District Council as he organised the first ceremony in 2011. That year, S4S gave out eight awards, but one year later, that number had risen to 19 thanks partly to the effect of the London Olympic Games.
Mr Sutton said: "John was a big man with a big heart. We would not be sitting here without him and the 140 previous award winners would not have been recognised without his vision. One week before John passed away, last year's Outstanding Achievement winner, Emily Orman, signed her first professional contract with Chelsea, which is John's team. I can't think of a more fitting way to represent his legacy to Set4Success."
Mr Sutton also praised the young recipients for their dedication and commitment: "Despite the many advancements and support available to young people today, life is faster, busier and if you want to reach the pinnacle of sport, it is far more competitive and intense than it once was. There are more distractions, greater expectations and increased pressure. Those of you receiving awards should not only be proud of your achievements, but conscious of the responsibility you have in being role models to your peers. In a world obsessed with instant gratification, you are the embodiment of resilience, creativity, aspiration and a growth mind-set."

INSPIRING TALK
Further motivation was provided by guest speaker and Set4Success patron Mike Goody. As a teenager, Mike was a talented swimmer, competing at a national level until he pursued a career in the Armed Forces. While serving in Afghanistan in 2008, Mike was struck by a roadside bomb and he ultimately lost a leg. He struggled to cope mentally, suffering from Post-Traumatic Stress Disorder (PTSD). However, his love of swimming helped him turn his life around. Mike swam across the English Channel and went on to win 16 medals at the Invictus Games. He said: "The RAF Regiment motto is 'Per Ardua', Latin for 'Through Adversity'. Little did I know when joining that this motto would define my life. Hopefully, none of you will ever have to deal with anything as extreme as I endured, but whatever you face, don't give up! Our greatest glory is not in never falling, but in rising when we fall."
Set4Success can only exist through the generosity of local businesses and sponsors, including Christ's Hospital, Horsham Rotary Club, Horsham District Council, Places Leisure, Wakefields Jewellers, AAH, Impact Specialist Finance, Kreston Reeves and Treetop Design. Also, in partnership with the Council's Sports Development team, Set4Success organises inter-business sporting challenges throughout the year, which are great fun and help boost staff morale. The 2020 programme includes table tennis, archery, five-a-side football and ultimate frisbee.

THE WINNERS
Emily Oliver (pentathlon) has represented Great Britain at biathlons combining swimming, shooting and running. She has also represented the south east at fencing and her aim is to improve her horse riding skills, to pursue her dream of competing in the Modern Pentathlon at the Olympics.
Steyning Grammar School pupil Anna Sayers (swimming) trains and competes with Atlantis in Horsham. Her most notable achievement to date is finishing 6th in the British Summer Championships in Glasgow, in the 50m breaststroke.
After breaking her hand and having it screwed back together, Siena Keijasers (hockey) recovered and retained her place in the England squad. Her greatest achievement to date is winning the Home Nations with England U16s.
Millie Weeden (swimming) is Club Captain at Atlantis and despite contracting glandular fever last year, the Millais pupil battled back to achieve success in the Senior category at the British Swimming Championships.
Leo Walker (shot put/discus) has consistently been at the top of the County rankings in throwing events in recent years. The highlight of his career to date is finishing 6th in the English Schools Championship.
Cameron Weir (Frisbee) took up frisbee while completing the Duke of Edinburgh Award and hasn't looked back, winning the Plate for Great Britain in the U17 European Championships.
Albert Maskell (Frisbee) Since attending his first frisbeesession in Horsham Park, Albert has gone on to represent GB at the European Championships.
Like his brother Jacob, a S4S winner in 2013, Louis Dean (baseball) has represented his country. Competing for Great Britain in The Netherlands, Louis was the winning pitcher on his U15 debut and travelled to Hungary for the European Championships.
Ranked 4th in the country at mixed doubles, Andrew Harrison (badminton) also competes in men's doubles and singles and won all three events at the Sussex Championships this year.
Despite a setback in 2018 when an accident put her out of action for four months, Esme King (motocross) came back with even more motivation, which she finds from being able to beat the boys. She was selected for Great Britain in the European Ladies Motocross Championships.
Despite the popularity of the sport, Madeline Giller is the first netball player to receive an S4S award. Her finest achievement to date is being selected for the Surrey Storm Academy.

Isabella Hayes (triathlon) is a two-time British biathlon champion and four-time silver medallist in triathlon at international level. Issy is ranked in the Top 10 of the Super Series and has even won gold at a Senior event in Paris.
Trained by David Pickthall, Charlie Denton (karate) has represented Great Britain at international competitions.
Gavin Cherubini (muay Thai) has been training at Crawley Martial Arts Academy under the tutelage of John Jarvis since he was eight. He has won several titles, including the UKMF Junior Championships.
Jodie Cherubini (jiu jitsu) has entered the British Open, English Open, National Championships, European Championships and the World Championships, winning gold at World and European level.
Ace White (Muay Thai) has competed for the Lumpini junior fight team for three years and has been a leading contender at the WTKA Championships.
Cecily Turner (water polo) has played for Crawley, Sussex and the south east. A prolific scorer, she was part of the England squad that won the U21s EU Nations tournament.
Mame Sow (athletics) started training 10 years ago while living in Italy. At the Italian Indoor Championships in Ancona, she finished 2nd, qualifying for the U18 European Championships.
Maddy Barnes Maddy was selected for the British Shooting Schools Pistol Championships and later joined the British Shooting Talent Pathway. In 2019, she won gold at the British Open Airgun Championships.
This year's recipient of the Outstanding Achievement Award is 17-year-old Fynn Talley, who plays for Brighton and Hove Albion FC. The goalkeeper has also represented England at U16 and U17 level.
Horsham siblings LeAnne and Ranjuo Tomblin only joined the Atlantis Flamingos – the synchronised or artistic swimming branch of the successful club – in 2017. Yet they have already enjoyed national success and are established as leading competitors in the Mixed Duets category
Alex Richer has enjoyed a fine season that saw her win the Sussex Cross-Country Championship and finish a respectable 15th in the UK Championships
l For more details, or to apply for a future Set4Success Award, visit www.set4success.org
For Set4Success Inter-Business challenges visit https://www.hdsd.org.uk/Inclusive-Activities/set4success-charity-inter-business-sports-competitions
WORDS: BEN MORRIS
PHOTOS: JON RIGBY