Southdowns Glider Club in Parham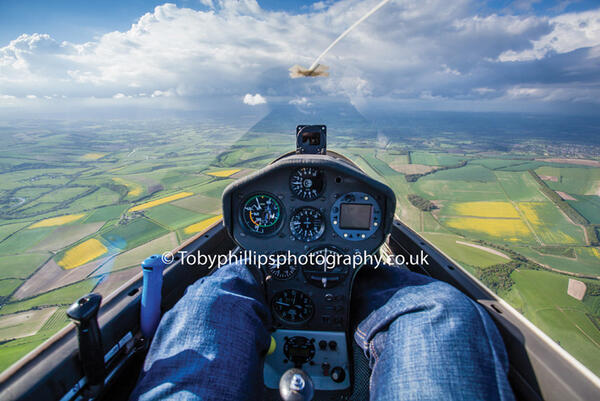 I recently dragged my family out for a walk along the South Downs near Chanctonbury Ring. At about the time my children started complaining that the wind was making theirs ears hurt, a glider soared elegantly overhead and with surprising speed disappeared into the distance.
It led me to wonder if the pilot was being a little careless, as he was drifting a long way from the nearby airfield of Southdown Gliding Club. That's because I had no idea as to the extraordinary distances gliders are capable of travelling.
On a quest to find out a little more, we headed down to the gliding club at Parham, just outside Storrington. The weather didn't look great. It had been raining for most of the day and I expected someone to call me to say that our first flight experience had been delayed. The call never came, and we arrived to find club members queuing up for a tow to head up and into the skies.
Dave Clews, a member of the club of over 30 years, said: "You can always tell a glider pilot as we are always looking up at the sky! You learn how to read the weather, and see where the air is going up and where it is coming down. When a cloud bulges at the top that shows the air is shooting up, so we are looking out for those upward thermal drafts as we circle around within them.
"A glider can gain height very quickly in a strong updraft, and when you are as high as you need to be, usually just before the top of the cloud, you direct the glider and fly out. In the winter, when there are more northerly winds, we can use the updrafts to soar along the South Downs. We use these hill lifts to skim along the top of the Downs at about 100mph, head on towards Petersfield and then make the return trip. "It's a beautiful view and a lot of people out walking will wave to us as we fly by.
"Quite often we look at what the birds are doing too. Buzzards are especially good at sensing where the lift is, so we copy them!"
Glider pilots are increasingly logging flights of more than 500 kilometres, sometimes staying in the air all day and heading off all over the country. A 90 kilometre stretch along the Downs Way is a common excursion, but
several years ago one member with a self-launching glider flew all the way to Sicily!
Rod Walker, an experienced instructor, said: "I recently flew from here to Cheltenham Racecourse, then on to Basingstoke, Gloucester, and then returned to Parham. I was in the air for seven hours and covered 500 kilometres.
"Long flights are common now as many modern gliders have a very small engine, normally about 40 horsepower. It's not big enough to power a launch but it can get you out of trouble. When you think you're not going to make it home, you can say 'It's too risky, the flight has finished.' It doesn't matter. You press the engine switch, it takes about 20 seconds to rise up and off you go. It just helps you when you are in trouble.
"When you land in a field, it takes a lot of time to retrieve it. It is good fun but when it happens you need several people to come out and help. People need convenience these days so the engines are important. It also means us pilots are more prepared to push ourselves a little more. Having an engine back there does allow you to take a risk and reach greater distances. One of our members flew from here to Snowdonia, but on the way back the weather wasn't good for gliding. He was able to use his engine to make it home.
"For experienced flyers gliding is all about these great trips. We take our own gliders up and may not come back for several hours, but it all depends on the weather. If it's not the right conditions, we'll be taking the wife out shopping or something. My wife always knows it's going to be rotten weather when I decide to take her out!"
There are now gliders being built with engines powerful enough to take off, and that attracts a mixed response from gliding purists. But I would be experiencing a good old-fashioned tow launch for my first gliding experience.
I was sat in the front of one of the club's three two-seater gliders, which have dual controls and are used for training flights. Having been given a safety briefing I was given instructions on how to use my parachute.
Dave, who would be my flight instructor, said: "When gliders are in thermals you will sometimes see three or four gliders flying together in circles. When you are in close proximity there is always that inherent risk of a collision."
However, in all of the time he has been a member at Southdown, nobody has needed to use the parachute and only a handful of minor injuries have been recorded, usually as a result of poorly judged landings.
Safely strapped in, the tow plane pilot (a former RAF bomber pilot) straightened up and headed across the field, as another club member ran alongside the glider holding the wingtip to ensure it didn't hit the ground. As we bounded across the grass I could see the winch launch that the club uses for practising landings, and a moment later we were airborne, heading for the ominously coloured clouds above.
My own journey lasted a little over 15 minutes, as that allowed us time to soar above the Downs, RSPB Pulborough Brooks and briefly through a light shower that, at such a height, sounded as though golf balls were pounding against the glider.
Having been released from the tow plane, Dave demonstrated how to pitch the nose up and down to go slower and faster, before briefly allowing me the chance to fly the glider alone and attempt banking from left to right.
We found an updraft and circled to a height of 3,000 feet before returning back to the airfield so Toby could have his turn, during which he would demonstrate far more natural flair for flying than I did!
Then it was back to the clubhouse…
There are about 80 gliding clubs in the country, but Southdown is the second oldest, having been founded in 1930, and the largest voluntary-run club. For many years the club was based in Firle, but in 1974 it split into two.
One half became East Sussex Gliding Club which is now based near Ringmer, whilst Southdown moved to Parham. The 80 acre airfield was owned by the Parham Estate, but thanks to the generosity of individual members, the club was able to purchase the land in 2009.
Now with some 200 members with about 45 privately owned gliders on the site, the club operates throughout the year, with club flying on Wednesdays and over the weekend.
They hope to be able to develop their facilities in the near future with funds left to them by Joan Kloke MBE. Joan, a former member, loved gliding and left a generous donation to the club in her will. The membership continues to grow because of the club's facilities and training equipment, whilst gliding remains popular because of the cheap cost of flying compared to powered flights.
Dave said: "It's a very well-managed club here. There are not many gliding clubs that own their own airfield and having achieved that we can now start developing. We built the new hanger in 2012 but that is already at capacity, and the clubhouse is looking old as it's been here for 35 years.
"Because we are a voluntary-run club, we all work together to help each other off the ground. That teamwork tends to breed a community of friends so when people come along for a first flight, they tend to stay for a long time if they have enjoyed the flight. Typically, someone will come along for a trial lesson, and that costs only £95. If they enjoy it, they may then join and pay for annual membership (£298) then small amounts for launches and time in the air.
"We have 30 fully-qualified instructors here and they actually give their time free of charge so you do not pay for tuition. Gradually, you learn about the various aspects, including taking off, navigation, meteorology and aviation law.You're given a training pack, a log book and syllabus and you go through it exercise by exercise. Gliding is such a green sport so the costs are so much lower. For your membership and training costs you will probably need about £1500.
"If you're budgeting for a private pilot's licence you are looking at three or four times that amount. Fuel is so expensive, so we are finding people who used to fly powered planes are coming over to gliding. In my opinion, gliding is the purist form of flying. You develop your airmanship very well in gliding so it gives you a good grounding for other forms of flight."
This makes gliding a particularly attractive proposition for younger people wishing to pursue a career in the RAF or to one day become a pilot. Therefore, the club runs a Saturday evening session for junior flyers, with cadet
members (under 17s) benefitting from a 42% discount on costs. Interestingly, you can fly a glider before you can drive a car, with children as young as 14 allowed to take a solo flight in the UK.
Dave said: "The youngest member we've had started when he was 12. One lad with a natural talent for it went solo when he was 16 and he eventually attained his private pilot licence, his airline pilot licence, then his air display licence. He is now a pilot for British Airways and has flown planes for a research project in the Antarctic!"
Other members have gone on to greater things too. A female member went from being an air hostess for Virgin to becoming a commercial airline pilot.
As well as being a good outlet for young people, gliding may also appeal to model plane enthusiasts. The renowned model maker Chris Foss, who makes glider models sold all over the world, is a member of Southdown Gliding Club and he believes it's an easy transition to make for model fans.
Chris, who owns a powered aircraft as well as a huge two-man glider with an 80ft wingspan, said: "It's much easier to go from flying models to flying full size gliders than it is to do it the other way around. Pilots are so used to looking where they are going, whereas with model flying you have to think back to front because of the controls.
"It's an orientation process. In a full size plane you can feel the controls and you know what is happening, and you become used to that process. It's great fun though. Anything to do with flying is relatively expensive, so you put it off, but when you finally go up you wish you had done it earlier."
For more details contact Southdown Gliding Club on 01903 742137, email info@southdowngliding.co.uk or visit www.southdowngliding.co.uk