North Sussex Soccer Academy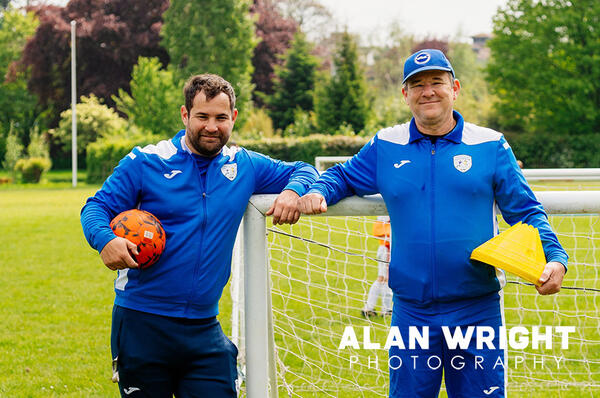 Published on 1st June 2023
On Saturday mornings, youngsters flock to Horsham Park to enjoy football sessions run by North Sussex Soccer Academy.
The Academy welcomes children of all abilities from the age of four, with some continuing until they are 11-years-old. The sessions are held every Saturday from 10 – 11.30am in Horsham Park (near to The Rec) with children split by age across four pitches. Sometimes, bad weather means a session is cancelled, but the organisers do their best to provide football throughout the year, with the emphasis firmly on fun.
Dan Evershed, a coach at NSSA, said: 'When you are coaching four-year-olds, it can be challenging to organise drills, as they just want to run around and chase the ball! For most of the children, our sessions are their first experience of football, so the most important thing is to make sure they have fun. We do teach them how to pass and dribble, but we also play games that keep them moving and smiling.'
'By the time they are six or seven, most children have an understanding of the game and some may be playing in local teams too. But others are still coming along for the first time at that age and its important to give them the opportunity to develop their skills and enjoy the game, without them feeling out of place as they might do in a team, where there's a degree of competitiveness.'
'At eight or nine, most are looking to join local teams, such as Horsham Sparrows and Roffey Robins. We help parents find a club for their child if they want to continue playing, as we have developed contacts over the years. In some instances, new teams have been formed from the players here, within a certain age group. We often see the nine and ten-year-olds come back in the summer, so that they can keep playing once their regular football season is over.'
FOUNDING FATHER
The North Sussex Soccer Academy was founded in 1994 by Ted Streeter. Ted is well-known in sporting circles, having devoted most of his life to playing and coaching in Sussex, including a stint heading Youth Development at Brighton & Hove Albion FC. When he retired two years ago, the Academy was taken over by his friend and long-serving coach Trevor Evershed, who continues to run it with wife his Louise and son Dan.
Trevor said: 'I brought Dan along for the first time in 1995 and after a few weeks, offered to help Ted. Dan was in tears on his first visit here as he wasn't sure if he'd like it, yet we're both still here 28 years later. There's always been a community feel to the sessions, as Ted had the right ethos and a good team of people around him, including David Barnard, who we sadly lost a couple of years ago.'
'When Ted decided to hang up his boots, we wanted to continue running the Academy in the same vein. One of the best things about it is that the sessions are pay-as-you-go, so parents can bring their child down to see if they enjoy it. There's no long-term commitment, it's affordable, and it's convenient for families that way. We're open to everyone, so we see new faces here every week, which makes it very easy for the children to fit in quickly.'
'Ted always said football should be open to all, and too much pressure is put on youngsters to win at a young age. You can hear it on the touchline at pitches across the country, but not here. Here, children can have fun.'
PROFESSIONAL PLAYERS
Over the course of nearly three decades, the Saturday sessions have provided an introduction to football for thousands of local children. Some are excited and raring to get stuck in, while others are nervous and need gentle encouragement as they take to the field for the first time. Some don't own a pair of football boots, but the Academy does have a small selection, with parents often donating boots that no longer fit their children.
There was a time when it wasn't unusual for a hundred children to turn up on a Saturday. An abundance of other sports available – and of course video games – means the Academy doesn't draw quite so many these days, but it still has about 50 regulars.
Inevitably, some have gone on to become very good footballers. This includes Harry Lee, a defender signed by Brighton and Hove Albion, who has also represented England at U18 level. Others who have played at a high level include Will Collar (Stockport County) and James Tilley (Crawley Town), while others have played for Horsham FC.
Louise, who collects the £5 fee for the session and handles administrative duties, said: 'It's wonderful when young players go on to play at a high level, as that is what most of the boys dream about. But our aim is to encourage children to enjoy football and continue playing locally. We will often be in town and someone will say 'hello' and have a chat about football. With Ted, it was more a passion than a business, and we've maintained that ethos. As well as Saturday mornings, we organise courses during school holidays, with various games and end-of-week awards, and there's always a pleasant family atmosphere.'
GIRLS WELCOME
Recent years have seen a rapid growth in the popularity of the women's game, with clubs forming across the country. Thea Ryder is studying sports coaching at university and has played for local teams including Horsham Sparrows and Roffey. For the past two years, she has been volunteering at the Academy to improve her coaching skills and gain experience of working with young people. But there is one thing she would like to see, and that's more girls!
Thea said: 'There has been progress, but football is still a male dominated sport and sadly we only see a handful of girls on a Saturday morning. In my opinion, more needs to be done to promote football at schools, to engage girls at a younger age. Currently, most of the focus is on hockey and netball, which are great sports too, but I think that for continued growth in the women's game, we need to see more development at a grass roots level.'
Another of the Academy's volunteer coaches, Doug Cave, says that the Saturday morning sessions are a good place for youngsters to learn, as there's no pressure. He said: 'Even at the age of eight or nine, some football clubs and some parents get carried away by the excitement, and there's too much emphasis on winning. It is difficult for new players to go into that environment. We've been around long enough to know that the most important thing is to enjoy the game and our hope is that some of these kids will carry on playing youth football ranks.'
'The exceptional ones may go on to play for Horsham FC, but those players might appear once every few years. However, I spent many years playing for local clubs like Slinfold and the game has provided me with great memories. It's not all about reaching the top.'
Words: Ben Morris / Photos: Alan Wright
For more details, please call 07557 060654 or visit the North Sussex Soccer Academy Facebook page. @NSSAHorsham