Horsham Junior Baseball Club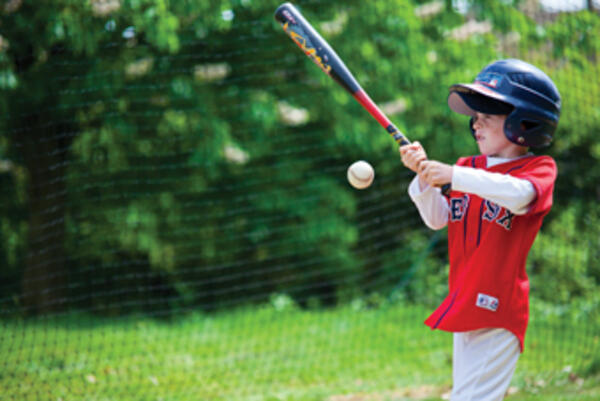 Mocking the game of baseball seems to be something that comes easily to many English people.Perhaps it's the 'high fives', perhaps it's because we didn't develop the game, or perhaps it's because we like our innings to last five days - at the end of which we'll call it a draw.
But that's not the story in Horsham; it's not such a great secret these days that we have a baseball club that is probably the biggest and best in the country.
Incredibly, Horsham Junior Baseball Club has, in just six years, swelled to the extent that it now has over 300 members, several representatives in the Great Britain squad and in Jordan Edmonds perhaps the best player in the country.
What's even more impressive is that the club has been built on the foundations of fair play and fun for all the family. There's a no tolerance attitude to bullying, and players are taught how to both win and lose with dignity. Without the element of competiveness seen in other sports, baseball has attracted many youngsters that simply would not be taking part in any sort of physical exercise. You don't have to be slim to hit a home run or have a great pitch.
On May 7th, the club held its annual open day, which coincides with the first games of the season at the club's base at Ingfield Manor School in Five Oaks near Billingshurst. The day gave head coach and founder Robert Burnie (below) the chance to look back at the club's roots, and the circumstances which led to the friendly, anti-bullying stance of the club.
Rob said: "Back in May 2004, my daughter was being bullied in school. She just didn't fit in. We went to Southwater Leisure Centre during one of their Friday activity evenings to see if she could hit the baseball against the people that were bullying her. So she did, and the people that were bullying her actually became her friends."
Rob then started running baseball tasters and Paul Taylor, manager of Horsham Leisure Link services for Horsham District Council, suggested running more baseball events. Rob continued: "We started going to schools, and then during one of the end of term breaks we ran three baseball taster sessions. At the first one we had 20 kids, the second one we had 50 kids and on the third one we had 100 kids."
Soon enough, a club was formed, with 69 of the 100 youngsters attending the third Leisure Link event becoming members. Then year by year the membership spiralled, to 120, then 200, and by the fourth year HJBC had 300 members. Robert said: "So many kids have been involved in the club. When I go into Horsham Town Centre, there are kids that are 15, 16 and 17 years-old coming up to me and telling me their memories of playing baseball, which is just brilliant. We've been pretty fortunate as we are the largest club in the UK so the governing body BSUK (Baseball Softball UK) and the BBF (British Baseball Federation) are heavily involved with us and don't want to see anything bad happen to the club.
"The way we're doing it is positive for the kids - we are as open to girls as we are boys, and there's no competition or drive from the coaches. You don't have to be perfect. The game is actually a game that is built on failure. If I hit the ball three times out of ten then I have a batting average of 300, and I would be in the Baseball Hall of Fame making $20million a year. I've failed seven times, succeeded three times, and that's amazing, so it's a great sport to be involved with. You're going to win and you're going to lose."
The club takes on players from the age of four, with teams playing in the colours of top baseball teams in America such as the Athletics, Red Sox, Mets and the Yankees. The teams are carefully selected to ensure a good mix of boys and girls and a fair distribution of the more talented players so there are never any complete whitewashes. There's great encouragement amongst the players, which stems from the coaching and spreads to watching family and friends.
Rob said: "We create this environment where we introduce kids to the bat, play music in between the innings and make it good fun. I'm old school - my philosophy is if the kids are having fun they are going to want to learn more themselves. They're going to drive themselves to be better players. If I'm yelling at a youngster, they will shrivel up, but if you get encouragement you bring your level of play up.
"That's why we've set such a benchmark in the Team GB programme - those kids have all been raised on that philosophy. It's worked as we have players like Jordan Edmonds, who has been invited for major league trials in Europe, which is phenomenal. He had never played baseball before he started here six years ago and now he is the best baseball player in the country, hands down."
It would seem that the next stage in the life of Horsham Junior Baseball Club is attracting very young players. With the likes of the North Sussex Football Academy in Horsham Park on Saturday mornings and Horsham Rugby Club also developing players from a young age, there's no shortage of options for parents and
children. But Robert feels that the future looks good for the club.
He said: "When we started this up, in my head I had a five year plan. The goal was to have two or three hundred kids, with lots of different leagues so children of all ages could participate, and we have achieved that.
"Maybe the success is down to the environment here - basically we took the system that they have in America and introduced it here. There's a huge family element here. Everyone from the kids to the grandparents have a great time."
For more inforation on the club visit https://horshambaseball.co.uk/