Tom Haynes: The Next Flintoff?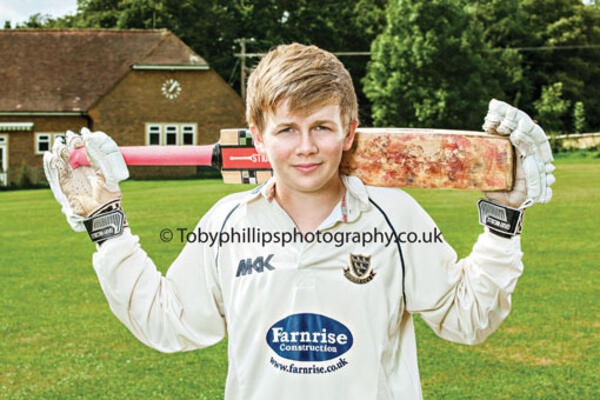 Anybody that doubts if our Olympic success can inspire a new generation to take up sport could do worse than look at Tom Haynes. As a seven-year-old, Tom watched England famously win the 2005 Ashes series against Australia and dreamed of becoming the next Andrew Flintoff.
Now fourteen, Tom is developing his game in the Sussex County youth team, and this season has signed for East Grinstead men's team.
Having played for Barns Green youth teams previously,last season he was selected for the men's team for the first time. He hit three centuries for the 2nd XI before being promoted to the 1st XI in the third division of the West Sussex Invitational League.
Tanbridge School pupil Tom said: "I had always watched cricket on television, and after the Ashes series in 2005 my interest in cricket grew. I started playing properly when we moved to Barns Green when I was seven or eight. It's a real cricket village – it's about all you can do here!My dad played when he was younger, and then stopped but he started playing again when we came here. He got involved in the coaching side at Barns Green and I played alongside him in the 2nd XI last season."
Tom also plays for the Sussex County team. He was only nine when he was selected to play in the Sussex Under-10s team and has continued to progress. He said: "The Sussex teams carry on to Under-17 level and at that point they pick the best players to go into the academy. Those players join the second team at Sussex and if you are good enough you may get offered a first team contract.
"I'm now primarily a batsman. I was a pace bowler but couldn't do that anymore as I had Osgood–Schlatter disease, which is related to growth in teenagers. It was quite bad for a couple of seasons and I've had problems with my knees, but now I bowl spin so it doesn't affect me as much.
"As a batsman I am averaging 50 runs for Sussex Under-14's this year and my top score for East Grinstead 2nd XI is 98. I also play for Barns Green Under-14s and we have a very good side. We won the Sussex Cup in the Under-13s last year."
Tom admits he was nervous when he made the jump up to men's cricket, but it couldn't have gone any better for him. As a club, Barns Green encourages its best young players to gain experience in the senior squads, and Tom settled in quickly, hitting an unbeaten 50 on his debut for the 2nd XI. But despite a close association with his
village team, Tom decided to make the step up to East Grinstead this season after discussing the idea with his PE teacher Kristian Hunt, who play for the Premier League team.
Tom, a recent recipient of a Horsham District Set 4 Success Award, hopes he can continue to develop at East Grinstead and the Sussex youth team and eventually reach a county standard. He said: "I have a couple of big years ahead of me. This year I hope to get into the Sussex Emerging Players Programme as once you're in that you get separate coaching and you get an automatic place in next year's County squad.
"If I keep playing well I hope to get into the Academy and hopefully get into the Sussex County team one day."