Harry Mailer and his Le Mans Dream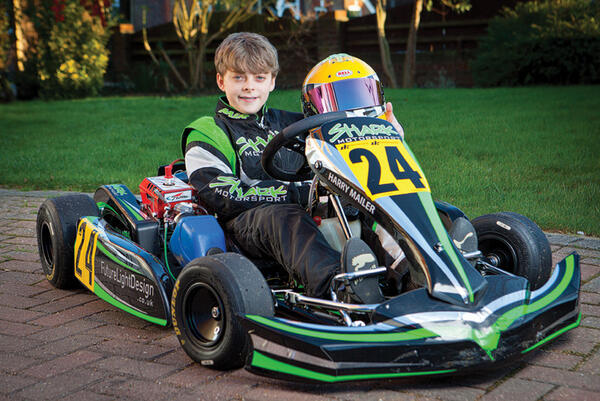 When Harry Mailer received a go-kart from his parents on his eighth birthday, the first thing he said was "brilliant - how long do I get to keep it for?' Four years on and the numerous trophies in Harry's bedroom prove that the gift wasn't a waste of money. Go-karts may be a part of Harry's life for some time yet.
The Partridge Green schoolboy has progressed well in the cadet classes and in 2011 bagged his first championship, winning three races in the Comet Cadet class at Camberley Kart Club. He also secured third place in the Comer Cadet championship at Forest Edge Kart Club.
Wearing a yellow helmet, you would be forgiven for thinking that Harry is aiming to emulate his two heroes – Hamilton and Senna - by becoming Formula One world champion. But Harry has a different aim. He said: "My ambition is to drive at the Le Mans 24 hour race. I have been about five times already and it's incredible."
Since the dream began on his eighth birthday, it's been an exciting four years for Harry and his father Nick, who used to race a Volkswagen Beetle in a club championship and helps prepare Harry's go-kart before races. Harry became accustomed to driving a kart at various tracks, developing a skill for driving in the wet, before deciding to enter a championship at Camberley.
He said: "We were running in an amateur group and were very fast, so we moved into the experienced class and it went well so we started racing at Camberley. In my first year at Camberley I came third and this year I was first.
"The races are normally 15 lap sprint races and there are a lot of drivers in the field, usually around 35. Last season we started driving at Forest Edge too and we finished third in the championship. I like driving in the wet as it's a lot more exciting. But you have to be sensible and just pick up some points for the championship."
Harry has been racing for Shark Motorsport, taking on rival outfits such as BRM and Zip. But now Harry must decide his next step. Options include moving into Super 1, a series linked to the Association of British Kart Clubs (ABKC), the Easykart Junior series, which again is held at tracks across the country, or perhaps the MiniMax championship run by Formula Kart Stars, which is supported by Formula One supremo Bernie Ecclestone.
Dad Nick said: "Obviously money is a major factor. We met (former Renault F1 team boss) Flavio Briatore and he asked me 'are you rich?' and I said 'no!'. He said 'then give up now!' We do have sponsorship by Future Light Design but we are happy to talk to anyone who could help Harry."