Horsham Canoe Club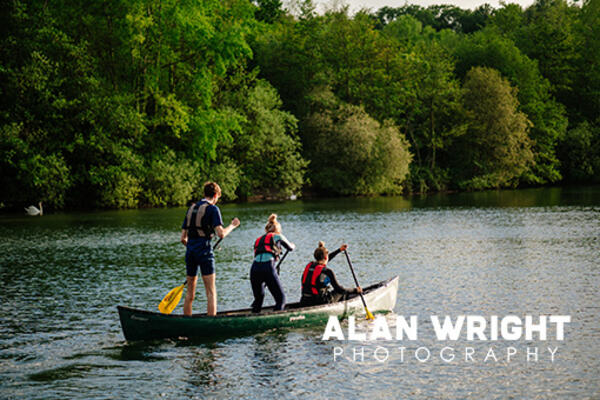 Published: 1st July 2020
There's been an increase in the popularity of water-based sports during the pandemic, with kayaks and paddleboards a common sight on local rivers.
This offers some comfort to businesses such as The Kayak Coach, based on the banks of the River Adur at Ashurst, and Southwater Watersports Centre, which runs a range of activities at the Country Park.
Another group using the Country Park is Horsham Canoe Club, which is also attracting new members. The club meets every Thursday evening, offering novices the chance to learn how to kayak and canoe safely, while also catering for those with more experience.
Club Chairman Mark Davis says, "We have something for everybody. I have made many friends at the club and after years of kayaking, we travel all over the UK and even beyond to visit white-water rivers, as that's our passion. But we take great satisfaction from introducing new people to kayaking too. My teenage daughter enjoys it and brings along her friends from college. It's far better for them to be out enjoying themselves on a beautiful lake, than being sat at home in front of a phone screen."


FAMILY FRIENDLY
The club was established in the 1990s, initially in association with the Youth Wing at Forest School. Chris Davis, who remains Club President, organised water sport trips for local Scouts (including his son, Mark) and these led to the formation of Forest Canoe Club. Thanks partly to funding from the Council, the club purchased boats as well as safety equipment and steadily grew, boasting over 90 members at its peak. Several of the Scouts became instructors and eventually sought more adrenaline-fuelled adventures on fast-flowing rivers and courses. But that had its downsides...
"The club went through a period where most members were in their 30s or 40s and their ability was very high," says Mark. "The club perhaps became a little elitist, in terms of the rivers we ran. We were going to white-water locations which are too dangerous for children and beginners. Something had to change for us to be more appealing to newcomers, as membership numbers were going down. So, we made the conscious decision to increase our coaching provision and create a family environment, to encourage more young people out on to the water."
SPLASHING AROUND
Sports Council funding allowed several club coaches to attend professional British Canoeing courses, helping to put the focus back on young people.And while the more experienced members still meet for adventurous trips away, regular club sessions are mainly about developing skills, with members working towards formal British Canoeing qualifications, including Paddlepower and 2 Star.
The club has many of its own boats in a secure lock-up by the water, available to newcomers. These range from Dynamos for children as young as eight, to bigger kayaks such as the GT and Super Sonic. Buoyancy aids are compulsory and the club has a wide selection in all sizes, although most people buy their own once they've caught the bug!
"Southwater Country Park is the perfect spot to learn," says Mark. "The lake isn't so shallow that you can't turn yourself over and it has good visibility too. There's parking, a café and changing rooms, and we can store boats there too. For beginners, it's just a matter of coming along with a towel, wetsuit (or clothes you don't mind getting wet) and giving it a go."
"We constantly assess our members to establish where their skills place them within the Paddlepower scheme and develop targets for them over the summer. There's a focus on a different discipline each week, but there's time for fun and games as well, as some just can't wait to get wet! It's really great fun and sometimes we don't get out of the water until 9.30pm, as we're having such a good time.'

AFFORDABLE FUN
The club meets at the Country Park every week from May until September, and organises river excursions every other weekend. Some are local (the River Arun is a popular destination) while other trips may be to Dartmoor National Park or River Wey.
From November, when the lake is cold and the evenings dark, sessions are held every other Sunday in the swimming pool at Cottesmore Hotel, Golf & Country Club. Mark says, "Cottesmore is a great environment, as not only does it give us continuity as a club; it also allows us to develop skills. Children can learn to "roll" more easily in a pool and once they gain confidence, can bring their skills to the lake in the warmer months."
"Some people assume kayaking is expensive, but our sessions are an affordable way for beginners to learn. Our Junior and Student membership is only £26 for the year, as we want to make this as family-friendly as possible. After a while, people tend to buy their own boat, which allows them to explore the waterways in their own time too, and also to maintain an interest into adulthood. That's one of the great things about the club ­- it often leads to a life-long passion."
Further information:
Horsham Canoe Club meets at Southwater Country Park, Cripplegate Lane, Southwater, RH13 9UN on Thursdays, at 6.30 – 8pm. www.horshamcanoeclub.co.uk

WORDS: BEN MORRIS
PHOTOS: ALAN WRIGHT