White Collar Workouts at Fit to Box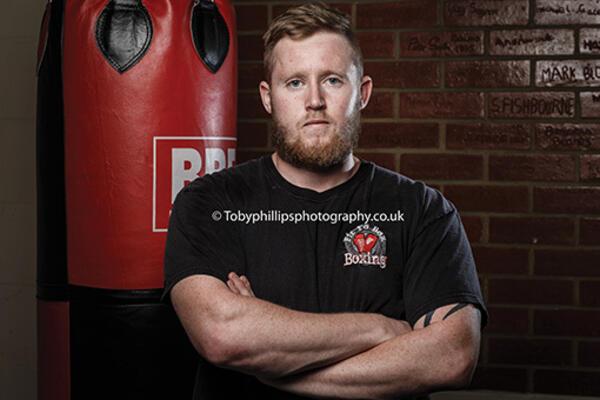 Published 4th November 2016
You may not have come across the term white-collar boxing before, as it's a modern phenomenon in the world of sport.
The inaugural 'white-collar' boxing event only took place back in 2000, when bankers belonging to Gleason's Gym in New York flew over to fight in England. The event attracted a great deal of media attention, who drew comparisons to the American novel and film, Fight Club, in which men with 'white-collar' office-based jobs fight for recreation.
Whilst Fight Club may have been a key reason for the early success of the sport, it doesn't accurately portray our local white-collar boxing club, Fit to Box.
A CHILLED OUT ATMOSPHERE
Fit to Box was founded by Kurt Richardson a little over a year ago. After a slow start, the club has found its feet at Southwater Leisure Centre.
Whilst it attracts office based workers - including photographer Toby Phillips, who takes the photos for AAH – Fit to Box welcomes people of all ages who are keen to improve their fitness and possibly enter amateur boxing competitions.
Kurt said: "Our aim as a club is to get people fit and prepare them for amateur bouts. White-collar boxing clubs differ from ABA (Amateur Boxing Association) clubs in that our boxers can earn money. Some of our members are looking to enter fights in the Queensbury Boxing League, which attracts fighters from around the country.
"Others are here because they simply want to lose some weight. People don't have to enter any bouts at all - it's entirely up to the individual. There's no pressure at Fit to Box; I'm always going to be here pushing people to do their best but at the end of the day it is down to the individual to work as hard as they like. There really is a chilled-out atmosphere."
DEMORALISING EARLY DAYS
Kurt formed Fit to Box having spent four years in the Army, where he boxed regularly. Having left the Armed Forces and finding little work in motorcycle engineering, which he studied for, Kurt started a club to meet growing interest in different boxing styles.
He started off in a scout hut in Rudgwick, but it was far from a dream beginning! Kurt said: "It was really tough as I would turn up sometimes and nobody would be there. I would sit on my own for an hour waiting until the next class started.
"It was demoralising as I had such passion for it but it was costing me money. For a while, I considered if it was worth carrying on, but I'm glad that I did. After a couple of months, I moved the classes to Bodywise Gym & Studios in Warnham and gradually people started coming along. For several months now we've been in Southwater, where classes are busy and bustling.
"Everybody here is working hard as they have individual goals and they're feeding off each other's energy. "So the club is in a good place."
RESPONDING TO GETTING HIT
The format of the sessions vary, but usually they involve individual physical exercise and punch bag workouts, as well as open sparring with a partner. Already, several of the club's members have entered the ring.
Kurt said: "When it comes to sparring with another boxer, some new members like to try it straight-away and some like to slowly build up to it over a couple of months. For me, the best way is to spar as soon as possible, as it's the quickest way to learn.
"You've got to have that passion to want to fight to be here, otherwise you are in the wrong game. Ultimately, the art of boxing is to hit people without being hit yourself. So the sooner you start sparring, the better. Some people come here as they like the idea of boxing but when they first get hit, they don't like it. That's understandable.
"Some wake up the next day and think 'I'd like to give that another try' as it's exciting and intense. Others, we don't see them again! You never know how people will respond to being hit, although it's not that bad and you get used to it very quickly."
WHITE-COLLAR BOXING EVENTS
Whilst several fighters have competed in the ring already, Kurt hopes that in the future Fit to Box will be in a position to host its own bouts.
Camberley Boxing Club regularly hosts a night of boxing, whilst Ultimate Fitness Boxing in Leatherhead also hosts events on occasion.
Kurt said: "We have a few members who have had their first bouts, including Carl Butler and Ross 'Rhino' Lewis. A couple more are preparing for their first fight soon. In white-collar boxing, there are boxing leagues as well as more established teams that host their own events.
"Eventually I hope that we can do that as Fit to Box. At the moment we are still growing. The last year has been a massive learning curve but I've learnt a lot and the club is getting stronger and stronger."
MIXED CLASSES BENEFIT EVERYONE
Fit to Box meets on Monday, Wednesday and Friday nights. Classes are open with men, women and children joining in together. As a result, there is a warm, social atmosphere, which has led to the group enjoying nights out together. Members recently enjoyed a trip out to Tulley's Farm's Shocktober experience.
"We have a couple of female boxers and juniors too," says Kurt. "They prefer mixed sessions as there's a better atmosphere, yet they can still progress at their own pace. Boxing is hard work and it's not for everyone. But if you want to give it a try, we're always open to new members."
For details call Kurt on 07584 327761, email richardson91@hotmail.co.uk or visit
https://fit-to-box-sussex.co.uk/boxers/