Team Mentality at Roffey Karate Club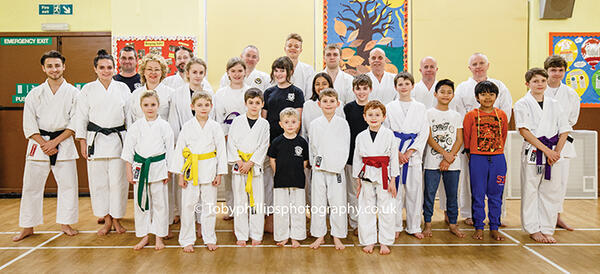 Published on 3rd January 2017
Partly inspired by the martial arts films of Bruce Lee, Phil Smith started attending karate classes to keep fit and active after hanging up his football boots.
He joined a club along with two of his children, who both eventually dropped out after reaching a good standard.Now as a 66-year-old, 4th Dan black belt sensei at Roffey Karate Club, Phil believes his ownexperience can help others.
"Karate is usually something that people come here wanting to do, but when you reach a certain age, you're not sure how you're going to fit in and you're conscious of your skill and fitness limitations."I started as an absolute beginner, which I now see as a bonus, as when an adult comes along for the first time, I can put myself in their place as I've been there."
The Power of Word of Mouth
After gaining his black belt, Phil took over a karate class in Capel. But it was only when he teamed up with fellow instructor Gregg Sandfor and moved classes to the Roffey Institute Hall that the club gained momentum. Roffey Karate Club classes are now held on Tuesdays, Thursdays and Saturdays, for both juniors and adults.
Phil said: "My youngest daughter, Alicia, was attending Northolmes Junior School at the time and she started coming along. Then some of her friends joined as their parents knew me, so gradually we became a family-centred club. Then siblings joined and often parents came along too, so we've grown mainly through word-of-mouth."
Parents Training With Children

For a time, parents and children were placed in separate classes. Several voiced a preference for training together, as it can be more fun and more convenient for everyone.Since then, the Saturday session, in particular, has blossomed into a class featuring several dads and their children.
Hannah Dodge, 7, said: "When I started, I was in the junior class and my dad wasn't home from work in time to watch me. Then I joined the later class so I could train with him. "I like training with grown-ups because in the younger class you play more games and you don't practice karate as much.
"I like karate because it's fun, energetic and it is good for self defence. I've never had to use it in real life, but if I ever had to I would know what to do. I am a green belt now but when I'm older with a black belt, I would like to help run classes too."

Traditional Style of Wado Ryu

Roffey Karate Club teaches Wado Ryu, a traditional Japanese style incorporating evasive and sweeping defence movements.
Phil said: "You see karate in most action films, which can give it a bit of a bad name, as the whole essence of karate is that you learn it with the view that you'll never have to use it. "We don't train with pebbles or punch blocks of wood for days on end. Wado Ryu is based on speed and technique, as opposed to power and strength, so the smaller person has a chance. As I've studied Tai Chi for 25 years, I have introduced different elements to classes."

Parents See Rise in Confidence
Occasionally, members train with traditional martial arts weapons, including nunchaku and the Tai Chi sabre. Rather than using real weapons, instructors use wooden or metal training swords to teach, with the young members particularly keen to learn.
Phil said: "You see how much confidence some of the younger ones gain through karate. They give off an aura that shows they are happy with who they are and that commands a degree of respect. "I was speaking to a parent recently who said that her daughter has blossomed since she started karate lessons. That level of transformation doesn't happen every time, but karate can do wonders for a person's self-esteem."

Inclusive Club Suits Everybody
Roffey Karate Club tends to avoid the competitive side of the sport. Phil said: "I do have people ask about competitions and tournaments and I pass them on details, but in my view the competition side can sometimes be a money-spinning objective.
"My students get what they want from the club. If that changes, I will look at how we do things."In a competitive environment, people can end up feeling less than others, but that's not the case at Roffey. People do the best that they can and set their own goals.
"We've certainly made the club more inclusive and people who are concerned about their fitness or flexibility should not worry, as that will come. Bodies change with age and your ability to kick higher and stretch further declines; but you maintain the ability to complete moves with the right technique."

Steady Progress Through Grading
The club may not be involved in much competition, but members are given ample opportunity to improve their grading.There are three grading events a year, as people progress from white belt and then through to red, yellow, orange, green, blue, purple, brown and black belt.
Phil said: "I don't want to push people on too fast because they often reach the point where their karate isn't good enough to achieve a high grading. When that happens, people start to feel inadequate and lose interest in karate. If you maintain a steady rate, you will find that by the time they are old enough to start thinking about brown and black belts, they actually have the character to be successful."

Karate Brings a Little Respect
There is a strong group of teenagers at Roffey Karate Club, with several having joined at a young age, progressing through the grades to a black belt.
Andrew Bosbery, 16, said: "I joined about 10 years ago, with a group of friends, and several of us are still here. I've been a black belt for five years and I'm a 2nd Dan. "There is more time between Dan grades than there is for the colour belts, as there is more to learn and it involves more of a teaching role. I've never been concerned with competitions; I just like the environment here as it's friendly. I think karate gives you a lot of respect and people respond well when they see it on your CV as it demonstrates commitment and good character."

Team Mentality Works Wonders

Phil believes that karate can be of benefit to many people looking to stay fit and active. "One of the downsides of karate is that it is viewed as a solo experience.
Having played a lot of team sports, including cricket with Roffey and football with Horsham Olympic, I know how important it is to try to engender a club spirit. "In class, everyone is taught to respect everybody and that's from the age of five years old all the way through to the instructors. That really helps the children develop and I think has been the key to our success."
Roffey Karate Club meets at Roffey Institute Hall, Crawley Road, RH12 4ET. For information call 07708 432682 or 07882 512676, email info@roffeykarateclub.co.uk or visit the website atwww.roffeykarateclub.co.uk