Melissa Joannides: Eventing Rider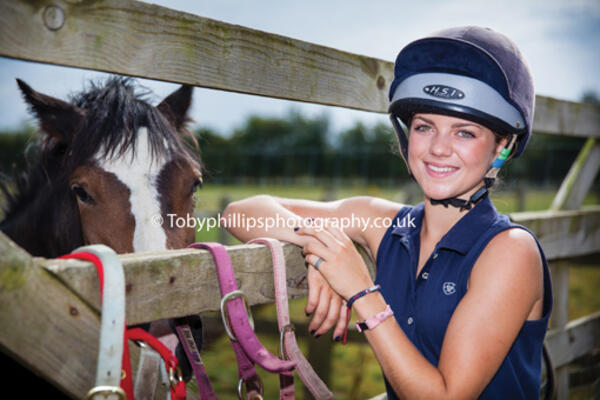 I'm guessing this 'One to Watch' has something to do with horses? You're very perceptive. Melissa is one of the most promising young eventing riders around. The 17-year-old from Ashington was ranked the leading Under-21 eventing rider in the South East last year.
That's the fancy riding that the Royals always win, isn't it? Well, the Queen's grandaughter Zara Phillips is a leading competitor. But people lower down the ascendency to the throne can compete too! Eventing involves three disciplines; dressage, cross country and show jumping. Melissa made her Badminton debut last year and, whilst she didn't stand on the winners' rostrum, she is aiming for better next year.
Badminton? Badminton Park in Gloucestershire hosts the Badminton horse trials event in May, and it has become one of the most important three day events in the world. The cross country day attracts 250,000 people, the largest crowd for any paid-entry sporting event in the UK. So not so elitist after all. The event is preceded by the Grassroots Championship, which Melissa competed in.
Can anyone ride in the competition? They can if they qualify, which is far from easy. Melissa said: "You have to come in the top 20% of any British Eventing competition, then progress to a regional finals stage. There, you have to come in the top 10% and if you can manage that you qualify for Badminton. Last year, I was able to qualify two horses; one of which was Murray. You have to be good on all three disciplines and Murray is a great all-rounder."
Who is this Murray chap? He is a Dun Connemara stallion, owned by Anne Hawes, who runs the West Sussex
Livery. Melissa is the youngest of the riders at the yard, and she has built a strong bond with Murray. Melissa said: "He is one of the best ponies I've ever ridden. He is so easy to train, as he picks everything up so quickly, and he has great character too. People are sometimes scared of him because he is a stallion but he doesn't have an evil bone in him. He is my baby!"
So Melissa just rides for the West Sussex Livery? She is one of the yard's riders, and Anne said she has come on well under the eye of yard manager Lorna Tullett. She is even allowed time off school to ride and train there. She has been at the yard since 2009, when Anne approached her having spotted her potential. Melissa also goes to Tessa Martin-Bird in Coolham for dressage training, and regularly competes in Horsham and District Riding Club competitions.
Is she from one of those 'horsey' families? Melissa has grown up around horses, and was just two-years-old when she sat on her first pony, Benjamin. Her big sister Stephanie is now a flat racer, racing for William
Haggas in Newmarket, but Melissa chose to pursue evening as she loves cross country riding.
Has there been more progress this year? There has indeed. Melissa recently competed in her first novice event on Foxglove, another horse at the West Sussex Livery.
Novice – isn't that for beginners? It does sound that way, but in eventing competition, status goes from pre-intro, intro, pre-novice, novice, intermediate, and finally advanced. You need to be 16 to move into novice, so Melissa is progressing very well, and must continue to improve as she moves on from Junior to Adult level. Having gained good experience in the novice event, she is now aiming for the top positions in 2014.
Will Melissa be back at Badminton? There is every chance she will be. She said: "Murray didn't have the perfect preparation for Badminton as he pulled a muscle out in the field in late December, and he only had one event before he went to Badminton so we were lucky just to qualify. We completed, and a lot of people didn't, and it was a great learning experience. But we will be ready when we go back. If I qualify I hope to win. Grassroots is a huge competition, and just to be there is very good. If you are positioned there you are being noticed!"
Does she have the potential for big things? Anne Hawes said: "Melissa is a very talented rider and you could see that from an early age, and she has ambition to go with it too. You can see other competitors groan when she shows up at pony club events! But you can have all the knowledge, but if you don't have the luck you won't go anywhere."
Is there a 'Plan B' for Melissa? She is also interested in equine fashion and is studying textiles now at Farlington. But her goal is to reach the top level of eventing. Melissa said: "What we do now is sort of at national level, but you have to do the right competitions where the selectors are, so that's things like Badminton. We do target the big events and work towards them. You can't compete every week as it takes too much out of the horse, so you have to make a plan at the beginning of the year. But I am ambitious. I would love to do the Olympics as a one day eventer. That is the goal."