Motocross Ace Natalie Kane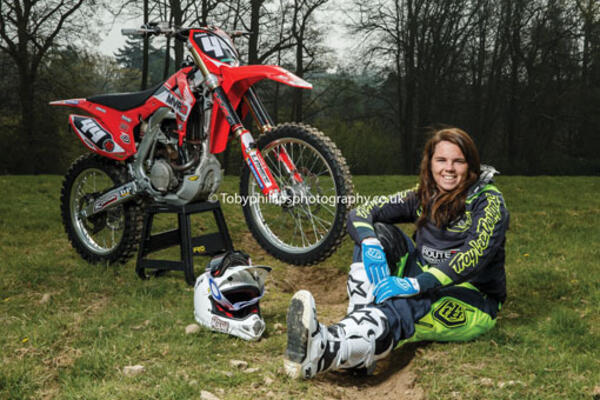 GROWING UP
"I started riding when I was three back home in Northern Ireland, 20 miles south of Belfast. My mum and dad raced so it was a family thing. One day, my cousin was out on his bike and I said 'Can I have a go?' I did and that was it! We lived on a housing estate and used to ride around the outside of the football field. I started racing when I was five. The children would race the same tracks as the adults, but they would cut out the dangerous sections of the track for us. From that early age all I wanted to do was to become a Motocross World Champion."
LEAVING HOME
"I was racing against boys all the way through the youth levels. My family would help me improve. My dad or my uncle would stand near a corner and say 'you're not allowed to brake until you reach me' and gradually I
improved. At every race, I wanted to be one place better than the previous race. I won the Irish and Ulster Championship a few times, and mum and dad could see that all I wanted to do was race, so when I was nine they started bringing me over to England to compete in the British Championship. Back home, there were only a handful of us who were good, but in the British Championship there were about 80 riders. For a while, I was struggling to qualify in the top 40 on the 65cc motorbikes. But I kept improving my riding and technique, and by the time I stepped up to the 85cc bikes I was always in the top five."
RACING BOYS
"There were not many girls, perhaps four at an average meeting, but one girl who was a few years older than me was very fast and mixing it at the front when I was struggling to qualify. I thought 'I want to be like her' and she helped me believe that girls can be just as good as the boys. By the time I was 14, I was dicing with the top guys at 85cc level. Some of the boys I was racing with - and beating - have gone on to be National and World Champions. But at the age of 16, the boys become men and they are so much stronger. On the two stroke 85cc bikes, women can be just as good, but the four stroke machines are heavier and it's harder for us. I started to drop back down the order, so I turned my focus to the Women's World Championship."
WOMEN'S RACING
"I competed in the last two rounds of the 2008 Championship as a 15-year-old, riding on a 250cc bike. I went to
Sweden and The Netherlands, and came second at one of the races. That brought me some sponsorship from Moto Vision Racing Development (MVR-D) and the following year I finished third overall riding a Suzuki. I had a full year off in 2010 for two operations on my shoulder and wrist problems cost me most of 2011, but in 2012 I was second overall and the following year I was nearly World Champion. Having been at the top all year, I had one DNF due to bike trouble and with only six races that was the difference. Last season, I was third overall. To win the championship you have to be consistent. I still think I can win the World Championship but five other girls are capable of winning it too."
IT'S A SACRIFICE
"I was 15 when I first came to Lower Beeding. I was living in Cowfold to be near the MVR-D team, and I happened to run into Alix Dunlop, who lives in Lower Beeding and also races in the Women's World Championship. Her family run Keeper's Kennels in the village, and for the last few years they have let me stay with them. I have been away from my own family for a long time, but they are like a second family to me here. I do sometimes find it hard to be away from home. I have a younger sister who I have been away from for a long time and people my age will be going out to nightclubs whilst I am at the gym or testing somewhere. But at the end of the day, this is what I wanted to do and you make that sacrifice. When you win you get a feeling that nobody can understand unless they've done it."
FACTORY SUPPORT
"I'm with a Honda supported team, but not the factory Honda team. A lot of the girls would love to be riding for a factory team, and the current World Champion is a factory rider for Yamaha. It is a really big deal when a factory takes on a female rider. During the recession, it was hard even for the men to find sponsorship and support, let alone the women, but it is starting to pick up again. The support I have from MVR-D and Route 77 Energy Drink has been fantastic, but I am one of the least sponsored riders in the top 10. I go to the races with Alix, and we will be there washing our own bikes and racing overalls whilst the factory riders have people doing it for them! It does cost a lot of money. The World Championship has expanded to Qatar, and that round alone costs us about £8,000. The sponsors help a lot of course, and I receive a sports grant but still it needs a lot of dedication and support from many people."
BIG CRASHES
"A lot of my biggest injuries have come from small crashes. In 2010, I broke my wrist but came back too early, and needed another operation on it a year later. That cost me the best part of two seasons. I was going around a corner when the front end washed out and I fell, jarring the wrist as I crashed. Last year, whilst I was leading the World Championship, I went to race in the Swedish Championship and another girl jumped and landed directly on top of me. I had bad concussion and needed four months away from racing. I didn't break anything, but I was out cold for several minutes. The race was filmed and there is footage of me cartwheeling off the track and having a sort of semi-fit as well, so it was not nice."
BEST OF BRITISH
"We race with the full World Championship set-up so, on the same bill as the top male racers, so there is always a good crowd. You have one sighting lap before each race and you can see thousands of people with flags waving and hear the roar at the start. As well as the World Championships, I compete in the Swedish Championship, which I won in 2014. A lot of the girls in the World Championship compete in this as it's a six round series and also runs alongside the men's competition. It is a great way to prepare for the Worlds. They do have a British Championship too, run over only one weekend, and I am undefeated in that competition, having won five out of five."
A POINT TO PROVE
"Later this year, I'm going to compete in a round or two of the British Motocross Championship, against the men. For me to be in the top 20 and score even just one point there would be huge, because no girl has ever done that. I was close back in 2010 when I came 21st, but it will be tough as I have a big target on my back as the guys do now want to be beaten by a woman. They seem to get a sudden burst when a woman overtakes them and come back at me. It will be good for me though, as I don't expect them to treat me differently to any other rider, and I'm sure no matter where I am in the order I will be battling hard. Hopefully, it will make me a more aggressive and better rider. I have had a good year, and even though I had the head injury last year there was no physical injuries, so I feel like I am riding well and injury-free. If I can compete in three or four rounds of the British Championship and improve each time, I believe I can get that point. "
www.nataliekane.co.uk or follow @nataliekane44 on Twitter.