Charlie Luke: Skier Aiming for Olympics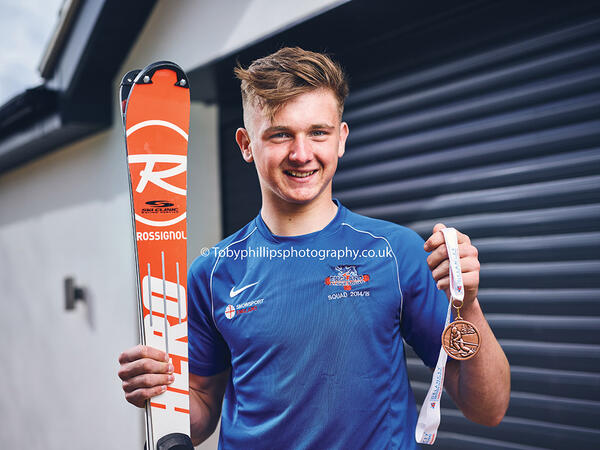 So who's this then?
This is Charlie Luke, a 15-year-old Steyning Grammar School pupil who was recently selected for Great Britain at an international skiing race.
Did I see him on Ski Sunday then?
Not quite. Ski Sunday mainly features the FIS Alpine Skiing World Cup, featuring the likes of Austria's Marcel Hirscher and Norway's Aksel Lund Svindal. However, Charlie did compete at the International Children Races at Topolino, Italy, in March.
Is that a big deal?
If you're skiing in the junior ranks and ever hope to make it to World Cup level, Topolino is considered part of the journey. Chemmy Alcott told AAH: "If you look back at the skiers winning World Cup races now, they'll have all competed at Topolino as a child."
Chemmy Alcott? That rings a bell…
Chemmy is a former World Cup skier who won the British Championship on eight occasions and competed in four Winter Olympic Games. She has since co-founded CDC Performance, and Charlie is one of the young skiers benefiting from her expertise. But more on that later…
So how does a Steyning boy become a skier?
Charlie actually lives out in Small Dole, near Henfield, but the South Downs aren't exactly a world-famous training ground for skiing talent. He first hit the slopes as a baby, tucked safely in his dad's back pack during regular family holidays to Courchevel in the French Alps. "My parents had an apartment there, so we would visit maybe six times a year. I started skiing at the age of two and a half, and we'd fly out every school holiday during the season."
Pushy parents then!
Quite the opposite! As Charlie's ability improved, many people (including resort instructors) suggested that he should enter children competitions. But as an all-round sportsman, Charlie was content with hitting the slopes for his own pleasure. "For years, people were telling me to give racing a try, but I was happy skiing with mum and dad," says Charlie. "They were never pushy and I'm very grateful for that."
Something must have changed though…
Charlie didn't consider taking part in junior competitions, which begin at U10 level, for several years. Then at the age of 12, he decided to attend a week-long coaching course at Courchevel, and after impressing there he was introduced to a well-established skiing club, associated with major competitions. Within a matter of weeks, he was competing at the U12 British Championships at Méribel, France.
How did he do?
Very well. The children competitions are organised in two-year age brackets, running from U10 to U16, so Charlie was then among the younger competitors in the U14 section. Yet he finished 25th out of about 50 competitors, which exceeded his expectations. "It was such a great feeling to race," said Charlie. "It is very intense, but I loved the competition element straight-away. I thought I might finish last and could even be quite a way behind anybody else, as it was so new to me. So I was surprised by the result and that gave me encouragement."
He ought to do well, as he goes skiing six times a year!
You would think that's a lot, but incredibly, Charlie is one of the few emerging prospects in the British team to not actually live on the continent! "Nearly all of the boys and girls in the U16 team live in Europe and attend skiing academies," said Charlie.
Wow! So Charlie has a disadvantage to most of his rivals?
That could be argued, but when Charlie does hit the slopes, he knows he has to focus hard to catch up on the academy skiers. "When I know I only have two weeks of training, I feel it's my time to knuckle down and make every day count," he said.
Is he a bit of an outsider in the group then?
Not anymore, but he's had to earn respect. Charlie said: "I'm good friends with most of my main rivals (on the British circuit) but there is rivalry too."
Is he a downhill or slalom skier?
Charlie is an all rounder, equally strong in slalom, giant slalom, and super G (downhill, the fastest discipline, is added at a more senior level) which should hold him in good stead. Chemmy said: "If you specialise in one discipline, it is harder to keep your love of the sport alive. Charlie is somebody who needs variety and you don't often see somebody who is consistently good in all disciplines. He's a fantastic all-round sportsman; skiing is lucky to have him!"
How has Charlie progressed?
With each passing race in the British U14 Championship, his results improved and by his second year, Charlie was regularly in the Top 10. Then came a big jump up to U16 level, where results are harder to come by. However, in his first season, Charlie's results steadily improved and at the final race of the season, he earned his first podium with a 3rd place at Tignes, Frances. "That gave me a massive boost going into my second season at U16 level," said Charlie.
Where he won every race?
Not quite, but again there was a marked improvement, as Charlie became one of the leading competitors, winning the slalom at the Artemis Anglos Scottish BSA Championship and the giant slalom Independent Schools Championships in Deux Alpes in December, representing Steyning School.
The school must have been chuffed!
Steyning Grammar School has been very supportive, allowing Charlie time off school to compete at major competitions. They have, however, set him work to complete whilst he's away!
How did this Topolino event come about?
We'll get there! Charlie followed up his Schools Championship victory with gold in the slalom at the British Alpine Skiing Championship in Les Houches. He was then selected to represent the British Children's Team at the Ski-Interkriterium International Race Series in the Czech Republic. Charlie said: "This was my first international race and I finished eighth in the giant slalom, which gave me a lot of confidence." Then came Topolino…
This is where all the hotshots turn out then?
It is indeed. From hundreds of competitors, Charlie finished 71st. Charlie was first out on the course – which didn't ease the nerves – and wasn't entirely happy with his run. But as Chemmy points out, she was only around 60th on her first visit to Topolino. Charlie said: "I feel I could have done better had it not been for nerves. Overall though, it felt incredible to be racing at a big international event, with sponsors and proper ceremonies."
Has he raced anywhere since?
Towards the end of the season, Charlie competed at the British Championships. Illness hampered his preparation, but he still finished third in the Super G.
Surely Charlie can't still be skiing with his mum and dad?
Yes and no! The family try and enjoy a holiday at least once a year, but most of the skiing trips tend to revolve around Charlie's coaching and races. He was a member of the Wengen - based DHO club and through them was introduced to Dougie Crawford (one of Britain's top downhill skiers) and his wife Chemmy Alcott. They have established their own ski coaching company, CDC Performance, offering coaching for youngsters. Charlie was amongst a group that they took to a training camp in New Zealand last summer.
How do they think he's doing?
Chemmy said: "I want to help Charlie into the Delancey British U18 Squad and he's developing towards that. He's grown in strength and size in the past year, and at this level you do see the smaller ones start to struggle as they cannot adapt to the longer skis. It is make or break time."
She means at U18 level?
Yes, but Chemmy believes that Charlie has all the attributes needed to continue his upward surge. "Charlie has the right attitude," she said. "He knows he has to chip away for the first year, when he will be towards the back of the field. It is psychologically tough, especially when you've been used to being a top ranked skier at U16 level, but Charlie knows it is a necessary part of his development. Physically, he is strong and able to adapt, so he just needs to be patient."
And what are Charlie's goals?
He's developing a support network around him, incorporating coaches and even sponsorship from Gardner + Scardfield Builders Merchants, and is looking forward to making his mark at the highest level. "My long-term goal would be to make the Olympic team," he said. "That's what every skier dreams of."
An Olympic skier from Small Dole?
Wouldn't that be something!
For more about Chemmy and Dougie's skiing coaching visit www.cdcperform.com