Alex Reed: Junior Fiesta Driver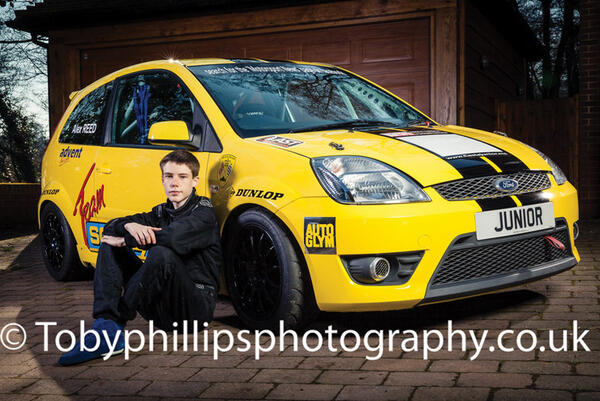 If you're thinking that Alex Reed looks a little too young to drive, you would be right. Aged only 14, Alex still has a few years before he can jump in the car and drive to the shop at 30mph, keeping a safe distance to the car in front and remembering to signal before each manoeuvre.
But thanks to the glory of sporting competition, he is allowed to put on a helmet and drive around race tracks at 100mph whilst racing bumper to bumper with a dozen other schoolboys!
Alex, who lives in Horsham, is about to embark on his first full season in the new Ford Fiesta Junior championship. Having already competed in two rounds of the championship, he is aiming for odium finishes this year with his team, Advent Motorsport. Eventually, Alex hopes to progress to GT racing or to the British Touring Car Championship, with the ultimate goal of racing in the Le Mans 24 hour race.
By today's standards, Alex started racing late. He was 12 when he first participated in a competitive race, after just a few experiences of go-karting.
Hurstpierpoint College pupil Alex said: "I went karting when I was six but didn't go again until my 10th birthday party. I went to the go kart track in Crawley, and I beat everyone else by quite a way. It looked like there was a bit of talent there.
"I went karting again for my 12th birthday at the 800m track at QLeisure in Albourne. It's a great track so I started competing in a championship. I took part in an eight round summer season and finished second, and then I moved up to the senior class for a six race winter season, which I won. For the championship rounds it was only £40 so it was affordable, and we could just arrive and drive, so it was a great start to racing for me."
After his initial success, Alex looked to take a huge step up to the Ginetta Junior Championship, but was wisely encouraged to gain more experience in karting before moving into car racing. So instead, Alex joined Ambition Motorsport and competed in 70mph Mini Max karting.
He enjoyed mixed fortunes in Mini Max, winning races at Forest Edge and Bayford Meadows, but suffering a big accident at Buckmore Park.
He said: "The Mini Max Championship improved my race craft by a massive amount, but there were a lot of younger racers. The eleven-year-olds had a weight advantage and were still very quick! But it was brilliant fun and a real jump up from the 40mph karts.You also have to pay to race in the championship, and the cost shoots up to about £10,000 a year, which is a huge jump up from the corporate karting we were doing previously. Because it was a national competition, people were not as friendly. The parents are the worst – some of
them go out of their minds.
"I won a couple of races, but at Buckmore I ended up sat in an ambulance. There was a race with 30 cars on the track, and at the start I went round the first corner and someone went straight into the side of me, used me as an embankment and T-boned me. His car went over my helmet and hand, and the tyre went through the glove. I've not been to Buckmore since then."
After a year and a half in Mini Max, Alex moved over to Ford Fiesta Junior, as he had turned 14 so could race. It didn't start too well, as Alex crashed on his first track day at Snetterton.
"It was quite a big shunt," recalls Alex. "I hadn't learned much about cars, but in the last hour of the day I was getting a bit tired and frustrated as I was not getting the times I had wanted. I went round the corner, started drifting and crashed into the inside barrier at 60mph."
But the times eventually came down and Alex put in solid performances in four races at two Championship rounds. He finished sixth in both races at Snetterton, and at Brands Hatch finished fifth in the second race after a collision in race one.
The 2013 season starts at Rockingham, with 20 races held at six tracks including Brands Heath, Silverstone and Donington Park. Alex said: "This season I'm told there will be between 15-20 competitors and I'm looking for podiums and to finish in the top five of the championship.
"If this year goes really well, I might be able to get into the Ginetta Junior. I'll be doing my GCSE's next year as well, so I might have to take a break from the racing. But we'll see how it goes. I'm targeting touring cars rather than single seat racing, which is very difficult to get into. For me, the dream goal would be the British or World Touring Car Championships or Le Mans."
You can keep an eye on Alex's progress at www.alexreedracing.com/