Orla Brothers: 300 Metre Star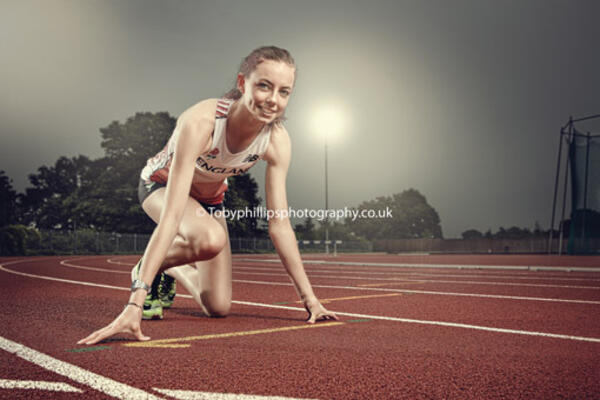 Published on 7 August 2015
Who's this then?
This is Orla Brothers, a 15-year-old Millais pupil who has reached the higher echelons of junior level athletics.
A Millais girl - with pink hair?
Orla dyed her hair within hours of breaking up for the summer holidays and it'll be back in line with school rules by September, so none of that 'in my day' nonsense!
So what has Orla achieved?
Running for Crawley Athletic Club, Orla won the 300m Sussex Schools Championships for U17 Girls with a time of 39.6, breaking a record dating back to 2006.
Hold on – 300 metres? We can all break records when we make up distances!
Then let me explain. UK athletics is structured so that junior women do not compete at 400m or 400m hurdles, but at 300m instead. It aids their development, although boys still compete at the greater distance.
Still, doesn't sound great does it. "I'm the fastest 300m runner!"
If you're in any doubt as to Orla's ability, she is the seventh highest ranked U17 200m runner in the UK. For Crawley Athletic Club, she is quite an all-rounder, competing in the Youth Development League (YDL) and the Senior Athletics League (SAL) at 100m, 200m and 300m, as well as hurdles events.
And she's the best 300m runner in Sussex?
Not just Sussex. Having won the Sussex Schools event, Orla qualified for the English School Championships at Gateshead in July. Orla won gold there too, thanks to a fantastic finish, in a time of 39.59 seconds, and was subsequently selected to run for England at the SIAB (Schools International Athletic Board) Track and Field Championship against Ireland, Wales and Scotland.
How did she fare there?
Orla won silver in the 300m and gold when running the last leg of the 4 x 300m relay. She said: "Pulling on the England jersey was completely nerve wracking and felt surreal. At the same time, it was very exciting and I didn't take the kit off for ages! Every time a relative came round our house they all wanted me to wear it!" She'll also be at the Sainsbury's School Games in Manchester shortly.
Shortly? She looks pretty tall to me!
That's not what I meant, but I'm grateful for the link. Orla is only 5'10" but her long legs make her appear taller. Caroline Gray, Orla's mum, said: "When she's with her school friends, they all look small in comparison, but when we go to International competitions she suddenly looks at home amongst other tall competitors! Her coach, Dave Buckett, believes that she will get stronger still."
Orla has her own coach?
Dave is the chairman and a coach at Crawley AC, where she trains three times a week. Orla has also had warm weather training in Spain with Marina Armstrong, who coaches several leading hurdlers at Under 23 and Under 20 level.
So when did Orla start running properly?
When she was at Leechpool Primary School, Orla regularly beat the boys on sports day. She was doing gymnastics, but wasn't enjoying it so chose athletics and joined Crawley AC, based at K2 leisure centre.
Why did she not join the Horsham club?
Orla said: "A lot of my friends were at Blue Star Harriers, but I really wanted to have a good go at running and thought that if my friends were there, I wouldn't be able to concentrate. Horsham is a good club but at Crawley there is a higher level of competition and I can meet new people."
Was Orla always a 300m runner?
At school, Orla excelled at the 100m and long jump. Orla said: "It is only this year that I have started to specialise in the 300m and hurdles. I've seen that each event is specialised, so your size and shape is vital. After a while, you come to realise which events you are suited to. A couple of girls started posting faster times in the sprints than me, so I am focusing on longer sprints."
So the long-term target is 400m rather than 200m?
At the moment, Orla is looking at the longer distance, whilst also targeting 400m hurdles.
Like Sally Gunnell!
Yes, like Sally Gunnell, but do bear in mind that Barcelona 1992 was eight years before Orla was born! Orla actually names Eilidh Child, who won the 400m hurdles at the 2014 European Championships, as the athlete she most admires.
So does Orla just sprint the entire way?
Good question. Orla said: "At club events, I tend to relax as I know I can dictate the race at my pace and win with a sprint finish. But for the big races, I change my technique and try to sprint the whole way and hope I can
maintain it to the line. In truth, you can't run at 100% for 39 seconds. It can be difficult to judge, because you know you should be hurting right at the end, but you don't want to leave yourself with nothing left in the tank 20 metres from home.
So what is next for Orla?
Next season, she wants to concentrate on the 300m hurdles. She aims to qualify for the English Schools Championship once again next July and hopefully follow that by running for England again. The Welsh athlete who pipped Orla to gold last year can no longer compete at U17 level, so Orla has every chance of victory.
After U17 level, does it jump up to senior standard?
No, but there is a major step up to Under 20 level first. Orla said: "That is fiercely competitive. At Under 17 level, lots of girls drop out because they find other social interests and have to study for GCSEs. If they are not
competing well or think athletics is not for them, they will not progress. But at Under 20 level, everyone is serious about pursuing athletics as a career. They have all been the best up to that point and it is very tough."
Future Olympic Star?
She's on the right track!
Words: Ben Morris; Picture: Toby Phillips Photography