FLITECREW CHEERLEADERS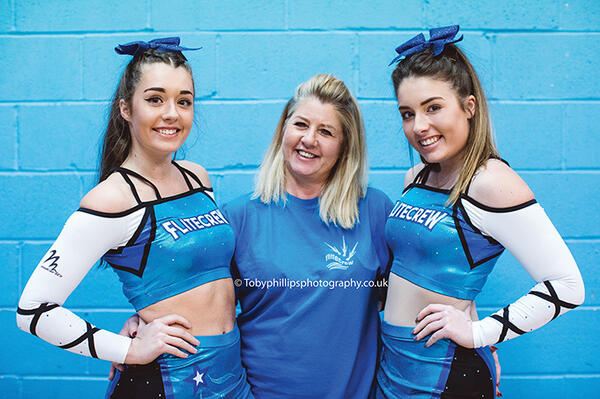 Published on 1st December 2017
We have a Cheerleading team in Horsham?
We do indeed. It's been a hugely successful offshoot of a trampoline club. Flitecrew was founded by Laurel Kennedy, who worked in cabin crew for BA for 34 years until she left last year, hence the name. Flitecrew trampoline club meets at the K2 leisure centre in Crawley and competes at an international level.
Why start a cheerleading team?
There were several reasons. Laurel's daughters, Jess and Jordan Kennedy, were born in America so have known about cheerleading for a long time. All three have taught gymnastics and coupled with their trampolining experience (Jordan is a two-time national champion) forming a cheerleading squad made sense. All they needed to drive the idea forward was a supermarket.
That needs some explaining…
Flitecrew members started collecting Active Kids vouchers from Sainsbury's but Laurel wasn't sure what to exchange them for. Jordan recalls: "We decided to buy pom-poms with the vouchers as mum had the idea of forming a cheerleading group. I thought it was a great idea. We both attended a coaching course and it was fun, so we held a couple of taster sessions towards the end of 2016."
Where did they find the outfits?
Flitecrew's uniform is unique, as it was designed by Jordan. With the trampoline team having a red outfit, she decided to go for blue to differentiate between the squads. Jordan said: "We were at TGI Friday's for dinner and we started talking about costumes. I asked for some paper and drew out a concept right there! I took it to a company that makes leotards for our trampoline team and after they suggested a few tweaks to suit cheerleading, they made the uniform, complete with a pretty blue bow!"
So, how did the initial taster sessions go?
At the first session, there was a small group of eight at the K2 and most were members of the trampoline club. This quickly grew to 30 children and when Laurel found that most were coming from Horsham, she decided to look for a more local spot. She said: "Broadbridge Heath Leisure Centre is perfect for us as it even has blue walls to match our uniform! "We did a flyer drop around Horsham and held free try-out sessions and it worked. We now have over 80 people on the cheer side, so it's as big as the trampoline club! We've even needed to start classes on a second evening."
Why is cheerleading suddenly popular over here?
One of the reasons is social media. Young people watch videos on YouTube or Instragram and see the range of skills cheerleading incorporates. Laurel said: "Children who attend gymnastics or dance clubs go online and look at videos for inspiration. A lot of those involve cheerleading as there is a crossover between gymnastics, dance and cheer. Whereas they are usually individual disciplines, cheerleading is a team sport and that appeals to lots of girls."
How does the coaching side work?
There are several coaches, with Laurel and her daughters aided by others with strong trampoline or gymnastics experience. Jess' background is in dancing, having started dance aged 10 and finding that she enjoyed it even more than trampolining. Jess said: "Cheerleading incorporates dance as well as gymnastics and I love teaching those components. For a while, I was happy just to coach the younger groups, but having watched the seniors, I thought I would give it a go. I was reluctant initially, as I'm not a strong gymnast, but cheerleading requires people with different strengths."
There's a strong team element then?
Jordan said: "Cheerleading is very demanding and requires lots of talents and a team spirit. If you miss a rehearsal, it can mean letting down the whole team as we rely on one another. With the stunts, for example, you need a strong base. If one person isn't there, they can be very difficult to replace as a 'flier' needs to be confident in the team. The job of the flier, usually one of the smaller members of the squad, is to stay tight and rigid during jumps, so that they are easier to catch. If they are nervous and do not trust the base, the routine will be less effective. A successful routine is a result of hard work from everyone."
What does cheerleading involve?
It takes different forms. Sometimes, there is a chanting element to routines if the squad is involved in sports team motivation. That is not the case with Flitecrew, as it isn't associated with a sports team. However, most routines contain components of tumbling, dance, jumps, cheers and stunts, so it's a demanding and highly physical activity that requires people with varying skills. At Flitecrew, classes are broken down to incorporate them all. Jordan said: "You'll have tumbles, flips, somersaults and stunts all pieced together into a three-minute routine and that requires good fitness. But when everything lands perfectly, it is just the best feeling in the world. You're happy with yourself and the team, because you know how hard you've all worked."
How many different groups are there at Flitecrew?
Flitecrew has classes for minis, juniors and seniors, welcoming children as young as four, held on Wednesday and Thursday evenings. It has recreational squads as well as competitive squads, with different names including Apollo, Dynamite and Force. Jess said: "In every class, people work together to achieve their own goals. If someone can't do a forward or backward walkover, other girls teach them the technique, as it's important for everybody to improve together."
Tell me about the competition side of Flitecrew...
In America, competitions are taken very seriously, but only in recent years has that element crossed the Atlantic. Whilst it has entered competitions, the focus at Flitecrew is still very much on having fun, as it caters for small children all the way through to a pom-pom club for over 25's. Laurel said: "Flitecrew trampoline club is very competitive. But we launched cheerleading as it was something fun that wouldn't cause stress. We're not driven by a need for girls to reach a national standard. We want it to be fun for everyone."
So, how has Flitecrew fared in competitions?
Its first competition was in Manchester back in May. The team went without expectation, as they didn't know whether they would be able to compete with experienced cheer outfits from across the country. However, they came home with a haul of awards. Laurel said: "We choreographed a routine to the best of our ability at the time and entered five categories. We ended up coming first with three routines, third in another and our youngest group took sixth. It was wonderful to discover that not only do we enjoy cheerleading, we are quite good at it too!"
And how have things gone since then?
Flitecrew headed to a higher-level competition in November and recorded further encouraging results. The Youth team, Dynamite, was placed fourth, whilst the junior Apollo team finished second. The senior Infinity squad also placed fourth, with senior stunt group Galaxy finishing seventh. The Senior Level Two stunt group, Force, recorded a brilliant first place. Jordan said: "May's competition was a great start for us, but this recent competition followed American rules and gave us an opportunity to see how we compare with some of the more competitive cheer groups. At this level, symmetry and technique is vital, so we're thrilled to have achieved so much as a new cheerleading club."
Can boys do it too?
In America, it's now common to have boys involved in cheer squads. However, it is difficult to attract them. Jordan said: "It would be fantastic to have more boys here and they are very welcome. They bring some muscle to the group, which is vital as they often provide a strong base for the stunt team."

And what's next?
Flitecrew will be competing in Disneyland Paris in March 2018 and Laurel hopes that one day they may be ready to compete at the cheerleading world championships. Jordan said: "We are very proud of how the club has taken off and we have new enquiries every day. It's been hard work as I even put together all the music to save funds, whilst mum does all the administrative work. But we are a good team and Flitecrew is improving all the time!"
For details about classes, visit the Cheerleading section on the Flitecrew Trampoline website at www.flitecrewtrampolineclub.co.uk or visit the Flitecrew Infinity Cheerleading page on Facebook

WORDS: BEN MORRIS
PICTURES: TOBY PHILLIPS