Shipley Community Project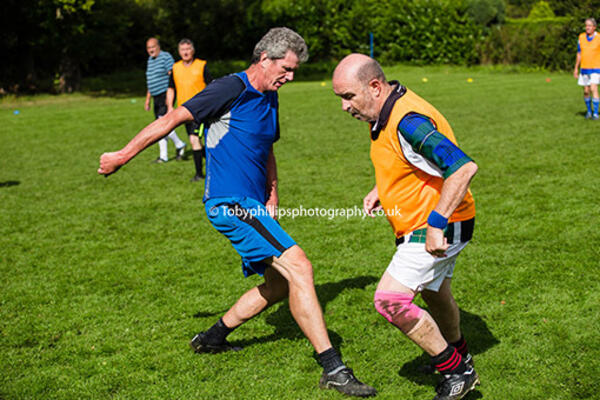 Shipley Community Project is inspiring people of all ages to keep active by invigorating a village football ground. We meet project chairman Phil Gibbs to find out more.

How did the community project come about? Hills Farm Lane Football Club was established about 10 years ago. We are essentially a veteran football team and previously played matches at The Needles in Horsham, where we could offer nothing to our opposition in terms of facilities. We saw an opportunity at the ground used by TD Shipley FC and formed a mutually beneficial partnership.

What is the benefit for TD Shipley? TD pushed hard to reach a County league standard. They did a fantastic job to move through the divisions and improve facilities, but struggled to sustain that momentum. That's typical of many clubs as there's very little money in football's lower leagues. We approached TD with an idea to create a community project that would provide the club with a small income. We're very grateful that they understood and embraced the opportunity. Whilst TD Shipley predominantly cover the lease on the land, we pay an annual fee to use the site.
What does the project include? Hills Farm Lane FC now shares the pitch with TD Shipley, as we play at different times. In terms of community facilities, we have a small pitch for walking football, a workshop and pétanque. We hope it'll be a model for others looking to create a sustainable football club by optimising use of facilities.
Why have activities aside from football been introduced? We realised that operating the site solely for football wouldn't work as a community project. There is a lack of leisure facilities in the district, particularly for older people, which will only increase with additional housing being built. We looked at what is happening in society and offer a solution by encouraging older people to keep active.
Was there support from Shipley village? A criticism we have heard is that TD Shipley was a Crawley-based outfit. When TD first came to the village, hving previously been Crawley-based TD Sports, the parish council was quite upset. Now, the site is being used by a local team of veterans and we have local people enjoying the walking football, pétanque and the workshop.
How have you adapted the site to fit everything in? TD and Hills Farm Lane FC will use the main pitch, and we have created two smaller pitches. We initially hoped to build a 3G pitch. However, the Knepp estate were not comfortable with that for reasons that are understandable. So, we took an area that was overgrown, flattened it, nurtured it and now run very popular walking football sessions twice a week with 24 players signed up. During the winter, these sessions will move to the 3G pitches at the Holbrook Club. Several of theplayers reached a good standard in the past, but there's plenty of knee and ankle supports on show now!
What about the second pitch? We have created a junior pitch for the next generation of local players. To build that, we needed to raise the profile of the land considerably to form a level playing surface. We may work in alliance with Roffey Robins. Roffey teams currently play on various pitches, but the next generation may find it difficult to find a venue once the Liberty development is built. Horsham District Council recognises this issue and have been very supportive.
Why choose to build pétanque pistes? This was part of our desire to attract a mix of age groups. We've built four 15-metre pistes and an access walkway. The only other local clubs are at Kirdford and Handcross, so being located between the two gives us an opportunity to build a club. About 10 people attend the Tuesday morning session and we'd like to double that number so we can play invite other teams to Shipley.
How can you increase participation? We'd like to form a closer relationship with Age UK. There is a national problem of getting people outside, so we are working on initiatives. The next stage of this project is a planting of 20 trees and 150 shrubs and hedges on 18 October. Older people from the community will be involved, helping to make the site more attractive.
The workshop is part of the need to diversify? It might be that people are not particularly interested in walking football or pétanque, but want to get involved in other ways. The chaps in the workshop have been building benches, as well as tables and chairs for the outside area. They're also repairing the football dugouts and building bridges across ditches to the adjacent field. They've already built and erected a fence along the pétanque pistes and soon we'll be placing netting behind the goals. I should mention that we also have a defibrillator, thanks to an association with the Horsham Lions.
What is your hope for the future? We'd like to expand use of the current facilities, but eventually we hope to make this a community hub and attract benefactors and sponsors. Perhaps we will one day be able to introduce music nights, outdoor cinema and sports tournaments. There's a lot of scope and it will be interesting to see how the project evolves.
Information on activities at the Shipley Community Project can be found via their Facebook page @ShipleyCommunityProject or by emailing Phil Gibbs on philipgibbs669@gmail.com You can also follow them on Twitter @ShipleyCProject.

WORDS: BEN MORRIS
PICTURES: TOBY PHILLIPS