Steve Wilson Writes MOTD 365 Book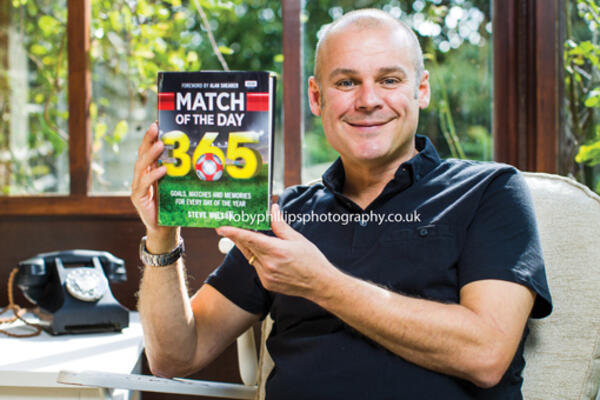 Published on 6th October 2015
I started commentating on football in 1990. Football has changed enormously in the 25 years since, and that's mainly down to the Premier League. I was looking at notes from my early games, reflecting on how the game has changed during my career. I'm constantly researching historical information and often think 'Who would have thought that happened?' For instance, during the first Premier League season, Norwich City came very close to winning the title.
I thought it would be nice to remind people of the games and stories that they had forgotten about. For young people who are used to Chelsea, Arsenal and the two Manchester teams completely dominating, I could show them that it wasn't always that way. So I decided to write a book, called MOTD 365.
I took the idea to the BBC last December and they commissioned it in January, giving me four months to write it. The book has about 160,000 words, so it was hard work, but I didn't have to invent characters or a plot. I just had to think 'Could I write 500 words about Michael Owen scoring his famous goal?' Of course I could! During my research, I was reminded of things I had forgotten about, which is the whole point of the book.
It is in a date format, with a story for every day in the calendar. There's actually 366 stories, as I've included 29
February! I have written in-depth about what I think is the most interesting footballing event to have happened on that particular day since the Premier League began. They don't all relate to matches that I have commentated on. I was not in Istanbul when Liverpool won the UEFA Champions League against AC Milan, but of course it had to go in! As it turns out, I have interviewed most people mentioned in the book, but the accounts are not written from my perspective. The book is based on journalism and is not a memoir.
The entries are not just about matches. They are about managers, players, transfers and controversies. There is something from every season from 1992 to 2015 so I had to research everything that happened on every day. All of the big players are included and as well as the Premier League I have covered stories from major tournaments such as the FIFA World Cup and UEFA European Championships.
There were some tough decisions, particularly for the May dates where titles are won and lost. I had to make choices about what I thought was the most important event. For example, on 22 May 2011 there was a dramatic
relegation battle in which any two of five teams could be relegated on the final day of the season. On that same day in 1999, Manchester United won the double and in 2004 they beat Millwall to win the FA Cup. I could have written about any one of those, but I chose the relegation battle. I didn't want the book to be dominated by stories about the big clubs, so it includes the likes of Wigan, Wolves, Blackpool, Oldham, Coventry and Blackburn Rovers.
In some respects, anybody could have compiled this book by going through newspaper archives. But it would have been extremely difficult! I keep a record of all of the games I have been to, going back to the 1992/93 season, and use them as a resource. So I can flick through, for example, and see that on 28 September 1996, Leeds United lost 1-0 at Leicester City. I can tell you the starting line-ups, who scored and in which minute substitutes came on. There is a fine line between the obsessive train spotter and the obsessive football fan! We are just as fascinated by statistics, facts and history. I'm very fortunate in that I'm paid to watch football, as if I wasn't a commentator I would be spending all of my money watching it!
These old note books were very useful when it came to writing MOTD 365. The internet is also a great resource, but if you are trying to find out about a game from 1992, it is of very little use to you. But if I needed a little more information about anything, I could go to the library and read the original match report in The Times. The public library truly is a fantastic resource.
Last year, the BBC published a book on 50 years of Match of the Day, and it proved to be very popular. I really don't know how my book will fare, but I hope people enjoy the format. With Match of the Day written on the front cover and a foreword by Alan Shearer, I hope it will appeal to football fans. But having never written a book
before, unlike my wife (Juliet West) who is a published fiction writer, I have no idea what constitutes a
success in this market. It's been interesting putting it all together though and it has given me other ideas. Perhaps I will write a book based on my experiences in future.
People often ask me how I became a football commentator. There aren't many out there so it's not really something you grow up wanting to be. I left school not having much of a clue of what I wanted to do as a career, but whilst studying English Literature at Liverpool I became involved in the university radio station and newspaper. They had someone reporting on Everton and Liverpool matches but nobody covered the team I supported, Tranmere Rovers. So I offered.
I wrote about Tranmere for two years and enjoyed it so much that I applied to join a BBC trainee scheme. It was highly competitive and I made it to the last hurdle but I wasn't picked. After leaving University, I sent off a tape to Capital Radio and fortunately for me, they viewed my near miss on the BBC course as a feather in my cap. I was invited in to the studio on Saturdays. After a few weeks, the boss said 'Can you give us a 30 second report every 10 minutes from the Watford game?' That was it!
I was with Capital for seven years. It was such a big radio station that I covered the 1994 FIFA World Cup and the 1996 Olympics in USA as well as Euro '96. So, when it came to moving on, I had a fantastic CV. I moved to BBC Radio 5 Live and gradually started commentating for Match of the Day as well. I've now covered five FIFA World Cups in Korea, USA, Germany, South Africa and Brazil, five UEFA European Championships and three Africa Cup of Nations tournaments. I love football and travelling, so this is a dream job!
Styles of commentary have definitely changed. In the 1978 World Cup, Bobby Charlton was used as the
ex-player expert alongside the commentator. He would talk for 30 seconds about every 15 minutes and that was typical of the time. You didn't hear from the expert very often. Now, commentators and experts are almost a double act in that the ex-footballer co-commentator may be talking almost as much as the match commentator.
Sometimes, they take on a role outside of just 'expert analysis'. I'm not a big fan of that happening. That's not a criticism of any individual, I just think that as a listener, the thing that irritates is people talking at the same time.
I commentated on the unbelievable World Cup semi-final last year when Brazil lost 7-1 to Germany. We had about 15 million people watching on TV at home! A lot of preparation goes into the matches I commentate on, but who would ever think to look up when Brazil last lost by six goals at home? As a commentator, you're hoping for tension and drama, perhaps a last-minute goal or penalty shootout. The semi-final had none of that because Germany led 5-0 after 29 minutes. I was left thinking 'What am I going to talk about for the next hour?'
I made it into 'Colemanballs' once as I am supposed to have said "someone always ends up with a banana skin on their face" when reporting on the Third Round of the FA Cup. Long ago, when Mick McCarthy was managing Millwall, I interviewed him for Capital, and at that time I was still learning. I asked him a long-winded question about the impact that the club's new ground might have, and he replied in his no-nonsense Yorkshireman manner: 'The answer to your first point is 'no', the answer to your second point is 'yes' and I gave up the will to live after that."
I really enjoy the post-match interviews for Match of the Day. Some players and managers are friendly and some aren't, but they are almost all professional to a remarkable degree and are more eloquent and personable than they are often given credit for. I don't know what Wayne Rooney is like outside of football, but he is always pleasant, gives a good interview and as he has got older I think he has handled the responsibilities of being club and national team captain very well. I've never met anyone that I didn't like in the football world.
The funny thing about Sir Alex Ferguson was that he was always better to interview when they lost. When they won, he didn't have a lot to say because it was usual for Manchester United! But when his team lost, he would come out and be upfront. You have to say 'fair play' to that.
It's interesting that on social media after covering a big game, like Liverpool v Manchester United, which I commentated on in September. The Liverpool fans will say 'Obviously you're a Man United fan' and the United fans accuse me of being a Liverpool fan! Some football fans can be so immersed in their fandom that they assume the commentator can't report on the game from a neutral point of view. But you can. I do not know any commentator who takes any bias into work. I could commentate on Tranmere Rovers losing 8-0 and come away feeling pleased, because I know I had done a good job. I'd cry about it later!
Steve will be giving a talk about his career with a Q&A and signing copies of MOTD 365 at Waterstones in Horsham at Wednesday 3 December at 6.30pm. Free tickets will be available from the shop at 8 Carfax