David King: Badminton Player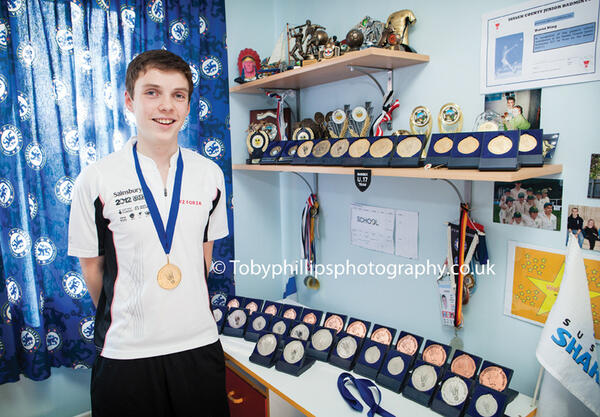 David King is among the best young badminton talents in the country. In May, the Horsham schoolboy enjoyed his most competitive experience to date, representing the South East in the UK Schools Games in London.
The Games attracted the best sporting talent from across Great Britain, giving young people the chance to experience the thrill of competing in Olympic Park venues. David said: "Badminton England had to pick six boys and six girls in the under 16 age group for the Games and I was one for them. It's like a mini Olympic campus and the badminton tournament was held in the ExCel where some Olympic events are going to be held.
"It was an amazing experience, the best of my life so far. Everything was done really professionally on four courts, with all the special line technology and scoring and all the players came on to music like a proper international tournament. I won silver in the boy's single and won bronze in both the boy's doubles and the mixed doubles. I'm only 14 and it was an under 17 tournament so I was very happy – it was beyond what I was expecting."
David, a Tanbridge House School pupil, started playing badminton when he was aged seven, as his mum Julia was a coach at Horsham Arun badminton Club. He picked it up quickly and within a few years was competing at a high level. One of his great badminton memories comes courtesy of one of his teachers at Tanbridge, who challenged David to a match in front of his entire year group when he was 12. David won convincingly!
But his chances of continual improvement were greatly enhanced when the Horsham club became a
Badminton England Performance Centre. Tanya Woodward joined the club as a professional coach and David, along with others, became more focused on the sport.
David now trains for up to nine hours a week, mostly at Horsham but he also trains with a coach in Burgess Hill called Wendy Adams and benefits from England team coaching at High Wycombe once a week. He has high hopes for the future. He has also travelled to tournaments across Europe.
"Next year I move on to under-17 level, which will be a lot harder," said David. "But I am in that age bracket for two years, so the second year I should be competitive. I want to get into the England senior squad and eventually compete in the Olympics. Great Britain has produced some good players in recent years, mostly in doubles competition, such as Gail Emms and Nathan Robertson.
"I'm not sure whether my strength is singles or doubles, but we'll see how I develop in the next few years. 2016 may be too soon so I'm looking at 2020 Games. But the problem will be competing against China. There are more people playing badminton in China than there are people in England, so it'll be tough to beat them!"