Tom Hayward: A Driving Ambition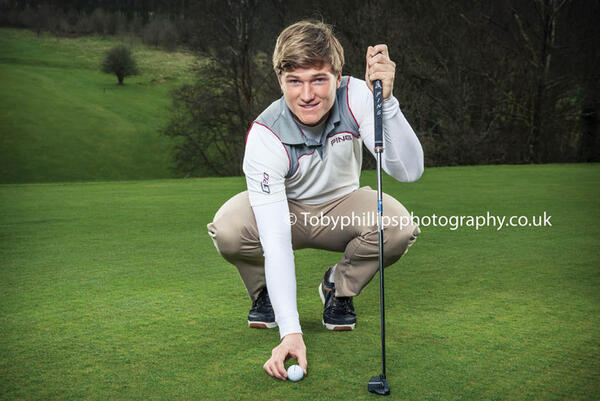 Most of the world's top golfing professionals developed their talent at an early age. Tiger Woods putted against Bob Hope on an American television show when he was three, whilst Rory McIlroy was only seven when he became the youngest member at Holywood Golf Club.
They have a bit of a head start on Tom Hayward from Maplehurst…
Tom was always a talented sportsman. He went to Brighton College on a full sports scholarship, and as a schoolboy played rugby, football and cricket at County level. He later graduated with a First Class Honors Degree from The University of Exeter studying Exercise and Sports Science. There he played a great deal of rugby, and had half envisaged this to develop into a playing career. But it didn't work out.
Instead, Tom turned to golf. On his few ventures out on to a golf course he had shown natural ability, so he went along to Mannings Heath Golf Club to meet the club professional Carl Watts. Carl saw enough potential in Tom's game to suggest that he could have a career in the sport.
Tom said: "I came up here in October 2010 and Carl watched me hit a few balls, and it went from there. I live nearby, so when I was six or seven I would come up here with my dad three or four times a year and play golf. I was good but it was just a hobby, as the other sports I was playing took up so much time. When I was at University I didn't even hit a ball.
"I always loved golf but I never got a chance to play properly. I knew I was a good player but the opportunity to take it up never presented itself and I was never a member anywhere and never had an official handicap.
"After University, I had a job lined up in London but it wasn't ideal as it only covered expenses anyway.
"I was talking to Carl and he said 'I can train you for nine months, twice a week, and after that time we'll have a review and see where your game is.'
"Carl said 'go away and think about it'. It was a big decision to do something that meant earning nothing. I talked about it with my family, but my gut instinct was that I had to give it a go. I jumped into it, spent nine months learning about the game - how you grip the club, stance, posture, ball position, things like that. Before hand, I had just walked up to the ball and hit it. It was a basic but integral training."
Tom played as much golf as possible, usually playing members at Mannings Heath during the week. His handicap came down from four to scratch over nine months, and he played in just two amateur events before becoming a professional. But it was not an easy transition.
"I was on a high as I was doing well at Mannings Heath, but my first tournaments on the Jemega Pro Golf Tour didn't go very well. They were very supportive, and liked my story, but I had a lot to learn. There's a big difference from coming up to Mannings Heath where everybody perceives you as the man to beat, to stepping into a competition with former European tour players and people who have been part of the England set-up since they were young.
It was a harsh reality and it meant I trained hard over that winter and played more events in 2012. Last year went better, and I played in 25 events with six top 25 and three top five finishes. You have to pay for every tournament you enter, but everything you do is focused on gaining a place on the European tour. It's a huge amount of money to spend and there's very little financial reward at this level, but it's all about the experience and making the step up to the next level.
"The whole season is geared towards the European Tour Qualifying School. Anyone who is a pro or amateur can apply. There are six venues across Europe, with about 1,000 golfers able to compete in three play-off stages. The top 25 will earn a place on the European tour. That is what everybody is playing for. Last year I didn't enter Qualifying School as my game wasn't where it needed to be. I needed to do some restructuring over the winter so I can prepare properly for this season."
As well as being a member at Mannings Heath, Tom is also now a member at Wildwood Golf and Country Club in Alfold, where he is working on his swing with European Tour Coach Clive Tucker.
Tom has also launched his own business, aimed at attracting individuals and companies to fund his development into a touring professional. Tom admits it is, on the face of it, a high risk investment, but he is confident he can reach the top.
He said: "Technically, you can go from where I am now, travelling the UK in my parents' car, to qualifying for the European tour at the end of the season. I'm trying to build up a financial package to allow me to break onto the European Tour in three years. Your golfing prime is meant to be from 28-38, so despite me coming into the game quite late, if I can make it by the time I am 27, then I can still have a big career in the sport.
"I believe I can make it this season. I'm still on the upward curve and I've got big ambitions. I watch lots of golf on television, and I've just watched the Masters, and every time it's a kick up the backside. I want to be there."
To contact Tom about supporting his progress call him on 07766 147753 or email Tomhaywardgolf@gmail.com