Comptons Tennis Club, Lower Beeding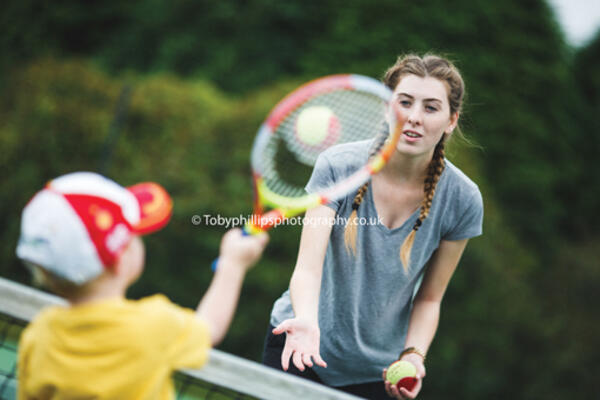 Published on 1st September 2015
Comptons Tennis Club is a friendly, sociable club established in Lower Beeding back in 1964.
The club has seven courts (five of which are floodlit) along with a clubhouse, changing rooms and bar, and recently enjoyed a successful Open Day during the Great British Tennis Weekend.
We met members of all ages during the summer holidays, when juniors benefitted from professional coaching whilst the seniors played doubles games on the all-weather surfaces...
MARTIN LYNE (CHAIRMAN)
"I've been playing tennis for about 10 years. I broke my leg skiing and my wife - who has been a member here for a long time - suggested I take up tennis.
She had been going on tennis holidays to the Caribbean and told me about a tennis trip to Florida, so I asked to go along as a beginner. So off I went! After that I joined Comptons, and as a chartered accountant by trade I naturally became treasurer.
My wife is a member too. When I play her and win, that isn't good. But if I play doubles with her, she complains that I poach and don't play properly. So the best way is to play separately!
Just over a year ago, I was persuaded to become chairman, a role I enjoy as there is a nice committee here. I'm keen for the club to grow so I can leave it even better than it was when I took over.
Comptons has a lot going for it, as we have fantastic courts, a nice clubhouse and a great coaching team. We used to rely on a single coach, and if he was ill or went on holiday there was no obvious cover. But Nigel and Andy are very experienced tennis players and with their team can provide in-depth coaching.
Some members, like me, play during the week whilst those who work normally play at the weekend, so we have quite high court utilisation as the membership numbers are good. But we are not under pressure for court space and do not need a booking system.
You'll see from looking at the players here that you can go on playing tennis for a long time, as you can play it as energetically as you want. Some older players are very good at anticipating where the ball is going and can win games with what looks like negligible effort! There's a lesson there for us all."
ANDY TOPE (COACH)
"I run AT Tennis with Nigel Allingham, and we run the coaching at Comptons and Crawley Tennis Club, as well as Worth School. We have only been coaching at Comptons since April but we are both local to Horsham so know the club well.
As a junior, I played at Horsham Sports and Cricket Club, where Nigel was a coach. I played to a County level and then played at Sheffield University. I came close to reaching a higher level but a knee operation made it a bit harder. The passion is still there and I'm still happy to get up at 6am to train in order to play competitively. I coach players of all ages and ability, from four-year-olds right through to County-level players, so I need to maintain quite a high level of playing myself.
Comptons is a great club with a sociable atmosphere, so it's nice to come down here. You often find that tennis is a sport that people enjoy at school and return to later in life when they have more free time, but of course every year during Wimbledon everybody seems to pick up a racket!
People do view it as an expensive sport, but we are making it more affordable. Our academies are very well priced and we have rackets people can borrow, so we welcome new players."
ELIZA GRAHAM (JUNIOR PLAYER)
"I'm 14 and have been playing tennis for about eight years now. My parents both play at Comptons, so when I was younger they would bring me and my sisters to junior camps here.
I play for the ladies team here and also take part in singles competitions, not necessarily representing Comptons, to improve my ranking. I am one of triplets and my sisters Harriet and Connie are both very competitive too. We train together and although we all have slightly different games we are performing at a similar level."
MAIRE HALL (MEMBERSHIP SECRETARY)
"I lived in Hong Kong for 17 years and played a lot of tennis out there before joining Comptons in 2005. Like many women, I played at school and didn't play again until after I married. You go back to the game when you have the time.
We have four ladies teams playing doubles matches in the Sussex League and one team in the Ageon League, which include singles as well as doubles. I'm captain of the 3rd team. In each team we have four players and the league format keeps it fair, as players cannot drop down and play easy games in lower leagues.
As well as ladies teams, we have men's teams and separate leagues for veteran players, mixed teams, and a local charity ladder too. Whatever level you play at, it is fun and competitive, with most matches played to two sets with a championship tie-break.
There is always something happening here, as we have social tennis four days a week, group coaching sessions and members organise fours games too."
KATHERINE POTTER
"What is great about tennis is that there are many opportunities to play, with different leagues that meet everyone's ability.
If a player reaches a very good standard, they will be spotted - like in any sport - and selected to attend development centres such as the indoor centre in Falmer, for LTA coaching. We also have a good coaching team here too.
Our courts were resurfaced five years ago and are serviced every year. The Astroturf courts, of which we have four, along with three hard courts, are very popular with the senior players, as they are much kinder on the joints!
As a club, we're in good health with about 200 members. We held a very good Open Day as part of the Great British Tennis Weekend in May and well over 30 new members joined, so that has given us a real boost."
BRIAN SMITH
"Where are you from? AAH? Ah yes, I get it delivered but I don't usually read it as it's full of adverts. (Always nice to meet a fan! -Editor).
I'm 77 and have been playing since 1990. My son took up the game when he was 10 and I thought that rather than watching him, I could play and enjoy myself too. We went to Horsham Tennis Club initially, and I've been up at Comptons now for about 15 years. My son, David, became a good player and was thinking about becoming professional for a time. But he doesn't play often anymore due to work commitments. I'm sure he'll pick it up again.
I carried on playing to keep fit, as tennis is a game you can play into your 80s.Some of the older members were very good players as young men, and hardly need to move to win points. I don't have that ability as I didn't play as a youngster. I thought tennis was a girl's game, and I preferred fishing or shooting!
You have to stay active in later life and I find that the more you keep going, the fitter you are. When I sit down after playing, I do find that when it comes to standing again everything has seized up. So the best idea is not to sit down!"
JULIE WILKINSON
"I joined Comptons about two years ago, having only played tennis at school. I was looking to make new friends and keep fit. I'm not very good at going to the gym, so I thought it would be more fun to join a tennis club. I find that tennis is a good way of getting your aggression out and it gives me an excuse to get out of the house!
I like Comptons because it is small and sociable and I don't need all of the frilly bits you might have at other places.
I play doubles with Vanessa in the Warninglid charity ladder and we are quite a competitive duo. We weren't initially but we are becoming that way. We have developed an understanding, which does take time, and you'll find most good doubles teams have been playing together for many years.
The coaching is very good here at Compons and I have improved a lot in two years. To begin with, I couldn't set the ball up properly when serving, but now people tell me that I'm playing and serving well. At the moment, I only play doubles matches, but I wouldn't mind trying singles matches at some point. I'd need to work on my fitness to make sure I could play three sets though!"
For more details on the club call 01403 891419, email play@comptonstennisclub.co.uk or visit www.comptonstennisclub.co.uk