Horsham Tigers: Touch Rugby in Horsham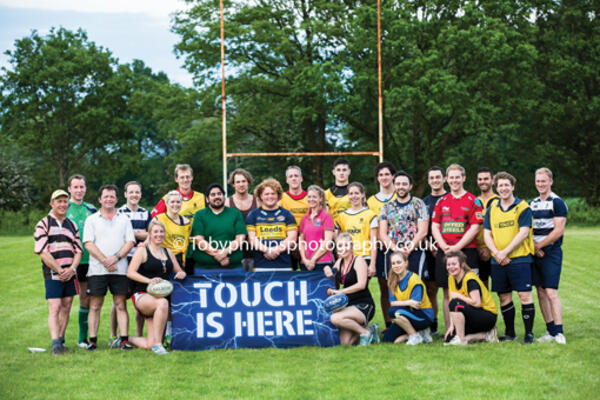 Lizzie Bennett: Four years ago, Barns Green Rugby Club organised a tag tournament in memory of Simon Viney. Some of us wives and girlfriends of the players came together and said 'We were friends of Simon's too and we would like to be involved.' So we entered as 'The Tag Wags' and we had a great time.
Catherine Gates: At this charity tournament, a group of guys who were playing approached us, and told us that they had booked a tour to Belgium and needed some women to play as it was a mixed event. They saw us playing and asked if we wanted to go. We thought 'Why not?' and went with them. We had a fantastic time and afterwards Lizzie and I decided to set up a touch rugby side ourselves.
Catherine: We decided to develop as a mixed team, as we didn't think we could pull enough people together for a women's team. We started playing touch rugby, and it was a sociable thing to do on the village green. But after a couple of years, there were only a handful of us that were still passionate about it. It came to a point where we had to look outside of Barns Green, so we approached Horsham and they jumped at the chance.
Lizzie: The first time we turned up here there were four of us, but we grew steadily and a short time later registered with the England Touch Association. Since then, we've also
received £5,000 from O2, who are supporters of rugby, and that allows us to develop and promote the club. The Rugby Football Union (RFU) has seen how the game has grown in Australia and New Zealand, where touch rugby is used to support the contact game, and realise that touch needs to be supported.
Liam Sturt: The rules of touch rugby are not complicated. People turn up having never played any kind of rugby before and by the end of the day they are mucking in, shouting and all the rest of it. You play six-a-side, with six touches before a turnover. After each touch, you put the ball down between your legs, and roll it backwards to another player and the game restarts. The defending team must retreat five yards after a touch. The ball cannot touch the ground, there is no kicking at all, and like rugby there is no forward
passing. Obviously, there's no tackling!
Lizzie: For professional FIT (Federation of
International Touch) tournaments, you must have two women on the pitch at any one time. We enter a range of tournaments, from social events like the Chichester Beach Tournament, where everyone is in fancy dress, to more
serious events such as the Challenge Touch
series.
Catherine: We play in tournaments on a
Sunday, so that it can be a sociable day and we have the opportunity to play several games. The tournaments are always
competitive, and we always go out to win.
Gary Simmonds: Because it's a relatively new sport, we have struggled to find competitions where they follow the rules of having two women on the pitch at any one time. We sometimes struggled in tournaments as we were facing all male teams. With the best will in the world, a team of men will normally be stronger and faster than a mixed team. However, the women here are more confident players now and back themselves against their male
counterparts.
Catherine: There are different roles for the women in the team. They bring their own strengths. The guys tend to be faster and stronger, and more focused on scoring the try and going forward. The women are strategists and I think they run the
defensive line very well.
Liam: We have rolling substitutes, as
although the games are only two halves of ten minutes, it involves constant running as you're continually moving forward in attack or backwards in defence. A few people here are really rapid, but there's such a great mixture of ability, so anyone can turn up and play and find a position on the pitch.
Catherine: Since we've been here in
Horsham, our numbers have swelled and we see new faces every week. A lot of the people who come have never played any form of rugby. Some have played before, but can't play contact anymore due to
injury, whilst others are players who come here for fitness during the summer.
Nick Bell: I'm a first team player for
Horsham Rugby Club, and I started came up for touch rugby training last year
before the contact season started, as it's great for fitness, is a really good laugh and it just helps to keep your sharp. Some of the lads like a bit more of a rest, but I
expect a few more of them to join us as the season draws closer.
Gary: I first came here as I wanted to try contact rugby and a friend suggested touch as a way of learning a few of the basic rules, and of improving my handling. I was apprehensive at first as I wasn't sure of the rules and terminology, but you pick it up quickly. I started playing contact for the first time last season, with Horsham Casuals at first and then for the Seconds. But I carry on playing touch as it improves your movement, positioning and of course fitness.
Lizzie: The touch game is split into three levels. There is an entry level, then the Challenge Cup Series and then a National Touch Series. We are at the middle level now, so we are
improving, and next year perhaps a few members will try out for the national level.
Nick: The players have improved a lot in the last year, and it's noticeably more structured now. The drills they are doing are decisive, and the whole team has come on in leaps and bounds. I've noticed that they're doing better in tournaments too.
Lizzie: Horsham hosts an annual touch
tournament, which is a fun social event with teams in fancy dress. We'll be supporting that this year and it could be we organise it in 2015. Players will still be able to wear fancy dress, but we may have qualified refs so we have a consistent set of rules.
Catherine: We're also hoping to set up a four week league with a final at the end and see how that develops. Once again, there will be a focus on bringing the family along and
having a good time. That's what is great about touch rugby; you meet people of all different ages and backgrounds, all having a laugh, and you have that mix of men and women that you don't have elsewhere.
More details can be found on the Tigers
section at https://www.horshamrufc.com
or you can email
horshamtigerstouch@outlook.com