Bowls Club aims for Universal Appeal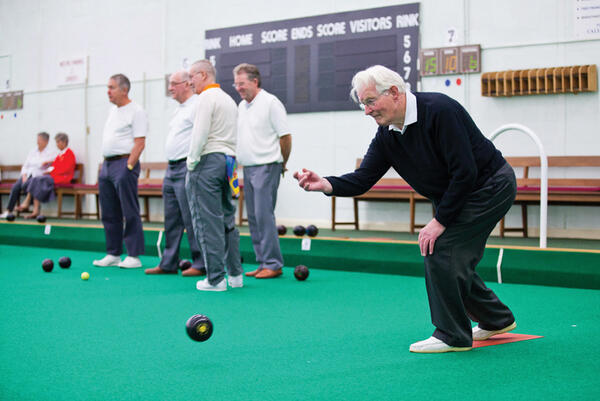 A woman pops into her local newspaper office to place an obituary for her recently deceased husband and is informed that there is a charge of £1 per word. After a moment's thought she says "let it read 'Fred Brown died'."
But the editor tells her that there is a six word minimum for all obituaries, so she has a re-think and says, "In that case, let it read, 'Fred Brown died: bowls for sale'."
That old joke has no doubt been told at bowls clubs across the country for many a year, but here in Horsham they are trying to shake off the common perception that the sport is only for old people.
Unbeknown to most of its residents, the district has one of the best indoor facilities in the South East. It's located close to Tesco in Broadbridge Heath, alongside the sports centre. However, unlike the sports centre, the bowls
facility is not set to be torn down. In fact, Horsham Indoor Bowls Club has recently signed a 15-year lease with the council, so the future of the club looks as bright as the new bowls carpet which was laid down about a year ago at a cost of £35,000.
Now that the future is secure, the club is hoping to establish a junior section. But it will not be easy to attract
youngsters to a club that has 500 members, nearly all of whom are of pension age. Nonetheless, club officials are working alongside Ian Ford, Sports Development Officer at Horsham District Council, to demonstrate that bowls can be fun for children.
Club member Heather Grant said: "Ian is a good guy to work with as he does what he says he is going to do! We've all passed the CRB checks and Ian is targeting 15 schools to promote bowls amongst young people.
"I have already had two groups of cubs come here and they were brilliant. As long as you can control them then it's great. They loved it and have booked up again.
"There's no reason why they should not enjoy it as youngsters love tenpin bowling, and we find when they do try bowls they love it. It's not going to happen immediately, but if we can get three or four to join and they tell their friends and then it can grow. We have the small sized bowls ready for them and even junior shirts. In a couple of years we want to have a proper club and hopefully have youngsters that can go on to the Sussex School of Excellence in Worthing."
Horsham District Indoor Bowls Club was only formed once the facility was built 17 years ago. Up until then, bowls players from the Horsham area typically went to play in Crawley through the winter months, but now it is Horsham that is the envy of clubs across West Sussex.
During those years, the club has been one of the many across the country that has taken steps to change the image of the sport. John Coghlan said: "Bowls is trying to move away from the old stuffiness. People used to come along and bowl in their ties and white shirts and so on, and one or two still do as they feel it is good and maintains standards. But people coming into the sport do not like the idea.
"We used to play matches with a white shirt and tie but now we have these polo shirts, which most clubs now play in. There was opposition to it, but once people saw members wearing the shirt they started selling like hot cakes."
Whether or not these changes can entice children away from football pitches, the cricket crease, the tennis court or their Nintendo Wii remains to be seen, but junior section or not, Horsham Bowling Club is in good health with about 400 full members and about 120 social members, which means they can enjoy the facilities but don't bowl.
As well as the terrific bowls facilities the club has its own licensed bar run by volunteers and a 90-seat restaurant run by chef Colin Morley, who ran The Peppermill in Dial Post for many years. Not only does Colin cook home-made food in the clean and modern kitchen, the club also keeps the prices very low with main meals costing about £5.50.
The club and restaurant can also be used for functions for different clubs and social events. John said: "We operate all year round but we are busiest from late September to the end of April as that is when outdoor bowlers all come indoors. In the summer there is not quite such a full programme. On most days we have internal leagues and roll ups, and we also have matches against other clubs across West Sussex and Surrey. We do play in the Sussex league, both for ladies and the men.
"Currently we are in Division Two but we have aspirations. There are some very good clubs and players in the county, as you can imagine. We have leagues that are competitive and there are friendly matches too, but people still want to be best rink. We have a number of people playing for Sussex and we have one bowler, David Miller, who has won the national championship before and has now re-joined us. He is the one that everyone aspires to be like.
"But this is only a tremendous club because we have invested in it. We bought a new carpet and new lighting as it was rather dull in here. The carpet cost a lot of money as we have an eight rink set up here, which is bigger than most clubs. They had to lay out these huge stretches of carpet and they had to be stitched together in quite a delicate way so that the balls are not affected by the ridges.
"We are highly regarded for our facilities and we are actually having county matches played here. The only problem is the location – just south of Tesco car park – means we don't get passing trade. You have to know we are here."
You also have to know that you don't need to be a member to use the facilities. Of the eight rinks, the club has to put two aside for use by members of the public as part of the lease agreement with the council. They can still be used by a club member so long as it is not being used by a member of the public. A two and a half hour session for a member of the public is £5 and if they need bowls they can hire bowls for only £1.50.
The club prides itself on its friendly atmosphere so you are sure of a warm welcome from a good mix of players (there are slightly more men than women though – the ratio is about three to two).
Geoff Kentish said: "The President of the Essex County Club recently remarked that it was one of the best
facilities they have been to. When the facility was originally built it was noticeable how plain the walls were. They commissioned somebody to create two images along the side wall (the larger of which is of Shipley Windmill) and then along the other wall we have the pictures of old Horsham.
"They have come out really well, except for the phantom leg. There is a picture of East Street which is two images that have been put together and blown up. Right in the middle of the road there is a leg all on its own! The old scoreboard is still up on the wall, but we now have a large electronic scoreboard. It's not just for nostalgia, as we can also use it if the electronic equipment goes down."
If you are aged between eight and 80, which you probably are, and think bowls could be the sport for you, the club is hosting an Open Day on the Monday 30th January, at 7-9.30pm. If you like what you see, the annual membership fee is £80 and £15 for social members. If you take the January edition of the magazine with you (delivered from 5th January 2012) the club will slice £10 off the cost of membership.
John summed up by saying: "Bowls may not be the 'in' sport but there is more to it than meets the eye. It gets very tactical and you're always trying to build something up and then somebody comes along and messes it all up!
"This club is more than an old people's leisure centre. A lot of people - men and women - stop playing an active sport and this is a way of keeping competitive and keeping a social life."
For more information visit https://www.hdibc.co.uk/