Marco Penge and his Masters dream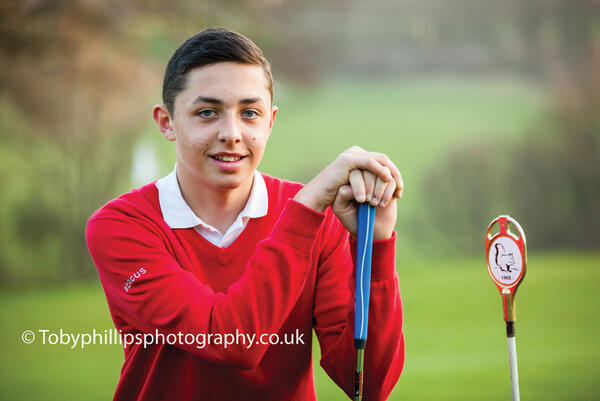 Last October, Marco Penge caused a sensation when he became club champion at The Dyke, one of the finest downland courses in the region. Depressingly for his rivals, Marco was only 13-years-old.
But it didn't come as a shock for members of the Devils Dyke club, as Marco has been creating headlines for several years. In 2008, aged 10, Marco played for Mannings Heath Men's team in the Sunday Mail Classic Cup. He won his match 4&3, which led to a full page report in the newspaper.
The records keep tumbling for the Horsham golfer and in 2009 he was invited to play in Sir Clive Woodward's Charity Golf Day, which he duly won. He has won the Sussex Under-15 Championship for three consecutive years and is now a member of the England Under-16 Squad.
Having become a scratch golfer five months after becoming a teenager- the same age as his hero Tiger Woods - Marco now has his eyes on a career as a professional. There is even a possibility that he could qualify for The Open. Should he manage it this year, he will become the youngest player to compete in the history of the major tournament. The current record is held by Tom Morris, who was 14 years and four months when he competed back in 1865. But time is on Marco's side – Justin Rose was seventeen when he made his memorable debut in The Open in 1998.
Forest pupil Marco first picked up a club when he was five years old. His dad Angelo, a Director of Norsat, remembers: "My wife Marie bought me some cheap clubs for my 40th birthday. She said I needed to relax and take up a sport. I went up to the driving range at Pease Pottage and took Marco along with me when he was only five. He just picked it up and drove it straight down the fairway!
"I got him some lessons with Neil Darnell, a professional at Mannings Heath Golf Club, and also with Clive Tucker who is now at Wildwood Golf Club in Alfold. His main coach now is Alex Saary, who he has been with for five years. Marco is known as a big hitter but his swing is similar to Sergio Garcia."
It's been a while since Angelo could offer his son much competition, but Marco has grown up playing golf with his friend Charlie Strickland, who plays off a handicap of three and is also among the most promising young players in the country.
As his game continues to develop, and the competition invitations come from further afield, the cost of Marco's golf commitments rise too. But his parents are happy to support their son whilst he remains so dedicated, to the extent that they have even provided Marco with a nine foot putting green in their home!
There has been other financial support too; Marco received a grant from Set4Success, a local initiative driven by Horsham Rotary Club and SportsAid (see Page 6), and further funding from the Sir Henry Cooper Junior Masters Charitable Trust. He is now a member of three clubs – Worthing, Mannings Heath and The Dyke – and this year Marco will be competing in a number of major competitions including the Walker Cup, a junior version of the Ryder Cup.
But despite his tender years, he knows what his dream is…to one day pull on the green jacket. "My dream would be to win the Masters at Augusta," he said. "I'm very focused on my golf. I'm quite an aggressive player like Tiger Woods but I don't ever get angry on the course.
"I'm good at school but I don't intend to carry on with education after I leave Forest as I want to be a professional golfer. I don't like the idea of sitting at a desk!"