Pop-Up Horsham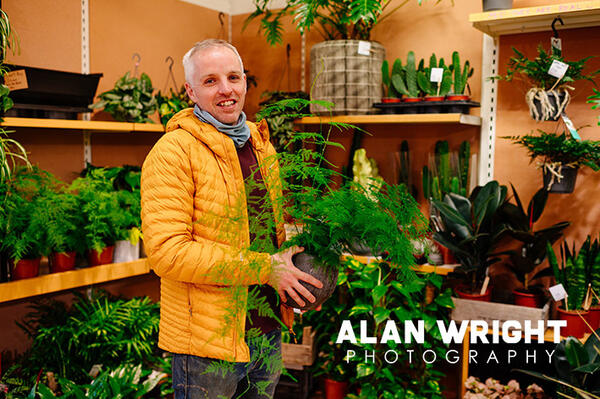 Published on 1st February 2021
Pop-Up Horsham offers start-ups and entrepreneurs the chance to experience life on the high street. Launched in 2015, the Horsham District Council-supported initiative proved a success. A Pop-Up shop returned in November 2021, this time in West Street, proving a hit in the run-up to Christmas. As well as small businesses, the shop has hosted workshops by local artists and photographers, business seminars, and even yoga and fitness sessions.
The West Street shop was due to close at the end of January. However, it is hoped that further pop-up opportunities will arise, encouraging more businesses to take their first steps. AAH met some of the artists and entrepreneurs at Pop-Up Horsham to find out more...
To find out more about future pop-ups in the town, please visit: www.popuphorsham.co.uk
Jenni Wren
Owner: Jenni Meyer
Jenni Wren is a two-pronged business, selling pre-loved home decor both online and at pop-ups. I'm fortunate to have family spread around the country and whenever I visit them I browse auctions and charity shops. I buy things I would like in my home and have an eye for quirky items of age, as there's usually a reason why someone has cherished an item for a long time.
Researching the history of items is one of the most enjoyable aspects of the job. The badminton racquet was made by Grays of Cambridge, the racquet of choice for King George. The original Italian scooped head cat vases by Tarcisio Toscin were an iconic design in the 1950s and 60s. Last year, I bought a job lot of plated silver at auction and found a solid silver teapot, but days like that are few and far between!
I found out about Pop-Up Horsham on Instagram. The shop was busy in the run-up to Christmas but things went quiet in the New Year. Luckily I have an Etsy shop to tide me over. I would love to have my own shop one day, perhaps in Horsham, but until then, I'll focus on the online store and the occasional pop-up. Etsy: JenniWren2020
Suz Handmade Creations
Owner: Suzanne Westman
I've always loved art and creating things. I used to live near a military barracks and made lamps using plastic army men to create mini battle scenes. They sold very well! When I discovered acrylic pouring, the business headed in a new direction. I studied the method intensively and now host regular acrylic pouring workshops. I call myself a fluid artist and as well as creating large works, use leftover paint to make unique jewellery.
I have also learned how to use Jesmonite, a combination of acrylic resin and rapid-setting composite materials. You pour it into a mould and can create very robust ornaments with a beautiful natural texture. I love to play and explore with materials and find that adding a black pigment gives the effect of movement, creating a fascinating marble effect.
During lockdown, I taught myself how to make silicon moulds too, so now I have my own designs, like the bum pot - one of my best sellers!I've enjoyed the pop-up shop and we saw good sales in the run-up to Christmas. It's been quiet in the New Year, but that's a reminder of what retail's really like. They can't all be great days!
Selling alone is not enough for me to make a living, so I teach acrylic pouring too. It's therapeutic and having suffered with depression in the past, I use my experience to help others and encourage them to do something positive. www.suzhandmadecreations.co.uk
Hugo and Green
Owner: John Kitchen
I launched the business in September 2020 at the end of lockdown, naming it after my dog. I used to work with plants in London, looking after them in City offices with complicated lighting environments, where it's hard for plants to grow. I've been fascinated by plants even since and have long dreamed about opening my own house plant shop.
I was made redundant and was homeless for a while, sleeping on a friend's sofa. I had little to lose, so with only £500 to my name, I bought some plants and set up a market stall. Gradually, I increased the range I offered and built up the business.
During lockdown, people connected more with their home and thought differently about plants. Instead of just picking them up from a supermarket and sticking them in a corner, waiting for them to die, people are thinking about which plants suit the environment, depending on light and temperature.
I mostly sell plants that are easy to look after, but have more interesting specimens you might not find in larger retailers too. There's a lot of interest in the living walls. They are modular systems that you can stack to any height and fill with plants. The hydroponic watering systems are self-contained, so there's no mess, and they're made in the UK from recycled materials, so it's a lovely, sustainable product.
What I love about the job is speaking to customers and recommending plants suited to their needs. After three months at the pop-up, I'm starting to see customers returning, showing how important it is to be here on a daily basis. I'd love to have my own shop eventually and am looking around Horsham to see what's available and affordable. www.hugoandgreen.com
Mandy McKenna Designs
Owner: Mandy Mckenna
I run a pottery painting studio in Ifold and host workshops which allow me to continue working as an artist and designer. The workshops are for all ages from home schooled children to adults. I'm also well-known for baby prints and pet paw prints.
During COVID, I've supplied pottery painting kits to nursing homes, hospitals and schools. Art is therapeutic and helps ease depression and anxiety. It can literally be a lifesaver in some instances. Sometimes, my studio work takes over, but when I have the time I make pottery, ornaments, floral paintings, greetings cards and fabrics, hand-paint furniture and even children's books. I'm drawn to certain tones and colours, so my ceramics complement each other.
I was involved in a pop-up shop in Chichester and enjoyed it, so when I saw the Horsham shop advertised, I applied and was selected as one of three artists. Some days are quiet, but I have space to paint and it's nice to collaborate with other creatives and entrepreneurs in a shared space. www.mandymckennadesigns.com
Sussex Green Living
Chairman: Paul Bellringer
We capture people as they're wandering around the shop, asking if they know about Sussex Green Living and the projects we run in the community. These include the Sussex Green Hub at the United Reformed Church. There, people can use our refill service, with all manner of personal and household cleaning products available, and the repair café, where our volunteers can fix electrical items, saving them from the waste recycling centre. We also highlight low-cost energy sources, local recycling points, encourage people to buy sustainably-sourced clothing and offer composting advice.
Pop-Up Horsham has helped us reach hundreds of people and inform them of what we're doing, with many signing up to our newsletter. Carrie Cort is the driving force behind the charity and is determined to source funding to launch environmental hubs in villages across the District.
The emergence of Pop-Up shops is exciting. With more people buying online now, major retailers are going to have a reduced presence on the high street and in some cases will disappear altogether. Allowing budding entrepreneurs to have somewhere to display their products and grow their business gives town centres a different direction. So, even though the West Street site is closing soon, we hope there will be more pop-ups in Horsham. www.sussexgreenliving.co.uk