FairKind Child in Piries Place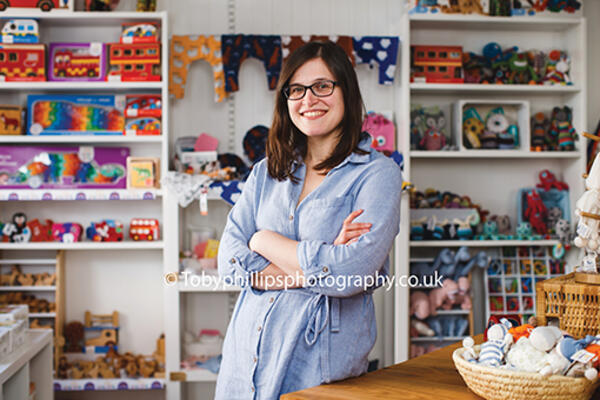 Published on 2nd June 2018
A children's shop with a difference is growing in popularity thanks to its focus on hand-made, ethically-produced, high-quality range of toys and clothing. We meet Trish Fitzroy, owner of FairKind Child, in the midst of a major new development at Piries Place.

Is this your first shop? I ran a health food shop in North Yorkshire for four years before moving back to West Sussex, where I grew up, with my son. My first shop was focused on ethical, sustainable products and I wanted to bring a similar ethos to a toy and gift shop. Initially, I sold a handful of toys alongside my portrait art at craft fairs and second-hand baby shows. Having generated some positive feedback to the stall, I wanted to take the next step.
Why open a toy shop? I focus on toys because it's what I know. I'm passionate about art therapy, creativity through play and supporting families, so this is an amalgamation of my interests. Also, as I have a young son, I know what kind of things I wanted him to be playing with in terms of materials. You want to give children the best start in life, so why compromise by buying toys that are potentially harmful?
But aren't those the toys that children want? When I take my child into a typical high street toy shop, his stimulation goes through the roof. He is overwhelmed and excited, but not in a positive way. He wants to see everything and the experience becomes stressful for him. Everything flashes and makes a noise, but children lose interest in them very quickly.
What is the alternative? Toys that are open-ended and spark their imagination. At FairKind Child, we have wooden houses with accessories and it could be a train station, a fire station, a farm house or anything a child wants it to be. When something is decorated and ready to go, it is what it is and limits a child's interest. It all makes a big difference, as in this shop, children are calm and socialise through play.
Are more parents moving away from plastic toys? People now recognise that plastic is harmful to the environment and potentially dangerous to children. There's no need to buy plastic toys when there are so many lovely alternatives. There are parents looking for quality items made with different materials that can aid a child's development. They also want quality over quantity, as less is more when it comes to play. When you buy something that has been made properly from good materials, it might cost more money, but you keep it for longer and maybe even pass it down to the next generation. For that reason, parents are going back to traditional wooden toys and knitted dolls.
What sort of products do you sell in the shop? Most of our toys are geared around learning and play. We have products like the bamboo push-along cars, cooking utensils, the wooden ark, wooden dominoes and animal jigsaw puzzles like the dragon alphabet and the sausage dog number jigsaw. Everything here is unique and personal that you won't find in high street toy shops.
There's also a wonderful array of knitted items... We have some beautiful rattles and dolls, like the blue chubby monster rattle with his one eye. We have lovely rag dolls supplied by a British company working with communities in rural Bangladesh, supporting their economy and teaching young mothers the art of crochet. We are also an outlet for Lanka Kade. They work with skilled artisans in Sri Lanka to create fair trade wooden toys, including London buses and pirate ships. I always know where and how an item is made, as it's important to support ethically-minded businesses. Shared Earth is another company with an environmentally-conscious outlook who we work with.

Do you support Horsham companies too? We have a range of clothing by local fashion designer Kim Fentiman's brand, KJF From Scratch. Kim uses organic fabrics to make beautiful clothing for babies and children, featuring pineapples, dinosaurs, pandas, giraffes, vintage cars and all sorts of things. Another local parent has designed gender neutral slogan clothing. There's a pink vest that reads: 'Who said boys can't wear pink?' Another reads: 'No, I don't sleep through the night, so please stop asking my mummy.' That one's particularly popular!
Do you stock upcycled products as well? I bring in a handful of products, including bags and aprons made from recycled products like drinks cans. I'm wary of not displaying too many upcycled products, as I don't want to detract from the quality of other items. There is a fine line between what looks good and what looks a little tacky. Another small side of the shop is our range of baby care products and health food items. A couple of people come in solely for our dairy free chocolate as there is an increasing number of children with food allergies.
There's a different atmosphere to the shop too... In most toy shops, parents are confronted with floor-to-ceiling shelving full of colour and toys. I wanted to create more of a family environment where parents can relax and have a cup of tea. Horsham is a family-orientated town and there's a great network of parents with young children all supporting one another. It's quite remarkable! I've seen instances where children have been reunited with a glove or a hat after losing it in town, because of the network of mums on social media. When I was looking to open a shop, I hoped I'd be able to incorporate a café. That wasn't possible and instead FairKind Child has found other ways to become a small part of that local network.
What ways are they? We host a Monday morning art club for toddlers and pre-schoolers to get creative, with children playing with parents or grandparents. There are many clubs and support groups for mothers and babies, but not much beyond that age, so I hope I can help fill that gap. The shop has also become a venue for talks and workshops by parenting experts. I want FairKind to be not just a shop, but a place that provides information for parents of young children.
Has it been difficult attracting business in Piries Place? The development work going on here has made it very difficult, although I only opened last December, so I knew what I was coming into. My hope is that I can survive the worse of the work and after a year, the shop will be established and in a better position. It's not been easy, especially as I have a young son and worked seven days a week for the first month. Now, I have an experienced midwife who is retraining in alternative education helping me in the shop. Gradually, word of mouth has spread and we are attracting more visitors!

Visit FairKind Child at 26 Piries Place, Horsham, RH12 1EH, call (01403) 451499 or visit www.fairkindchild.co.uk