THE ARTISAN BAKEHOUSE IN ASHURST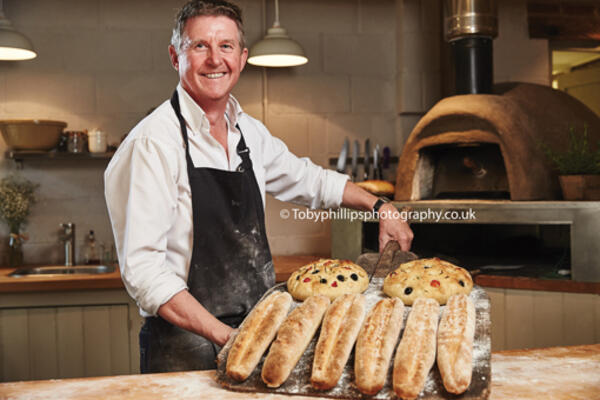 Published on 4th December 2015
The cultural impact of The Great British Bake Off really cannot be understated. This little baking programmes's viewing figures have increased five-fold in just six years, ensured that Baked Alaska will forever be synonymous with 'bingate' and has inspired millions of people to take up baking.
Even those of us who have not yet been tempted to roll our own flour, at least now know that focaccia, friselle and bruschetta are not Italian midfielders signed by Middlesbrough FC in the 1990s.
With the nation having fallen back in love with baking and traditional recipes, small businesses have sprouted that are helping us develop our knowledge and understanding of good food.
One of those businesses is The Artisan Bakehouse, tucked away in the village of Ashurst near Partridge Green. Here, the public can enjoy a hands-on bread-making experience with husband and wife team, Les and Louise Nicholson.
"Shows like Bake Off have been great for us, because they raise the profile of baking and inspire people, "says Les. "People have even nicknamed me 'Ashurst's Paul Hollywood!' "Most people who come to The
Artisan Bakehouse watch the programme and bake at home because TV shows give them the enthusiasm to try new things.
"Recipes used to be passed down from generation to generation, particularly from mothers to daughters, and I think we went through a long period when that didn't happen as often. Now, that is starting to happen again and people are returning to traditional recipes. "We see many relatives coming to our courses, including mothers and daughters, and that's always lovely to see."
The Nicholsons both worked in city banking, but having grown tired of the rat race, gave up big salaries and company cars for a dramatic lifestyle change.
After training as chefs and working in ski chalets, Les and Louise fell in love with France and decided to move there, running an Aga cookery school in a renovated French farmhouse for eight years. It was during a holiday to Florida that they made another bold decision. They planned to open a restaurant in Steyning; but it was not to be.
"We came back to England in 2011 and even had a name for our new restaurant, but the deal fell through," said Louise. "It left us a bit high and dry and we weren't quite sure what to do.
"Then we saw this property in Ashurst on the market and in many ways it mirrored our cookery school in France.
"There, we were primarily teaching British people how to properly cook French food on an Aga, and baking bread was a big part of that.
"So we decided to establish a similar business here. As was the case in France, we have two holiday cottages here in Ashurst that we are able to rent out, so we split our time between the cottages and running the baking school and tea rooms.
"Les leads the baking as he has so much experience, whilst I operate our tea rooms, which we open for one month only four times a year, although we also use them for our baking course lunches.
"Everyone thinks what we do here is idyllic, but we work harder now than we did in the City! It's a different kind of hard work as you are not relentlessly chasing targets, but we still need to attract customers to pay the bills."
So what makes a bakehouse Artisan?
Is it in the flour? Is it in the moulding of the bread? Is it in the baking process? Is it just a meaningless word written on a shabby chic chalk board to superficially create an illusion of continental grandeur?
Louise says: "Les gets wound up if people use the word 'Artisan' when it isn't really. "In France, they interpret Artisan to be bakers who hand-craft bread in small batches. That is all we wanted to be here and what we have achieved.
"We use a wood oven similar to the one we had in France alongside our Aga, as it gives the bread a lovely finish and bakes so evenly. Every loaf looks fantastic when it comes out."
The Artisan Bakehouse runs introductory courses three times a week during baking school seasons, with a maximum of six people per group. During the day, the group makes and bakes three different breads - French baguette, an Italian carpaccio and an organic Artisan loaf - working with different flour and developing shaping techniques. Everyone is treated to lunch in the tea rooms and can take home their three baked breads.
Les said: "We've had a lot of people on the introduction course that have wanted to take their baking skills to another level and create different breads. They like coming here as it's really hands-on and they learn a lot about the bread. The idea is that they leave here and use their new-found skills at home and bake more often.
"At the moment, demand is so great for the introduction course that it's difficult to find the time for speciality bread courses. We also welcome corporate and private groups for pizza making courses, which are great fun.
"However, I definitely want to launch a Mediterranean breads course with varieties of flat breads and introducing
different olive flavours too. We would like to bake with more enriched doughs as well, but you have to consider what is feasible with the technicalities of the wood oven as it provides you with limited baking time.
"It would be easier with a conventional oven, but the wood oven provides you with such a brilliant finished product and it is part of the charm here. We have talked about expanding, but a lot of our customers say 'keep it as you are – it is perfect.' What we have here works, and people are telling their friends to come here, so we don't need to change at the moment."
With people enjoying baking again, and an apparent will to buy local produce, why are we losing bakeries?
"Perhaps we are losing bakeries because it is labour-intensive," says Les. "There is only so much that buyers will pay for a loaf and that makes it difficult for small producers.
"We've been asked if we can bake bread for restaurants and farm shops, but it just isn't commercially viable for us. I could wake in the early hours, but with my wood oven could produce only perhaps 24 loaves.
"With wholesale rates being what they are, that doesn't make us an awful lot of money! Other bakeries have a higher capacity than I do, but similar concerns."
Despite this, Les believes that the modern consumer cares about where their bread is coming from. "There has been a lot of bad press about what goes into supermarket breads through industrial scale bread makers, and as a result people are looking for a much cleaner, local product.
"I'm part of the Real Bread Campaign, which campaigns to promote good quality baking, and perhaps the campaign and places like ours are making a difference."
The Tea barn will next be open every Tuesday, Wednesday and Thursday, 12-5pm, between 23 February - 17 March 2016, You can find out more about the range of Artisan baking courses for adults and children at www.theartisanbakehouse.com or email info@theartisanbakehouse.com
You can also follow The Artisan Bakehouse on Facebook or call 01903 810410