The New Kings of Beer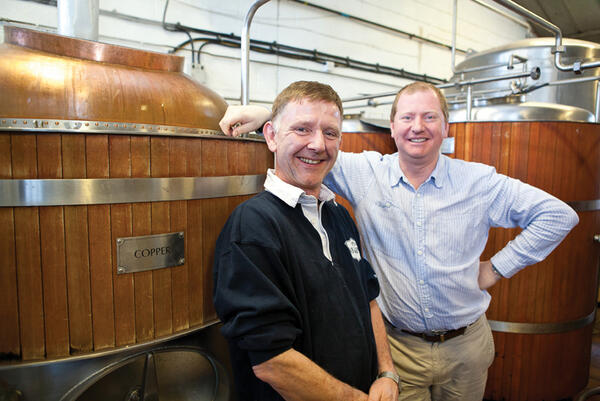 The name King has been synonymous with brewing in Horsham ever since James King started trading as a Maltster in the Bishopric in 1860. But while the name remains, there is no King at the helm of WJ King in Foundry Lane, Horsham.
Bill King, who set up the micro brewery after the takeover of King and Barnes in 2000, retired at the end of last year. Now at the helm and heralding an ambitious new era for the brewery are Nigel Lambe and Ian Burgess. It would appear to be a dream team. Nigel leads the business side of the venture, while Ian - deputy head brewer at Harvey's for 19 years - takes on the brewing duties.
Nobody speaks quite so enthusiastically about beer as Ian (AAH advises readers never to ask him an open ended question such as 'so what have you changed at the brewery?' unless you have several hours to spare!) and his passion is driving the brewery to new heights. The team has also been spurred on by Kings Old Mild winning a silver medal at the National Winter Ales Festival.
Ian said: "I met Nigel in October 2009 and we hit it off straight away. Nigel wanted to grow a brewery from the ground up. I put various options before him, what to do and how to do it, and eventually WJ King came up for sale. Bill King had been in discussions with someone else, but that deal fell through and Nigel took a phone call, and we took a huge leap of faith into producing beer here."
There are five beers that are always available and three of those have been launched by the new team. Horsham Best and Red River are from the previous recipe book, although they have been "cleaned up" by Ian.
Orla Lambe, Marketing Manager, said: "We launched Brighton Best last October, which was good fun but very stressful for Ian. That's now our second biggest seller with Horsham Best still the number one. Other new beers are Brighton Blond which was brewed last December and Market Porter, launched in March."
The Brighton market has been quite deliberately targeted by Nigel and Ian for several reasons. Horsham is a difficult market for small breweries as most of the pubs are tied up, with Hall and Woodhouse dominating, but along the coast there are more opportunities and WJ King is finding a receptive audience in Brighton.
"The reason for launching Brighton beers is that Brighton has a very eclectic palette," said Ian. "They're much more amenable to new things and cleaner, fresher ingredients. Brighton has become probably our biggest market, along with rural Sussex. In Horsham we're at the Cock Inn, Lynd Cross, Bax Castle, and The Fountain in Handcross. But most of the pubs in Horsham are tied up. There's not a lot we can do to promote our beers here."
One thing that Ian in particular is keen to promote though, is the brewery's own method of ale production.
He said: "There's no button pressing here. Everything is hand made - the brewers open the valve, take it in and say 'no, it's not ready'. We need to make beers that will sell in volume in order to drive the business. We want to grow the business, we want better kit, bigger kit, more space, everything that means that the business can grow and become quite profitable and keep a good name without losing its traditions.
"I want to produce a fresh, crisp, easy drinking beer. I don't produce anything that's more than 6.5% and that's our Christmas ale. Generally we're around 5% because you want beer that people can enjoy without getting stupid. But it has to have taste. If you're drinking something that is bland and mass produced you're not going to get the hands on flavour you get through here.
"There's no lab here - everything is done by eye, what you can see, what you can smell, what you can hear sometimes. The sound of the mash going in the mash tub, it should be the sound of a wet cowpat. That's what I explain to the guys."
So it would seem that while there's no longer a King at Horsham's King of Beers, it would appear that those now at the helm are in no mood to relinquish the crown. "Now we've got the new style of beer and Bill's style of beer," said Ian."There's nothing wrong with Bill's style of beer, it's just a bit on the malty side for my palette. "Now I'm the brewer, I get to make something a bit more balanced and a bit cleaner so that's what we've done."
For more information visit http://kingbeer.co.uk/