Kissingate Swing into Action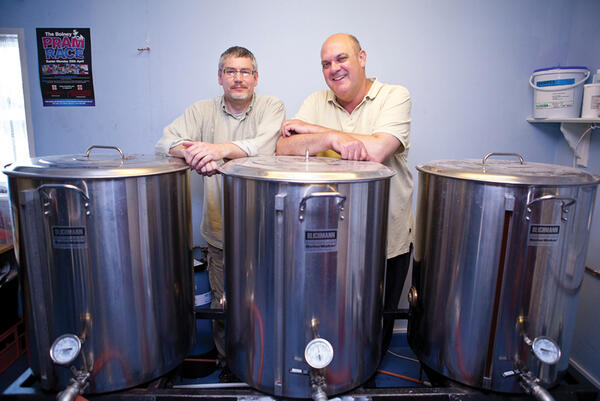 Kissingate may be the district's smallest brewery, but it is one that's punching above its weight. At a small unit off Church Lane in Lower Beeding, Gary Lucas and Barry May brew up another barrel of Story Teller.
This surprisingly enjoyable, tangy and refreshing ale employs a touch of lemongrass and Amarillo hops for its flavour. Gary said: "When I started brewing I was doing strong, dark beers, but the way the pub market is going I've had to be really careful with the gravities. Rural pubs won't take anything over 4.5% at the moment, where as the town pubs will.
"Some of the publicans were saying 'Gary, we love your beers but can you brew a lighter beer?' so I did and brewed Story Teller which is 3.5%. We found it's turning lager people on to real ale. You can stand there with your mates and drink it and not lose your street cred!"
Kissingate began life in September 2009, in the garage of Gary's home in Maidenbower, Crawley. But neighbours started to complain as his brewery grew, and it was time to look for a new base. Searches in Crawley proved fruitless due to the high rental fees, so Kissingate moved to Lower Beeding.
Gary said: "I've always been interested in brewing. You go to a pub, try a beer, and think 'How do I make a beer like that?' "I started to do full mash brewing using real grain and ingredients. Then I just bought a bigger system from America and that was it."
Now Gary, with the help of his wife Bunny and colleague Barry, brew using traditional methods. "This is hand crafted beer, so we work on timing, weights and temperature," said Gary. "We have to watch everything we do and to be consistent you have to make sure you're doing it exactly the same every time.Making alcohol out of malts is quite expensive but I'm trying to stick to that as I want to make beer as they did in medieval times. At the moment I'm producing eight casks a day. We're working on one brewer's barrel - about 200 pints, and I'm trying to brew three times a week."
Kissingate currently make a Black Cherry Mild (4.2%) which is made with real black cherries and muscovado sugar. First Kiss, the first ale Gary made, was well received at the Hove Beer Festival last year, while Warlock is described as a radical beer with a coffee aroma. Others made include Old Tale Porter, The Kissingate Moon, the award winning Mary's Ruby Mild and Christmas Tale. All of the beer clips are designed by Gary, in a style he describes as a 'little bit Lord of the Rings'.
Looking to the future, Kissingate is another brewery with ambition. Gary said: "I'm looking at getting a larger system, and taking over the unit next door, so I can do all the brewing in here and have a cold room next door.
"We're looking to press on, while maintaining the heart of a home brewer!"
For more about Kissingate please visit http://www.kissingate.co.uk/Welcome.html