Goldsmith's in the Heart of Storrington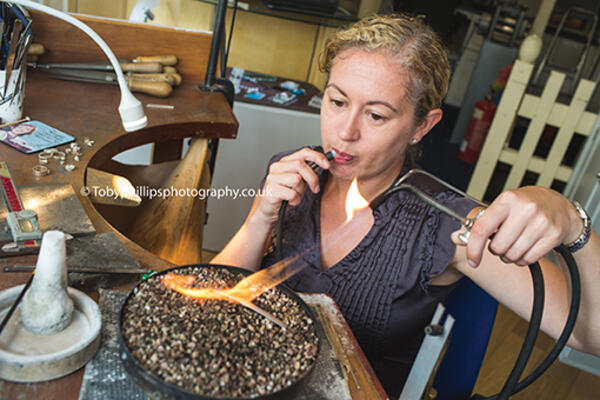 Published on 3rd August 2016
In a charming little shop on the corner of Church Street and West Street in Storrington, Melanie Moore is busy at her workbench. She uses a blow pipe to create an intensely hot flame to melt and move precious metals, whilst pliers, tweezers, hammers, cutters and shaping files are laid out across the bench.
Melanie is facing the window, looking out to Ye Olde Forge, and proudly displayed behind her is a certificate from the Worshipful Company of Goldsmiths, granting her the freedom of the City. As a freeman, Melanie can exercise her long-established right to herd sheep across London Bridge. Honestly, what year is this? 1642?
We chat to Melanie Moore of Melanie Paul Goldsmith's and Enamellers to find out…
Where did the idea of being a Goldsmith stem from?
When I was 15, I went for work experience with a Goldsmith. I was forever making things out of beads anyway, so I asked a family friend if I could spend the week working with him. After just one day, I went home with blisters on my hands, yet I had a smile on my face. I came away at the end of the week knowing that I wanted to be a Goldsmith.
I assume it's something you can jump straight in to?
At the time, there were no apprenticeship opportunities, so I studied at Kent Institute of Art and Design. But there's nothing quite like learning on the job. I was fortunate as, during the holidays, I worked for the same Goldsmith who offered me work experience. There were seven jewellery makers there and I could pick their brains.
Did you focus on one particular skill?
For a time, my niche was Champlevé, a specific type of enamelling, although I don't do much of that now. One of the diamond mounters taught me a different set of skills, and I was able to learn many new techniques. But there is always more to learn.
Eventually, you decided to go it alone?
I started out in a garage at my parents' house. But I was only doing trade work, mainly enamelling for other jewellers. Whilst it was interesting, it was not what I wanted. There's less satisfaction in trade work. I love that moment when - after spending time designing and creating a piece of jewellery - you finally hand it over to the customer and see if your efforts were worthwhile.
So you decided to open a shop?
I had worked with a Goldsmith called Paul Gardner and we talked about having a workshop of our own, as we were both working from home and were fed up. I liked the idea of actually meeting the people that I was working for. We had a chat about it and the very next day, I opened the newspaper and this unit in Storrington was advertised.
What was it about the site that appealed?
We didn't want to be on an average high street, and we didn't need to be in a big town as our intention was never to rely on sales. We wanted to create the experience of a traditional Goldsmiths. When I looked inside the building, I could see it had lots of history, and being Goldsmiths, we are part of an old-fashioned industry. The building perfectly complements what we do.
It is in effect a workshop?
That is part of the experience. You enter the shop and the work benches are there in front of you. That was always important. One of the reasons people come back here is that they are not faced with a salesman, but with the person who will be working with the jewellery. In other shops, you have to talk to people with no idea how jewellery is made. They have to send pieces away for the work to be done, and when it comes back, it may not look how the customer envisaged.
When did the shop open?
The doors opened in October 2006. Rather than using our surnames, we used our first names, so the shop is called Melanie Paul.
Paul is no longer working with you though?
After a few years, he decided to go back to full-time employment. Still, Paul does come in from time to time when I need an extra pair of hands.
What is the main source of your business?
Made-to-order jewellery. That may be engagement or wedding rings, birthday or anniversary gifts, and can involve making something totally from scratch with freshly sourced gemstones, or creating something from old items of jewellery that may need a contemporary look.
Is there much variety in the jewellery you create?
Every job is different. I can work on rings, pendants, necklaces, bracelets and with a wide range of diamonds and gemstones that all require different skills and techniques, which makes life interesting. I am seeing a rise in popularity in coloured gems, which is pleasing, as there are some beautiful stones out there that you don't see too often.
Do you use computer software to create designs?
No. I like to sketch out various ideas. I keep sketch books as they provide customers with inspiration and show them possibilities that they perhaps hadn't considered. If you browse the sketch books, you'll see that an idea usually evolves, often quite dramatically!
Most customers have an idea of what they want though?
It varies. Some bring in a picture of an item worn by someone – often a celebrity – and wants a more affordable version. Sometimes people have inherited jewellery and want to use elements of them to create something new. One woman saw a ring on a lady sitting on the table next to her in a restaurant in France, and fell in love with it! She didn't have a picture, and couldn't draw at all, so we had to work together on several concepts before settling on an idea. It was the best feeling in the world when she opened the box, as she said 'It's just what I wanted!'
There can't be many high street Goldsmiths left?
We are one of the few around. Most Goldsmiths are tucked away in workshops in the middle of nowhere. I have loved my time at Storrington though. I've met some lovely people here and hopefully I'll be here for many years to come. I still enjoy it, as every day is different, and you never know who's going to walk through the front door.
You also have a 'shop' section too?
I never wanted to be a West End jeweller in West Sussex, as I feel that they only cater for one end of the market. I like it that people can come to Melanie Paul and buy a nice piece of jewellery for £20. Some are made by local makers, whilst other pieces are just here because I like them. I wanted the shop to be like my jewellery box; a few special bits but also some simple designs that don't cost much. We've also become well known for pearls, as I like to identify different colours and styles.
Is there anything you don't do on site?
My skills are in creating the mount, and I use specialists to set the stones. It is a five-year apprenticeship just to learn how to set stones! If the pitch of the stones is even marginally wrong, it can ruin the whole piece, and I can usually tell when a jeweller has set their own stones. It really is an art form. The other thing that I don't do is engraving, as again it requires a five year course to became a Master engraver. When you start looking into the skills required, you can understand why it takes so long.
You've also been granted the freedom of the City of London?
I was granted my freedom from Goldsmith's Hall in 2014. I was able to achieve it as I'd served the trade for a certain length of time. With this freedom, I can walk sheep over London Bridge! I've not done that yet, but there is an annual event in September where that happens. It's not something that I'm encouraged to do at any time I please, as it brings London to a standstill!
Melanie Paul at 11 West Street, Storrington, on Tuesday - Saturday, or visit the website at www.melaniepaul.co.uk