Alimento at Jack Dunckley's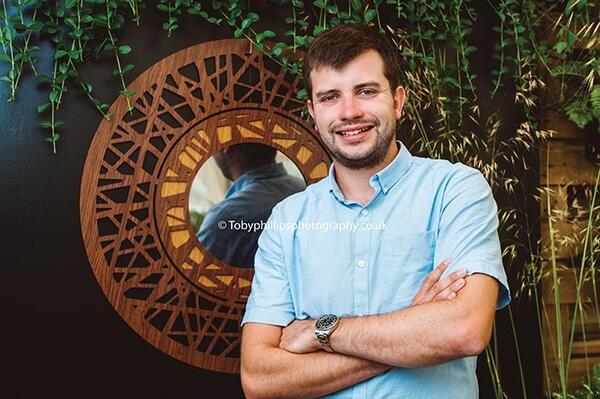 Published on 1st July 2017
At the tender age of 14, enthusiastic gardener Jack Dunckley made national headlines when his design was selected for the RHS Malvern Spring Show.The event would act as a springboard for the confident, ambitious teenager.Over the next few years, Jack notched up more column inches as his landscape designs won a string of coveted awards at RHS Hampton Court Palace and RHS Chelsea flower shows.
A decade on from his flower show debut, Jack Dunckley has established a reputation as one of the south of England's most innovative designers.Still only 24, he now runs his own plant nursery on Kidders Lane, Henfield. This summer - at around the time Jack was picking up another RHS Chelsea award for a striking design inspired by the Bermuda Triangle - visitors to the plant nursery were enjoying a delightful new eating area.
Alimento Kitchen @ Jack Dunckley is the latest addition to the nursery," said Jack. "We're very excited to be working with Alimento Event Catering, as they're professional in their approach, seeking out good local produce, and they make excellent home-made food.
"They have a friendly, bespoke approach to their business, which ties in nicely with our ethos. We hope it will help to attract more visitors to the nursery, as it's a lovely, quiet and easily accessible place to meet. "The idea is that the twobusinesses complement each other, so people visiting the nursery can enjoy good food and drink, and perhaps occasionally we might pick up design projects too."

Alimento Kitchen
Alimento Event Catering is a family-run firm that has carved out a sterling reputation in the catering and hospitality industry.Matthew Hart, Alimento Executive Head Chef, specialised in patisserie and confectionary under the tutelage of Terry Pugh, before developing his cooking skills in restaurants and as a chef at a private healthcare development.After working at Raymond Blanc's 2 Star Michelin restaurant in Oxfordshire, Matthew moved into event catering, establishing Alimento in 2013.
"We have previously focused on event catering, but when we were approached by Jack Dunckley, we felt it was an ideal opportunity to showcase what we do," says Matthew."There is a beautiful marquee and it has a relaxing atmosphere, with raised planters and a reclaimed pallet wall. "Co Ordination Catering Hire provided us with a fantastic interior with soft seating. The outside terrace is a perfect setting during the summer months too."
Quality Produce
Alimento @ Jack Dunckley offers seasonal local produce, hand-crafted cakes, pastries, breakfast and lunches. Options include smoked salmon and eggs (£4.50), the gardeners bap with back bacon, butcher's pork sausage and fried egg (£4.50) and beans on toast (£2.75). Freshly made sandwich fillings include coronation chicken, roast beef and horseradish, mixed cheese and spring onion, and salmon and cream cheese (all £3.75).
"I believe that customers appreciate the warm and friendly service of a family-run business," says Matthew. "Also, visitors can see that the food here is of a very high quality. Already, we've established partnerships with several excellent local suppliers including New Street Butchers, Horsham Coffee Roaster, Chalk Hills Bakery, The Sussex Ice Cream Company and Wobblegate juices. "We remain committed to the catering and hospitality side of the business, be it weddings, fine dining or corporate events. Now we're also keen to attract people to Jack Dunckley's Plant Nursery."

Growing Quickly
Jack Dunckley was only 17 when, along with his father, he bought Birchfield Nursery near Henfield.Birchfield was renowned as a wholesale nursery, specifically growing plants for garden centres or landscape gardeners. Jack, who lived in Albourne at the time, would buy plants for his show gardens from Birchwood, so seized the opportunity when the site was placed on the market.
Whilst the Polytunnels were in good condition, there was much work to be done to tidy up the nursery beds, improve irrigation and provide better access and parking. Jack had an established client base to build on. However, over the years, the nursery has gone in a different direction."We introduced many perennial specimens and different varieties of fruit tree. Whereas Birchfield might grow a thousand varieties of one plant or shrub, we prefer to grow 20 of 50 different types of plant. There is more variety now and wider options for all gardeners.
General Manager Paul Slawson agrees that the added variety has a wider appeal to the public. "We're not specialists in the exotic, although there are certainly quirky elements to Jack Dunckley's. Our plant nursery has everything that an enthusiastic gardener would hope and expect to find, from small plants to feature trees. If people are looking for something more specialist, then we can always find it for them, as there's a lot of knowledge between the staff here.
"We're building a reputation now as more of a destination, thanks to the coffee shop, and not just a seller of plants."

Jack's Designs
Jack's landscaping design business is also based in a unit at the nursery. This facet of the business continues to be successful, thanks to Jack's award-winning gardens at world-renowned shows.It all started with 'Ornamental Hurst' which was inspired by the village of Hurstpierpoint and the College that Jack attended at the time.
It won him a Bronze Medal and his debut at Malvern, Jack has won 12 awards at RHS flower shows."I just loved being outside when I was young," says Jack. "My mum was a very keen gardener and my dad was in construction, so I would spend a lot of time in the garden, learning about plants. "I was particularly inspired by the Chelsea Flower Show. I was watching it on TV one summer and decided to come up with my own design.
I put pen to paper and submitted it to the Royal Horticultural Society (RHS)."Because of restriction due to my age, the only place I could build the garden was at the Malvern Spring Show. So, I tried it and that caused a domino effect. "As I didn't have a business at the time, I relied solely on the generosity of sponsors and my parents. But once I had built one garden, people were willing to support me as they could see I had talent and it helped that I was attracting publicity!"

Media Attention
Throughout his teenage years, Jack attracted a great deal of media focus, with his television appearances including Gardener's World and The Alan Titchmarsh Show.
Whilst he enjoyed being in front of the camera as he hoped he might inspire young people to try gardening, Jack still liked to get his hands dirty!He continually proved himself against the top designers and the accolades kept coming. At the age of 16, he won a Silver Medal at Hampton Court Palace for 'Deserts Delight', a garden that incorporated a snaking path leading up to an amazing oasis.
In 2012, Jack was awarded the Silver Gilt at Hampton Court for 'The Italian Job' and the following year at the Chelsea Flower Show, 'Juxtaposition' saw Jack become the youngest recipient of a Silver Gilt at Chelsea, the prestigious flower show in the country.
Jack said: "The process for the big flower shows is harder than people imagine. Firstly, you need to pitch your design to the RHS and a board of judges will look through all of the entries. Only when have you been approved can you build it."On television, viewers see the judges turn up with clipboards and it looks like they make a judgment in seconds. But they visit regularly and judge you from the initial design stage right through to completion."

Bermuda Triangle
For the 2017 RHS Chelsea Flower Show, Jack designed his edgiest garden to date. 'Bermuda Triangle' was inspired by how the island transformed from an underwater volcano that rose from the sea and into an island of lush vegetation. It has a contemporary twist, with an aluminium frame representing the volcano, with a palm tree exploding from it.Jack said: "The category I entered was 'Fresh,' which gives the designer a certain amount of artistic freedom. "Some show gardens need to be practical spaces as well as innovative in design, but the Fresh category invited new ideas. "My entry was not a practical garden; more a functional piece of art. At the end of the day, Chelsea is about pushing the boundaries of design and that is what I wanted to do. "Some of my earlier gardens were quite conservative and this year I wanted to show something different. I'm no longer the boy that everyone wants to do well; I need to demonstrate the full range of what I can offer."I'm not convinced that Bermuda Triangle was appreciated by all the judges, although I did win a Bronze Medal. Certainly, the public feedback was excellent."

Small is Good
Jack Dunckley's design studio is located at the nursery and Jack is willing to take on jobs of any size."When it comes to design, I take on anything from a tiny patio to an 80-acre estate with rivers, ponds and all manner of features. They all represent a different challenge and it's satisfying to maximise the potential of a small space.
"People perceive there to be a high cost, perhaps because of the awards that I've won, but landscaping is often less costly than people expect. "Certainly, it costs nothing to come in for a discussion about some of the options. "We have a perfect spot here in Henfield, very close to Partridge Green, and a very knowledgeable team, so whether you're here for food or plants, I'm sure you'll find the visit worthwhile!"
Visit Jack Dunckley's Plant Nursery at Kidders Lane, Henfield, BN5 9AB.Open Mon-Fri 8am - 5pm
Saturday 10am - 4pmSunday 10am - 4pmCall 01273 494058 or visit www.jackdunckley.com