Dark Star over Partridge Green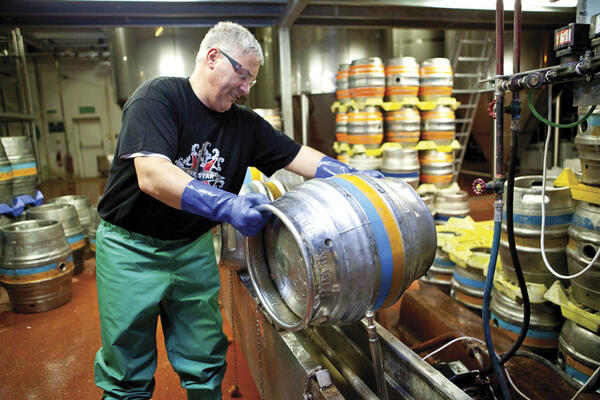 Paul Reed, the managing director at Dark Star Brewery, rejects the opportunity to blow his own trumpet when AAH asks him to reveal what the Partridge Green Brewery does better than others in the district.
Instead he praises traditional brewers such as Hepworth's and WJ King, while portraying his own company as little more than sophisticated imitators. "We tend to use other people's traditions," said Paul. "If you look through our list of beers we've got beers that are traditional bock beers (a strong lager of German origin) or traditional wheat beers or traditional Belgian beers. They're not really our traditions - we just steal them.
"People think that we are quite innovative but I think we're probably more plagiarists, so we have huge respect for traditional brewers like Harvey's or Andy Hepworth. But that is not us. We're something different."
While Dark Star may not lead the way in terms of innovation, you'll be hard pushed to find many more ambitious breweries. They're now the second largest brewery in Sussex (after Harvey's of Lewes) and are only looking upwards. They may have only moved into Partridge Green's Star Road Trading Estate in January 2010, but they've quickly become an important business in the village, thanks in no small part to their decision to take over The Partridge pub in the heart of the village.
Paul said: "One of the things that we didn't structure into the business plan but then struck as soon as we got here was the welcome we got from the village. I got the feeling that they've probably been waiting a few generations to have their own brewery. I spent three months saying I wasn't really interested in taking over The Partridge, and nine months negotiating the takeover of it. At first sight it didn't appear to be our sort of pub as we tend to like town boozers.
"It didn't have a lot going for it as far as we were concerned, but what convinced me was the pester power of the locals. They wanted us to take over that pub."
That takes the pub count up to four, as Dark Star already owns the Stand Up Inn in Lindfield, The Duke of Wellington in Shoreham and the pub where it all began, The Evening Star in Brighton. The Dark Star Brewery was born in the cellar of that pub back in 1994, although it didn't really begin life as a business until the company moved to Ansty, just outside Haywards Heath in 2001.
"The Evening Star pub is a tiny pub and the cellar is even smaller", said Paul. "It wasn't so much that we had a brewery there, so much as that it was a brew pub. We didn't have any customers, we just sold the beer in the pub itself. But I suppose what did start in that cellar was our style of beer - that's where we developed our very hoppy style of beer which is characteristic of what we do."
One of the original beers remains Dark Star's best seller. Hophead, a 3.8% pale golden ale with a strong floral aroma, came about after Dark Star launched a series of Hophead Beers. As the likes of First Gold and Challenger fell by the wayside, Hophead Cascade proved to be a big seller and the name was shortened to Hophead when all the other beers in the series disappeared. But variety remains a key strategy for Dark Star. Each year they produce 25-30 different beers.
Paul said: "Some of them are perennial that run year after year and people know and love them, and then we bring out some seasonal beers for three or four months slots, and then we bring out some monthly special beers.
"They can be where the beers are a little more adventurous."
Among the Dark Star favourites are the Espresso Stout, a black beer made with Arabica coffee beans, crowned the world's best speciality beer, no less, at the World Beer Awards. The American Pale Ale was voted the best golden ale at the 2009 Great British Beer Festival. A more recent introduction is the Partridge, a Best Bitter brewed using Maris Otter (a winter variety of barley), Crystal and Chocolate Malts.
All in all, there are some 150 pubs in the south east of England that Dark Star caters for directly. They are also increasingly involved in 'brewery swaps' where they trade beers with other brewers around the country in order to expand the brand. Paul puts the success all behind a 'misspent youth'. "We spent the first half of our lives sampling as many different beers as we could find and we're spending our adult lives replicating them!"
For more information visit https://darkstarbrewing.co.uk/