Altered Wings: Modern Tattoo Styling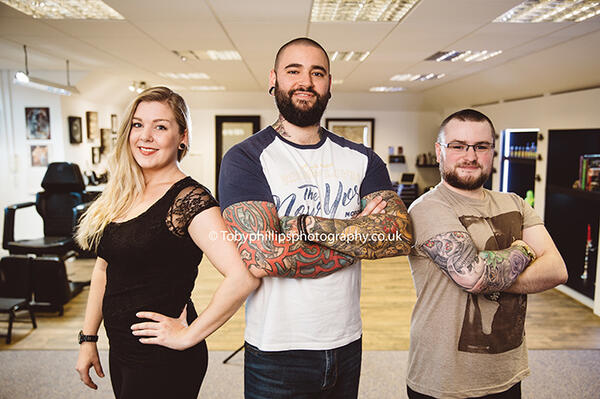 Published on 1st December 2017
There have been significant advances in the quality of tattoo work in recent years, driven by a popularity surge that owes much to high-profile personalities.As body art becomes prevalent and acceptable in society, more tattoo studios are opening with a more contemporary outlook.
Here, Aaron Wickham, owner of Altered Wings, a newly-established studio in Horsham that has quickly established a reputation for detailed portrait work, offers his insight into the industry.
We owe an awful lot to David Beckham.
David Beckham helped make tattoos more acceptable and popular amongst a new generation. He also pushed forward a better quality of black and grey artwork. Perceptions have changed too and most people understand that there is a lot of skill behind the work, thanks to TV shows like Tattoo Fixers. I certainly attract less peculiar looks than I used to as tattoos are no longer viewed as being intimidating. People want to talk to me about my tattoos all the time. People don't always share your opinion and some don't like it at all, but I hope that they can all at least appreciate tattoos as an art form.
I have been a tattoo artist for fourteen years.
I started as an apprentice at Intrusion in Three Bridges and moved to Horsham to work with Jed, a good friend of mine, when he established Skins & Needles on West Street. After spending four years there and establishing a client base, I felt it was time to find my own space. My logo incorporates a tattoo machine blended into wings. I didn't necessarily want to name the business after my name, so I chose Altered Wings, which shares my initials. I found the perfect location for a studio, tucked away in Sanford House on Medwin Walk. It's just off the Carfax, yet offers seclusion. Also, as we work to appointments only, it's less intrusive for clients.
We don't have the seedy 'pick-and-stamp' studios anymore.
Tattoos are seen more as an expression of art nowadays and I wanted my studio to be stylish to reflect that. We've rejected the stereotypical look of a tattoo studio and created something more spacious, much like a modern hair salon with contemporary style. Our chairs are specifically made for tattoo art with adjustable arms and headrests. If the client is in the perfect position, it's much more comfortable to work on them as the work can take a long time. Tattoos, particularly detailed work, takes a lot longer than many people realise. Tattoo Fixers hasn't done us any favours in that respect, as the show gives the impression that Sketch completes his portraits in a few minutes!"

Tattoo Artists have a rite of passage.
In most cases, an artist's first design is on themselves. It's something of a rite of passage. The right thigh is a nice piece of skin that is easy to access and helps give you an idea of your technique. If you are heavy-handed, you are going to know because you can feel it! At Altered Wings, all three of us have a tattoo on our thigh that we drew ourselves. Jem was my apprentice when I worked at Skins & Needles and has since joined me here. She has been building up her own client base and now she's an established artist, I have the time to take on a new apprentice, Dan Courtney-Smith.
The industry has come onleaps and bounds.
Within the last 10 years, the quality of the inks, needles and the imagery that you can put on to skin has improved dramatically. Almost anything is possible. We have a display of old ink machines in the studio which look like antiques. Yet they are all machines I have used in my time as a tattooist. Now, the equipment is like using a marker pen. They do not have the loud, intimidating buzzing noise of the old kits. People are also more selective about tattoos. When I was young, people would choose a design from the wall and wait to have it done. Now, the majority come inwith an idea and use Pinterest for ideas. They show us designs that they like and we can use them as a reference. Often, we combine ideas from several different photos. Very few pick something 'off-the-shelf'. They give it proper consideration as tattoos are part of your character.
There are fashion fads in the tattoo industry
Certain types of art are always going to be popular. There's still a demand for Japanese inspired designs, such as koi or dragons. Roses are popular as they can work as a gap-filler or as a stand-alone piece. People still love skulls and wolves too. Other fads will come and go. When I first started out at Intrusion, everybody wanted tribal bands and there was a lot of numeric or symbol designs too. Now, the demand is for more detailed tattoos with shading. People are more inventive, so birth dates are represented with things like pocket watches rather than a simple date. We also have many requests for cover-ups. This work used to result in us adding something very dark, typically tribal art. Now, there is much more scope, because the colours of the ink are so much stronger than they used to be.
We do have some strange requests.
You're more likely to have silly tattoos with a walk-in business, which we don't have. I recall people looking through windows to gee-up a mate!Someone once asked for a tattoo of Bart Simpson pulling a 'mooney.' He was in his mid-40s, so we're not talking about a teenager making a foolish decision! I will tell people if I think their idea is a bad one. Most respectable tattooists will not work on a neck unless the client is already quite heavily tattooed. I have seen people who have just turned 18 asking for tribal art up one side of their neck. Often, they don't have a job and I tell them that it will hinder their chances of finding one. Nine times out of 10, they decide it's not a good idea.I would love to do an Audrey Hepburn.
When I started out, I wanted to do an Elvis.
I've done a few now as well as Bob Marley and Marilyn Monroe, but never an Audrey Hepburn. I have tattooed a Bill Murray portrait before. The same client has a tattoo of Adam West as Batman, which is great! Tattooing is something you get better at with experience, but it helps to have a flair for art. You can learn to develop techniques, but if you have a natural flair you're going to go much further, as there are always freehand elements to the work. That requires an artistic eye.
For more information about Altered Wings and furtherexamples of its tattoo work, call (01403) 258345 or visit the Facebook page at facebook.com/pg/AlteredWings/

INTERVIEWS: BEN MORRIS
PICTURES: TOBY PHILLIPS/ALTERED WINGS