Roadmark: A True Tour de Force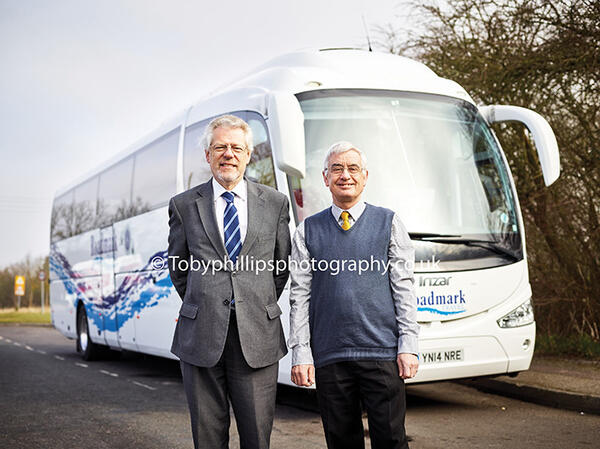 It's such a familiar name to residents of the Horsham district that you would be forgiven for believing there is an extensive fleet of Roadmark Travel coaches. In fact, there are only two - as there has been for many years - taking people to destinations far and wide!
If you come across a Roadmark Travel coach this April, it may be heading for a day's horse racing at Newbury, a Tchaikovsky gala at The Royal Albert Hall, or maybe to the Thriplow Daffodil Weekend. More intrepid souls may be heading further afield - maybe a short holiday to Snowdonia or the bulb fields of Holland, where Roadmark has been taking customers since its foundation in 1989.
Then, as now, the focus was on serving primarily people in the Horsham District, although as time has passed the business has established loyal customers in Guildford, Dorking and Worthing too.
Mark Anderson set up the business from an office at his father's house in Washington. Today, the business has relocated all of three miles to Storrington, with David Coster - who joined the business over 20 years ago – now at the helm.
But like the annual trip to the Hampton Court Palace Flower Show, some things have not changed...
Here, Mark and David tell us the story of Roadmark Travel Ltd.
Mark: I was in teaching for some years, and was Deputy Head at William Penn School in Coolham. But I stopped in 1987 as I wanted to do something different. I had always been interested in transport, particularly buses, as an anorak really, and wanted to be more involved. Because of my teaching background, I saw a need for a coach company that took pupils away on day trips. So I launched Roadmark Educational Travel in 1989.
Mark: My father, Les, was very supportive. I worked out of the conservatory at his house to begin with. I bought my first coach and wrote to all the local schools, explaining what I was doing. We started off with day trips to London and the historic dockyards in Portsmouth. The schools liked the idea that I used to be a teacher, and I would often help out, just as an extra pair of hands. Gradually, we started taking school groups away to the Isle of Wight. My dad took his coach driving license, so we bought a yellow school bus as well.
Mark: In 1991, I thought it was time to offer day trips to the public, in addition to the school work. The rest, as they say, is history. We would go to coastal towns like Eastbourne and drive up to London too. We were approached by Women's Institute groups and that led to a demand for short breaks. By 1995, Roadmark had grown significantly enough for me to look around for somebody else to help.
David: I first met Mark during a day trip to a garden show in Bournemouth. I was driving for a different coach company then, being a freelance driver. I had my mum with me on the trip, and Mark had his mum with him too. We started chatting and a little while later Mark wrote to me about his plans for the business. He asked me if I would like to join him. So we met at The Gun Inn, Findon, and discussed future plans for Roadmark Travel.
Mark: I would often see David in his coach, and we would wave to each other as we passed by. I thought he seemed like a nice guy. After David joined us, the school services gradually reduced, as day trips and holidays took over, and we formed a limited company, Roadmark Travel Ltd.
David: Our first office, after Les's house, was at Old Mill Square, above the shopping precinct in Storrington. We then moved to Wiston Business Park and later to Gerston Business Park in Storrington. We moved again as it was supposed to be sold for re-development, and have now been at Stockbury House in Storrington for three years. It is a good location for us because people can walk in off the street to book trips.
Mark: We are in our 27th year, yet we still visit places that we have been going to since we started. We always offer the River Thames Cruise and the Christmas Spectacular at Thursford as they remain popular. We also offer many trips to the theatre in London, which are popular with older people as they are hassle free. However, shows are becoming increasingly difficult because you need to book so far in advance, and tickets are so expensive these days. You struggle to find good seating in the theatre for less than £45 now.
David: I think we have achieved longevity by not being too big and expanding rapidly. We've maintained a close friendship with passengers. Many know us on a first name basis, and call the office and simply say "Hello, it's me!" People have come to trust us. We have a husband and wife driving team, Peter and Julia, amongst our drivers, all of which are very experienced. Mark and I still do some of the driving too. Our passengers trust all of us to look after them.
Mark: At Roadmark Travel, we have a loyal clientele. I think in some cases we define a large part of their social lives, because it is a bit like a travel club.
David: Often, a lot of the passengers will know each other very well. Close friendships have been formed through travelling on our coaches and we have had at least one wedding as a result of people meeting on our trips!
Mark: We are always looking at new destinations. We have some annual favourites coming soon, including trips to Bath, Woburn Abbey and Kew Gardens, as well as some destinations and events that are not so well known - Bombay Sapphire Distillery in Winchester, and the American Air Show at Duxford.
David: Mark always seems to be able to come up with fantastic holidays, but the day trips are more of a challenge. There are trips that sell out every year, but we know that our regular customers want new places to see and do. My new Excursions and Transport Manager, David Council, works hard to arrange new and innovative day trips for our twice yearly programme of excursions.
Mark: We are always looking through websites for information about locations, live productions or concerts, restaurants, hotels, and everything else. We used to have boxes of brochures and leaflets to look through, but over the years the Internet has grown and has been a huge help to us.
David: Sometimes we do not get it right, and you might think that a trip is going to go really well and it doesn't. Other times, they can sell out very quickly. We are travelling to the Queen's 90th birthday celebrations and that sold out within days. A very small number of trips that we advertise don't work and in those cases we either book customers on another trip or offer a refund.
Mark: We do have a box full of 'Thank you' letters from customers. Of course, we do have complaints but thankfully they are few and far between. They are usually about the hotels and restaurants that we visit. Sometimes you go somewhere and have a fantastic meal and then the next time there is a new chef and it's not as good! Ultimately, the buck stops with us, so we are always having to review our trips.
David: Another thing that has changed a lot are the coaches. It is important that we have modern, attractive transport. We like to replace one of our coaches every three or four years. We currently have a Mercedes Tourismo, which is a brilliant vehicle but quite ordinary in terms of style. Our newest coach is a Spanish-made Irizar, which has lovely sleek lines and certainly has the 'wow' factor.
Mark: There have been times when we have thought about buying a third coach, but without contract work it is difficult to run three coaches during the winter months.
David: Soon, we will need to replace the Mercedes. The Irizar has the looks, but there is more to consider than sleek lines. We look at things from a passenger's perspective as it is the amount of leg room, the visibility and the vehicle access that are more important to them than appearances.
Mark: We have had many coaches over the years. Some have been good, some not so good! We did buy a red Dennis coach which was constantly breaking down. The first time we took it abroad was to Lake Garda, Italy. As we drove through The Alps along the Brenner Pass, the temperature gauge was soaring so we had to pull over. We made it to the hotel in Italy but we needed to fix the problem. I can't tell you how difficult it was to find an engineer as the Italians had never heard of a Dennis coach!
Mark: Sometimes, a trip doesn't go as smoothly as you hope and there have been some minor incidents! I remember on a trip to London we 'lost' one of our ladies. It turned out that she had walked out of the wrong exit in the theatre and decided to head home on the train as we spent two hours searching for her!
David: There have been ups and downs with the business. Mark dropped a bombshell in 2007 by saying that he wanted to go back to teaching. I decided to buy Mark's share of Roadmark, but in the end he decided against teaching. We did try to warn him!
Mark: I went on a 'Return to Teaching' course, but then I spoke to a few teachers and it seemed that the profession had changed a lot. So I didn't go back to the classroom and thankfully David offered me a role back with Roadmark.
David: At that time, I needed Mark to come back as he has a lot of skills and is very good at producing the Holiday Brochure. We still work very well together. David Council is also a valuable new member of the management team.
Mark: It's going very well at the moment, as we have a good team in the office and our tours are very successful. I think we offer an excellent programme of holidays and excursions.
You can view the Spring and Summer Excursions on the website at www.roadmarktravel.co.uk
This article was published on 4th April 2016