Parkminster Products: turning Up The Wick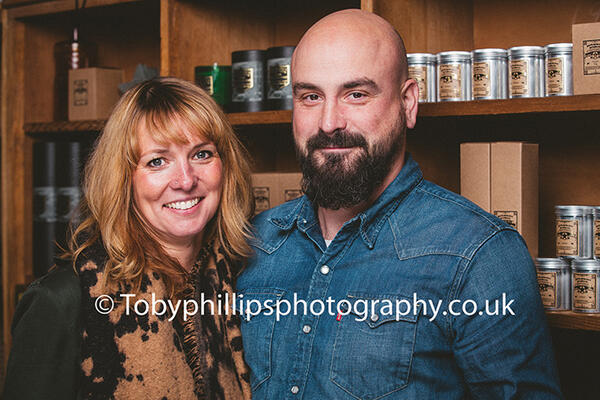 Published on 3rd January 2016
We visit Parkminster Products in Partridge Green, which has recently launched its beautifully-scented Regency range. Krystyna Patey, who founded and runs the company with husband Richard, tells us how her once small, kitchen-based candle company is now burning brightly.
How did the journey begin?
Richard has his own design business and I was an event organiser who was looking to do something different. I joined Richard on a business trip to New York and we stumbled across a lovely little craft shop in East Village. They were selling a body scrub with an interesting scent and I thought that perhaps I could produce something similar back home.
So the candles came later?
Initially I was making soaps, working with natural Himalayan salts, almond oil and essential oils. For a while, I was primarily making them for friends and family, and attending small craft fairs. The soaps had a nice vintage look and were popular, so I thought about other products I could make. One idea that stood out was candles.
Why candles?
I've always loved candles and occasionally I've come across £40 candles that do not have a strong fragrance or burn as well as they should. I felt I could do better. When we started out, we did a lot of research with other candles and there are some fantastic products out there, as well as some that do not offer good value. There are many variables and you have to make sure that everything is right, from the temperature of the wax, to the combination of fragrances, to making sure that the wick is trimmed to the right length.

How did you learn to make candles?
Back in 2009, when I first started dabbling in candles, I was teaching myself by watching tutorials online. I was testing my products on friends and after a while I came up with two fragrances; a lavender and a rose geranium.
When did the business take off?Our early candles were well received at local craft fairs, so Richard suggested that I take the range to Top Drawer, a huge exhibition at the London Olympia for creative retailers. It was a scary prospect, but in 2011 we went for it. We took some reed diffusers as well as our candles and although our display was small compared to most around us, people were complimentary about my products. To my amazement, we picked up 20 accounts and I thought 'we've got something here.'

Why use the Parkminster name?
When I started the business, we lived on the grounds of St Hugh's Charterhouse, renting a home from the monks. Our house was 'Little Parkminster' and I thought that the name wasn't specific to any single product, so we could expand in the future. We didn't want there to be any confusion with the Charterhouse, or to exploit the monastery in any way, so we added 'Products' to the business name.

For a while then, you were running the business from home?
We were literally running the business from the kitchen table. A Japanese magazine came over to feature us in our early days and took a picture of me sat at the kitchen table trimming my wicks. We expanded beyond the kitchen eventually and two years ago moved into this large unit on the Huffwood Industrial Estate in Partridge Green.
Where do you sell your products?
We sell our range online, as well as independent retailers. Initially, we were selling a lot to Sussex shops. We continue to supply Flicker-Rose, a lovely gift shop in Steyning, as well as Camelia Botnar Homes & Gardens near Cowfold, Nicky C Lifestyle in Cuckfield, Southdown Galleries in Henfield and Pure White Lines, which was in Horsham but is now in London. We prefer to work with independent boutiques rather than major retailers. Our products are also sold in several outlets in Brighton and London and we're now selling to retailers across the UK, Europe and even Japan. Several of those retailers have come across us at theSpitalfields Market in London.

How many products do you have?
Gradually, the range hasexpanded and we now have 20 in our Star range, which is our core collection. Scents include bonfire, English garden, orange blossom and woodland. We sell these in a range of sizes from a small votive candle for £5, to aluminium tin candles and vintage star jar candles with a double wick. Our reed diffuser comes in 10 different fragrances that complement the candles too.

How do you choose scents?
We work closely with fragrance houses and they create blends from our own ideas and send them for us to try. We still blend some of the range ourselves. Mandarin Spice, which is one of our most popular Christmas fragrances, is blended here with mandarin, cinnamon and cloves. We blend the oils together and create the candles, using natural soy wax. However, we have used fragrancy companies to create the scents for our new Regency range, which we launched at Top Drawer last September.

What is the difference from the Star range?
The Regency collection is our top end range. Some boutiques prefer higher end products and the Regency range suits them better. We've created six new fragrances including Indian Lotus, Italian Mimosa and Malabar Spice. These are more sophisticated scents with a different look for the packaging and branding.
Branding seems to be very important to you?
People have always loved our branding because it's not too fancy and it has a vintage feel. There are brands out there marketing their candles with an emphasis on luxury and we felt we could make a product that was just as good but for a lot less money. We didn't want the branding to interfere with what was inside the box and that remains the case with the star range. However, the gold foil and image of the Regency building does lend an upmarket quality to our new items.

You also have a kiln collection?
We work closely with the pottery department at Camelia Botnar Foundation, based in Maplehurst. They make the ceramics for us, featuring the Parkminster Products star. We donate a percentage of the profits from this kiln range back to the Foundation so it can continue with the fabulous work it carries out in the community.

Why are stars so prominent in your products?
My maiden name is Starr and I wanted to keep it somewhere in the business. For that reason, we adopt a red star for our core range and our candle boxes have star cutouts on the lid.

What does the future hold for Parkminster Products?
Growth has been meteoric over five years, and now we'll see where the Regency collection will take the business. Feedback continues to be fantastic as people love the fact that we use natural soy wax and appreciate the variety of our fragrances. In future, I'd love to be in a position where we can make larger batches as our production level is still relatively small. However, one order from a larger boutique store could change all of that. We'll wait and see...

You can view the full range of Parkminster Products, as well as order directly, online at https://parkminster.co.uk
REPORT: BEN MORRIS
PICTURES: TOBY PHILLIPS