Violet Phillips of Horsham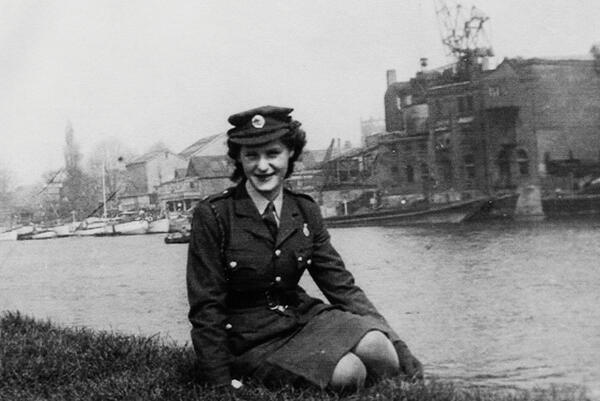 I was born in 1923, in Hanover Square in London. We lived in a big house but we shared it with many other people. I lived there for the first eleven years of my life.
My Dad worked in County Hall near Westminster and we needed to live near his work. When I was eleven, we bought a house in Barnehurst in Kent.
I left school when I was 14. My parents could not afford to buy grammar school uniform so I thought 'this is it, I'll go out and get a job'. There was no point fretting about it. I went to the Labour Exchange and I got a job in what was supposed to be a fruit and vegetable shop. When I got there, it happened to be a stall in the market place.
I didn't tell my mum and dad that I was working at a market stall. Then one day they popped along and were horrified to see me on a market. I was too scared not to take the job, as I needed the money. But my mum and dad said 'you're coming home with us'.
I got a job in a tiny laundry in Kent. It was an office role and a bit mundane, but when the manager went out on business the girls used to bring me in to the laundry area and show me how to iron shirts. I was earning 17
shillings every week.
My parents were poor as there was a Depression for much of the 1930s, so my mum would take my wages and leave me enough to buy my own toothpaste. My parents were taking the money but I was learning a trade and I was happy about that. I learned how to iron and press shirts and you wouldn't see a 14-year-old doing that these days.
The war started when I was 16. We lived near a golf course where there was a big shelter that had been built. During the Blitz, we were rushing over to the shelter, and a German bomber was shot down by a Spitfire and the pilot crashed near us on the course. The pilot was only young and of course he was killed, as were his crew. Some people rushed out to get souvenirs from the bomber and it blew up, and many of them were hurt. These were people that we knew.
Everyone had to help the war effort. If you were not working or at college, when you were 18 you were recruited into a munitions factory. That scared me as I didn't want to make bombs, so I volunteered for the Auxiliary Territorial Service (ATS) when I was 17.
We all went to Queensbury, near Halifax, for a six week course to see what our skills were, after which I was chosen for the Royal Corps of Signals. During the training, local people would adopt the young ATS girls. I was
adopted by Wilfred Pickles, a famous television and radio presenter, and his wife. We went to them once a week for a bath and a hot meal.
I was a fast learner, but because I was the baby of the group the others would mother me. They used to tuck me in at night and say 'poor little Violet' but I absolutely loved it in the Forces. It was one of the best times of my life as I became independent and made many friends. One of the American soldiers even taught me how to fire a gun!
I passed the B1 test in Teleprinter operating, which was the highest level and included field training. Then one day I was told I had been chosen, along with 72 other ATS girls, to work on the D-Day Landings serving Dwight D. Eisenhower, then the Supreme Commander of the Allied Forces. They said that we were the cream of the
ATS.
The work was for the Supreme Headquarters Allied Expeditionary Forces (SHAEF) and was based at Bushy Park. All our work was underground and secretive. We weren't allowed to talk to people about it and could not mention Eisenhower's name. I didn't even tell my parents where I was.
We stayed at Bushy Park and travelled by underground train to Goodge Street Station. From there we would enter a secret door, which led to an elevator that took five minutes to go 300 feet into General Eisenhower's bunker. It was around that time that the Germans starting dropping buzz bombs (V-1 Flying Bomb) so in a way we were lucky to be so far below ground.
Nobody knew about us. We were girls beavering around under there, and people didn't know what we did. With the landings, it was all about the men and the pilots, but nothing was said about the women sending secret messages to the front line. General Eisenhower would often come through and see how we were doing.
He was quite a shy man, but he was sweet. We all thought he was in love with his driver (Kay Summersby) too. She was a lovely girl and she was very attractive.
It wasn't until later I realised the importance of the job we did. I always had this proud feeling about it, and I had done something that probably nobody else has done around here; I've worked with a President of the United States of America. It's something you can tell people and I've always been proud of that.
I became very good as a teleprinter and could type 100 words a minute, which was good for me as it got me a job in the bank after the war. I put my name down with several agencies. I briefly worked with the Ministry of Food on the Groundnut Scheme, but I wanted something permanent so I put my name down for six jobs. One was for the Standard Chartered Bank of India, Australia and China, based in the City.
One of the girls I was in the services with came along too and we both got a job. I was there for 15 years. They were delighted as we were ready-trained. I worked on the accountancy machines and eventually I became a supervisor, looking after seven girls.
I went to London at Marble Arch to see the Queen's Carriage during the Coronation. I slept up there the night before. You had to go up early to get a good spot, but that's when I was a little devil.
I met my husband that same year. John needed a partner to dance with and he asked me as I did ballroom dancing. I was quite a good dancer and I would put them all to shame on Strictly Come Dancing. John couldn't dance a step so I had to teach him.
John couldn't go in the Forces as he had a kidney removed when he was eight. But he was very interested in the War and with what I did with SHAEF. He used to join me on all the commemorative events I was invited to. To commemorate the 50th anniversary of SHAEF, there were 100 American Oaks planted at Bushy Park, along with 100 English Oak. They asked me if I would like to plant a tree and I agreed. The American Ambassador and his wife were there and I had my photo taken with them.
When John died, we had been married 56 years. He had been ill for a couple of years and I looked after him for eight years at home. He had kidney trouble and eventually everything went. It was awful watching him die. After that, I didn't feel like I would want to go on but my carers are wonderful and I see two of my children regularly. My third child, Pam, died when she was 47 and I still miss her.
I did keep in touch with some of the other girls but of course they are dying out, as we are so old. I will be 90 in August and I wonder if there any of the 73 still alive, aside from me. I could be the only one left of the girls as I was very young when I joined. I do think of them, as it was a very important part of my life.
I've thoroughly enjoyed my life. I've never regretted not going to grammar school as I probably wouldn't have done any of the things I have done.