Victor Jannels of Slinfold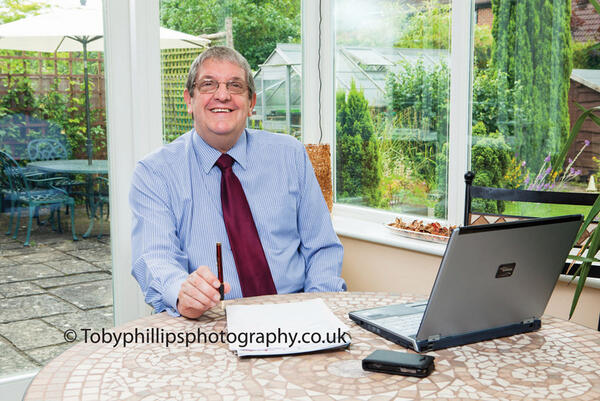 I was born in Scotland in June 1946 but my family moved south when I was 18 months old. My father was born in Australia to an English family that had emigrated and my mother is from Lisburn in Northern Ireland. They were both Ministers in the Salvation Army and met at a post box near Belfast when they were sending letters home to their respective families.
We moved to Liverpool when I was six or seven. We lived in Knotty Ash. I have a picture of a street party held for the Coronation in 1953 and I am sat next to Richard Starkey, who went on to become Ringo Starr.
Because of my parents' vocation, we moved around. After a few years in Liverpool we moved to the Midlands. First we were in Wolverhampton, where I became a football fan. We also lived in Aston, right next to Villa Park, so it was inevitable I became a football fan.
I was a Wolves fan and they were the team back then. They won the league twice and the FA Cup. When I was about 11-years-old, I used to go to the midweek games. I couldn't afford a ticket, but policemen had spare tickets in their pockets for kids like me. Five minutes before the game they would let us in and we would get passed down over the heads of the crowd to the front.
I wasn't academically gifted, but I was Head Boy in my final school year. I decided not to go to University, as I wasn't certain I was cut out for it. Some of my friends had joined the armed forces and I was receiving postcards from Guam, Singapore and all over, so I went into the Air Force when I was 18 as an aircraft electronics technician.
I played lots of sport during five years in the RAF. I had always thought I was a great footballer, but I wasn't. I did though manage to get into the command and services sides. When I moved to RAF Wyton near Huntingdon I found that my squadron leader was a fan of tenpin bowling, and at that time was RAF champion. During the interview I told him that one of my interests was tenpin bowling. He invited me to watch the team bowl.
Somebody didn't turn up, so I stepped forward. I didn't do particularly well but he must have seen something as he took me under his wing and taught me how to bowl properly. Seven months later I took the RAF title from him. I won that and the inter-services championship twice over the next five years.
I was taken all over the world to play in tournaments for the services, both for football and tenpin bowling. I held a world record in tenpin bowling for a few months. I also went over to Singapore for a major championship competition and came third but should have won. I had it in my grasp!
I bowled professionally for a short time when I came out of the forces but I thought I ought to get a proper job and started working for Provincial Building Society in Birmingham. I graduated through the business there, becoming branch manager in Coventry before moving to Horsham to run the south region. I then moved into London to run the City and West End operations. I was headhunted by Citibank, then the largest bank in the world, to work in their mortgage banking division, and that was when I really broke into mortgages.
I played in a brass band and one day we played a concert in a village called Stotfold in Hertfordshire, where I met Sheila for the first time. I was going to visit my parents in Lincolnshire a few days later and so I invited Sheila along, even though I hardly knew her. She agreed to join me and so our first date was five days long! She has been my backbone since the day we married, 39 years ago.
I started Mortgage Solutions in 1986, with Clive Hancocks, and we broke into financial services. After five years I sold my interest in the company. I started AToM (All Types of Mortgages) in 1991 together with Sheila, turning our children's play room into an office for the first two years.
We established 'complex prime' mortgages, which is when the mortgage is not straight forward and not suited to high street lenders. We found lenders who would underwrite a deal based on individual circumstances. We then took this service to major insurance companies, and that is when the business really took off. We went from doing twenty five business deals a month to doing three or four hundred.
In recent times, the financial services industry has been hit dramatically. There was a purple patch between 2004 and 2006, when lenders were advancing money constantly. It was like a licence to print money. That was wrong of course and the industry needed correction, but perhaps the correction went too far.
The last four or five years have been tough.
We had a staff of some eighty people. We had to manage them down to a more acceptable number as we planned for the future. This meant saying goodbye to some very good friends and we didn't enjoy doing that.
My eldest son, Dale, is our Managing Director now and my youngest son Neal looks after the IT and also runs a small software company. Both of their wives are also involved in the business. Sheila is the Financial Director. We have a daughter, Deborah, who is a teacher and joining the business is the furthest thing from her mind!
I was recently honoured to receive the Lifetime Achievement Award at the Mortgage Strategy Awards 2012. It was an individual award but it reflects what we have achieved as a business. It was a real surprise. I hadn't really planned to go although Dale was up for an award too so he persuaded me to attend. It turned out he knew what was going on.
I was involved with Roffey Football Club for seventeen years, having joined them as a player when I was thirty three. I later became manager and then chairman of the club. I was also on the board at Horsham Football Club and for a time AToM sponsored Horsham YMCA.
I'm still involved with the Salvation Army band. Many people bash anyone who has faith but I think it's important for people to say that they are happy to be Christians. I am happy to be a Christian.
I guess I would like to wind down but I wouldn't like to stop. I'd like to do a bit more gardening, play more golf, and perhaps do some travelling. I'm taking a back seat in terms of the day-to-day running of the business. It's time for the boys to take that on now.