Brian Sturt: A Leading Man on the Stage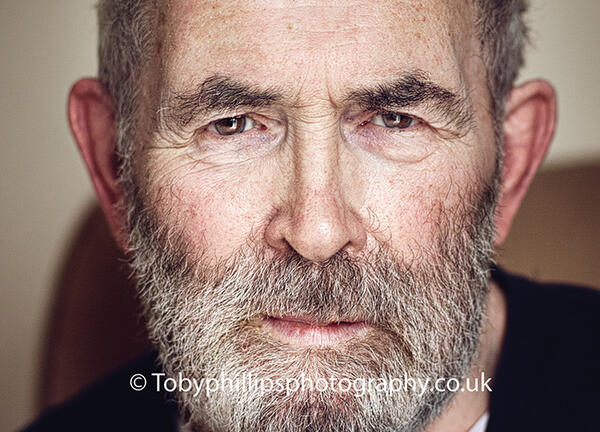 I was born on 11 November 1934. My mother, Edith, lived at Muntham House in Barns Green, as her father was the gardener there. She later became a school teacher in Barnham, before she married my father. My father was the landlord at The Alexandra Rose in Queens Street, on the corner of Park Terrace.
It was one of four pubs on Queens Street at the time. There was also The Plume of Feathers, The Sussex, and The Queens Head, which is still there. I believe Horsham had more pubs per person than anywhere else in the country at one time.
I went to the old Clarence Road School, which is now retirement homes, until war broke out. My father signed up for service, so my mum decided to take me and my sister, Sheila, to live with our grandparents in Blakesley, Northamptonshire. My brother, Derek, was born just before my father went overseas.
After the war, I came back to Horsham and attended Denne Road Boys School, at the back of the Parish Church, before heading to Collyer's Grammar School in 1944. I studied Greek and Latin at Collyer's, as there was a strong emphasis on Classics. I remember that the Headmaster was a lovely old boy called Philip Tharp. He would take the Latin exams and prepare us by giving what were called SUECs (Sentences Under Examination Conditions). They were the questions that he expected to appear in the examination papers. He was usually right!
As a boy, I was in the Parish Church Choir. At that time, there must have been about 30 boys in the choir, whereas now if you go to St Mary's Church there are very few boys, sadly. Junior choirs tend to be much smaller, and mostly made up of girls. Boys are just not interested, so they are not in choirs and schools must find it very difficult to put on shows like Oliver!
At Collyer's, I started performing on stage. I enjoyed my first play when I was 11. It was put on by Eric Thompson, the father of the actress Emma Thompson. He was a Collyer's pupil as well, and went on to narrate The Magic Roundabout. I once auditioned for a play and had to sing a Welsh song called 'David of the White Rock.' It turned out that I would have to play the part as a girl, so I didn't get that part!
I used to go to The Capitol a lot, when it was just a cinema located where Boots is now. I used to enjoy musicals starring the likes of Howard Keel (Show Boat, Seven Brides for Seven Brothers). I did a paper round and a delivery round for the butcher, so I could afford such things.
I also enjoyed visiting The Court Royal Theatre in the Carfax. That was a jolly good place to go, and there was a lot of regulars who would watch the productions on a Monday, when we could get in for a shilling! There was a succession of repertory companies who would put on plays there, but eventually that died out and it was pulled down for Piries Place.
I left school in 1950 not really knowing what I wanted to do, so I became a sales representative for Sussex and Dorking Brick Company, based in Market Square, Horsham. The building was later used by The County Times. I was there until 1953, when I did National Service.
National Service was fun. I thought it was a good thing for young people to do, as you mix with different people from all over the world. As a shorthand typist, I went to various camps, but I spent the longest time at North Weald Aerodrome in Essex, home of 111 Squadron, as the station commander's secretary.
I returned to the brick company, which was now Redland Brick Company. The job now involved more travel, so I finally learned how to drive a car. I failed my first driving test and didn't think I'd done any better second time, but I passed. I was given a company car – a Morris Minor – and can still remember the number plate. I stayed there for many years until I joined Hall and Co Builders Merchants in 1972.
A few people had formed a drama group called Horsham Evening Institute Drama, led by Edward Horsman, and were staging Gilbert and Sullivan musicals at The Court Royal in the Carfax. After a few plays, some of us decided that we wanted to do more than just Gilbert and Sullivan plays. So we came together at The Friends Meeting Hourse on Worthing Road and formed HAODS (Horsham Amateur Operatic and Dramatic Society).
I have seen it reported that the first HAODS production was The Desert Song in 1954, but we actually performed a play before that. The first was Oscar Wilde's The Importance of Being Ernest, and my future wife, Nancy, took the leading role at The Court Royal. After that, the plays came thick and fast, and for many years we also produced a pantomime.
Initially, we had a gentleman's agreement with Edward Horsman that we would not perform Gilbert and Sullivan productions. Eventually, that Society ended and in time HAODS did perform Gilbert O'Sullivan musicals. When we did The Gondoliers (1963) it was me and my brother who played the two leading male parts.
My first performance in a leading role was in Rose Marie in 1955, where we were all dressed in magnificent Canadian Mounties uniforms. I seem to have been very lucky in landing leading parts thereafter. I like to think that I had a good voice, although others might disagree! I still sing a little bit, as I belong to a group that performs at nursing homes.
The main difference to HAODS now is that there was no shortage of men in the 1950s. If you look at the production of Rose Marie, there are many men, all local, in the cast. Nowadays, it is a very mature male cast at HAODS! However, they do have a junior section now, which is a good thing and will hopefully lead to more young men enjoying acting.
Our rehearsal room, in the beginning, was at the hotel opposite Horsham station, but we eventually moved to a nissen hut at the former army base in Broadbridge Heath. When Horsham District Council sold the land to Tesco, HAODS was given space in the leisure centre. The Society is still based there, although there is much discussion as to where HAODS will go when the leisure centre is demolished. I hope there is a positive outcome.
I married Nancy in 1958. When we married, it was a little controversial as I was a lot younger. She was eight years my senior. But we were married for 55 years before she died, so we didn't do too badly. Our relationship blossomed through our time at HAODS. She had dated other men, but I was the only one that asked her father if I could marry her!
We married at the Methodist Church in Horsham and our daughter, Carey, was born on my birthday in 1960. Our son, Jonathan, arrived three years later. We lived in a bungalow in Cootes Avenue, for which cost us £2,400, before moving to Spencers Place. So I have lived in Horsham all of my life, aside from the war years.
I still love Horsham and like to visit town on a Saturday when a band is playing in the summer. The Carfax is very different now – I can still remember the smell of the brewery that was there until it moved to The Bishopric.
We used to go to Switzerland every year. Nancy had been to Lucerne and Interlaken with her parents as a child, and fell in love with the place. She wanted to take me there, and it helped that the exchange rate was something like 18 Francs to £1! We would go to Hotel Seeburg in Lucerne every year, and it was a great place for a family holiday.
During our holiday in 1973, my wife and I were dancing in the hotel. A little boy came running in to the hall and said that our son Jonathan, who was nine, had been in an accident. A group of children had all been playing and having fun around the hotel. Of course, in Switzerland, they drive on the other side of the road, and perhaps Jonathan had looked the wrong way as he crossed the road.
I saw my son, lying on the pavement, and he was dead. Jonathan had been in the HAODS production of Camelot, as a choirboy, earlier that year. The driver who hit him did stop, and we received a lovely letter from him.
We didn't go back for a couple of years after Jonathan had died, as we didn't think we could, but we eventually returned to Switzerland. It is a country that means a lot to us. Carey used to go out and work at that same hotel every year for the summer, and in winter she worked at Caffyn's in Horsham. Carey still regularly goes out to Switzerland.
When I reflect on my days at HAODS, there are many parts that I enjoyed. Playing Alfred Doolittle in My Fair Lady was fun, as was the role of Wild Bill Hickok in Calamity Jane. South Pacific and The Merry Widow spring to mind as great productions too. Another nice part was playing Sir Walter Raleigh in Merrie England, as it was one of the first shows where Nancy and I sung together.
Eventually, that was a regular occurrence, which was very nice for us. Nancy later became the Chairman of HAODS and was heavily involved in the writing and producing side. If I auditioned for a part and she was producing the show, I wouldn't be very happy if I didn't get the lead role! At the same time, I didn't expect any favours. I like to think that I was only given the lead if I was the best man for the part.
I was often involved with other amateur dramatic societies when they were short of leading men. I was in Henfield for Calamity Jane and White Horse Inn, and was in The Merry Widow in East Grinstead and Burgess Hill as well as Horsham. I was not good enough to be a professional actor or singer. My brother was probably better equipped. He was very good at singing the low notes, whereas I was a high baritone.
I remember I was at Nories Pharmacy on Oakhill Road, when a woman said 'Good afternoon, I remember you because of the way you smacked my bottom!' I was a bit perplexed until she told me she had played Eliza Doolittle in My Fair Lady and my character had to smack her on the bottom!
It is nice that something I was involved in setting up is still going strong 60 years on. For the 50th anniversary of HAODS in 2004, Norman Wisdom came along as he was our President for a time. He was fantastic and sang for us. Our previous President was Oliver Reed, who told us 'I'll do it, but don't expect me to turn up for anything!'
I've been living in an apartment with care facilities for two years now. Nancy died on 27 October 2013 and we married in 1958. Your way of living completely changes when you lose someone you've been with for that long, so I'm not really happy here.
My daughter lives nearby, and she's wonderful and helps me with my shopping and housework. My sister, Sheila, is still in Horsham and I see her family too, so I'm very lucky, as some people here don't have anybody. But life has changed a lot since I lost Nancy.
This article was published on 4th April 2016