Dave Degens of Rusper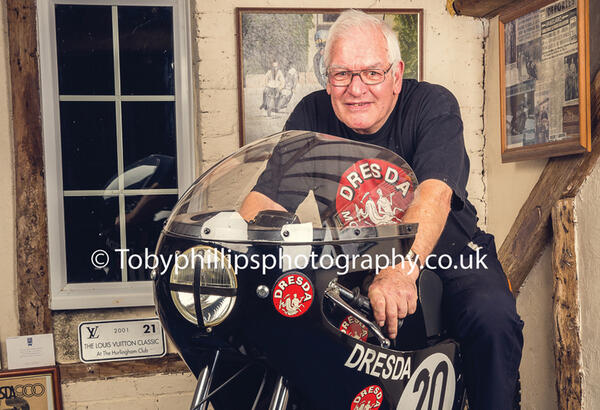 I was born in 1939 in Whitton, near Twickenham, as the eldest of five children. My father was a good engineer. He made scientific instruments and later went into business on his own.
During the war, I can remember standing in the garden and looking at the planes flying over and my mother screaming at me to get in the house! I was evacuated to my aunt's in Bournemouth as bombs had been dropped in the park behind us and on Whitton high Street.
There were some lads a couple of years older than me living on the estate, and they owned 125cc bikes. One had a BSA Bantam, another rode a Norman, and Nobby Clark had a Cyclemaster, which you had to pedal. Apparently I rode it when I was underage and it was reported, and he was given a telling off for letting me ride it. I would ride these bikes, and my father had a workshop, so he had taught me basic mechanics.
At school, I wasn't very good at English, but I was top of the class in engineering and woodwork. Even when I rode a pushbike over Hounslow Heath, I would make a lower gear for my bike and a sprung seat made from
copper tubes.
I left school aged 16 and worked for my father, mainly making instruments. To make sure I had a decent basic training, he sent me to work for some of his contractors so I could learn chrome plating, castings, work in the foundries and try everything associated with basic engineering.
I painted two houses and was given £20. I used it to buy my first motorbike, a Matchless 350, which was a bike used by the army. I done up the bike, and after a while found I wanted a better bike. A chap had been killed on a 500 BSA Gold Star and his parents wanted to sell it. My dad bought it and I did it up and used it on the road for a year.
There was a little café in Whitton called The Queen of Hearts and the chap who owned it was a motorcycling enthusiast with a 1000 Vincent. Bikers used to meet there, like the Ace Café now, and all go out riding. One of them, Ian Wallace, wanted to be a racer so he bought a racing Triumph. One of my best friends said 'You're much quicker than him! Why don't you try racing?' So I asked my dad to enter me for a national race at Thruxton.
There would be heats and races for non-expert and expert riders and you could progress to the top race if you did well enough in the heats. We stripped down my bike down for the race, but in the national race I came off. But I went on to win the non-expert heat and then the final. I remember my dad was paying me £4 a week and I won £12 for that victory, so suddenly I was interested!
I raced the Gold Star for a year. In those days, you had 125cc, 250cc, 350cc and 500cc races. There were no unlimited races like they have now, as they said bikes were already too quick. We were riding at 130mph then, which was quick enough, but of course they do over 200mph now. But the Gold Star was not a racing bike and although I did reasonably well against Manx Nortons, I decided to buy a racing bike.
I went to Geoff Monty, who was the racing bike dealer in Twickenham, and bought an AJS 350 7R. But then I had to do national service, so I sold Geoff the bike back. Because it had done well in races and it had a reputation for winning, he paid me £25 more than I had bought it for!
I was born on July 28th, and if I had been born 1st August I wouldn't have had to do national service. But as things turned out it was quite interesting.
I had only been in the army a short time, when there was a message on the notice board asking if anyone wanted to ride for the army in the Welsh two day trial. The sergeant had seen my racing pictures so he asked me to do it. I said 'I'm a road racer, not a mud plugger!' Anyway, they borrowed a BSA 500 and I messed about with it, let the tyres down a bit for better grip, and headed off to Wales. I thought I would be blown away, but I did okay and won the army award at the trial.
Brands Hatch invited me to race on Boxing Day, although I didn't think I would be allowed the time off. But because of my success at the trials the Commanding Officer let me race. I went to Geoff, who had made a profit on my old bike, and he lent me a 350 Manx Norton. I won the 350cc race, and rode it in the 500cc and
unlimited race and came fourth and fifth.
When I returned to camp and told the CO how well I had done, he allowed me to take regular weekends off to race throughout the season. So I ended up being sponsored by Geoff, associated with Castrol, all the way through my national service.
After the army, I was working two jobs, as I was working for Geoff and my father. A neighbour of mine, Dickie Boon, was a motorcycle salesman and we teamed up to sell a few bikes at Dresda Autos in Putney too. One day, we went to see if they had sold any, and the partners were having an almighty row. Dickie and I bought the business, Dresda, for £750.
At the start, I was racing anywhere that I could gain an entry for, but once you do well and are known, you are invited by the different clubs, who used to run the circuits. I was particularly good at Brands Hatch, to the extent that I started receiving appearance money. I would get £125 for races at Brands Hatch and Mallory Park. The average wage was £20 a week at that time so it was a good time for me.
I won the Thruxton 500 mile race in 1964 racing for Sid Lawton. You had riders like Percy Tait, who was a factory rider, Phil Read, who was up-and-coming at that stage and ended up a multiple World Championships. Back then, people raced bikes by Triumph, BSA, Norton, and the racing was run by enthusiasts and clubs.
In the mid-1960's, I was amongst the top few riders in the country. At that time I was probably the top rider around Brands, although Derek Minter was quick there too. Sometimes we would compete against the World Championship riders but us national riders would be just as quick, and often even quicker.
Giacomo Agostini would come over occasionally as he was the 500cc World Champion and was paid good money to race. But he wasn't unbeatable. Mike Hailwood was quicker than him on the same bike, but Agostini was racing's pin-up.
I was one of the top riders at Brands, so when he was invited to race there, it was expected that we would have a close battle in the Unlimited race. I overtook him around the outside on Paddock Hill Bend, which was my favourite corner. Apparently, the crowd went crazy, and I cleared off into the distance. But the oil tank split and I slid off coming out of the last corner on the last lap. That was one of my most annoying moments in racing.
I remember one race I had a real battle with Mike Hailwood, and ended up winning. He said 'I'm fascinated, when you come to a corner you slide your feet back on the footrest, so your feet don't touch the ground. I wish I could do that, as I have to feel the ground with my toes.' I replied 'It was because your dad was well off and could buy you proper boots!' I started racing with a pair of cut down fireman's boots. When they wore away, my dad would replace the end with fibre glass and when it hits the ground, it gets hot, so I had to adapt my style.
I had some good battles with Mike, as when he was World Champion he would take part in national races simply because he loved riding. I think Mike was the best rider in the world we've ever had. Nobody was unbeatable. When I was at the top, there were another half a dozen riders who could beat you on any given day. But Mike had that little extra something.
I had ridden a BMW in the Barcelona 24 hour race in 1964, but we had gearbox troubles and we didn't finish. The
following year, I rode with Rex Butcher, who was a known and good rider. The Barcelona track had a lot of hairpins and I was particularly good at hairpins, and I chose Rex as I had never known him to fall off. I knew that I could make up the time if I needed to.
We took a Manx Norton Triton and in the end we had time to stop and clean the bike and still win! After that we had dinner with the Mayor. It was the first time I had a really posh dinner, with a row of knives and forks where you start on the outside and work in!
When it came to racing, I started racing for Sid Lawton. They were importing Italian Aermacchi bikes, and I raced them in the 250cc and 350cc class. I also raced for Paul Dunstall on a 500 Norton Domiracer and sometimes I raced my own bikes, like the Triton which I won the 24-hour race on. One of the best feelings on a bike was beating the factory bikes. It was never easy, but it was easier to do back then than what it is now.
Dresda continued to do well. I bought out Dickie Boon, after two or three years in business, but he remained a friend. Just by racing we would generate business. I would practice at Brands for 30 shillings every Wednesday. If I made a bike for a customer or prepared a bike to race myself I would take it to the track to bed it in.
I did go to the Isle of Man a few times. They had the Manx Grand Prix, which was the amateur race on the Isle of Man, whilst the TT was the professional event. People rode in the Manx to learn the track before stepping up to the TT for international recognition. The first time I competed, I was lying third or fourth when I was forced wide whilst going around the side of a slower rider, and came off. The second year I was on the Domiracer and the exhaust broke, and the next time I took the 350 7R, and was doing quite well before a bearing went. I finally finished the Manx when I came fifth on my own Matchless G50.
I wasn't happy on the isle of Man course. It is 37 miles around and it's not something you learn easily; it requires a lot of practice. You never earn any money there, and the only reason to do it was the kudos. Lots of riders wouldn't go there. Barry Sheene wouldn't ride there as he said he would kill himself as he didn't have the time to learn the track properly.
I did see people killed in my racing days. There was one rider at Barcelona who hit a dog and was killed. The year I finished the Manx there were five people killed, and we lost Bill Ivy too.
I went back to Barcelona in 1970 and won the 24-hour race for a second time, with Ian Goddard as co-rider. His father worked at the Borehamwood film studios, and got me a stunt job in the Danger Man series with Patrick McGoohan. It was great fun, and you would get a cheque every couple of years when the series was sold to another country!
The '70 race was much tougher than the '65 race as there was more opposition, with people like Barry Sheene, and there were top teams with Norton bikes and a couple of Hondas too, as the Japanese were coming on the scene. I went away with Sheene at the start, pushing him hard, and it made him drive the bike harder than it really wanted to be ridden. He went off like a loony, but the bike couldn't take it and we won.
I reached a stage where I wasn't enjoying racing like I had done, although I won the Scarborough Gold Cup in 1969 as well. Racing didn't have the flair and riding had become easier. Also, my first wife wasn't so keen on racing, so we concentrated on the business. So I stopped soon after Barcelona. I don't regret it as I think I could very probably be dead otherwise.
Then Honda approached me. I had beaten them at Barcelona, where they finished third, as our bike was much lighter, so you could throw it around more, and it had better fuel consumption too. Japauto, who raced Hondas in France, asked me if I could make a lightweight chassis for them. I agreed, and that bike won the famous Bol d'Or race two years on the trot.
We started building bikes for Honda UK too. They didn't have the money to pay us so instead they gave us a Honda main agency. Before we knew it, we were enjoying holidays in Acapulco, Mexico City and Barbados as you were given a free holiday if you sold a certain number of bikes.
We'd moved the business to Putney by then, with my second wife Teresa running the shop whilst I did the mechanic work. The shop is still there, although it's a Harley Davidson shop now.
It was whilst we were developing a bike for Honda that I hit 184mph. That was the fastest I have ever been on a bike. Honda took Dresda to another level. People have always been drawn to Dresda because of the performance of the bikes. They were racing bikes for the road.
It wasn't until the 80s that I really started racing again in historic racing, as it helped to develop the old bikes. I was competitive although some took it a lot more seriously than I did. In my first race I was third or fourth, but after a few races before I was starting to win again. One rider complained that I had an oversized engine and that it wasn't a production bike. I put a hooter on my bike and asked him what corner he'd like me to overtake him on. I gave him a toot as I went by!
We lived at a house near Heathrow for a long time, which we really stretched ourselves to buy for £25,000. We were there for 28 years, and then they started building Terminal 5. The company developing the office blocks behind us came and offered us £1million for our home.
I said 'go away' I'm not interested, although the property had been valued at only £800,000. But they ended up putting the price up by £100,000 every month for three months, and we ended up saying 'yes' when they offered us £1.3million.
When I was younger we would come to Sussex on our bikes and often ended up in a pub at
Effingham junction, because they had cider and one of the lads loved it! So I knew the area, and we saw a house in Rusper and Teresa fell in love with it. It was mainly because of the Wisteria, which she'd been trying to grow for years!
I still work. I can't stop working as I enjoy what I'm doing.
I meet people who have known about Dresda all of their lives. Last year a Professor from Palm Beach in Florida came to me as he'd always wanted a Dresda Triton. You also have people who want to build their own Triton, so we prepare the engine and parts. Demand has actually grown in the last decade as British bikes are worth money.
I still watch motorbike racing on TV, but I think the top riders of my time are more than a match for the top riders now. People talk about the likes of Valentino Rossi sliding his bike, but that's nothing new. I was doing that 50 years ago!
For more details on Dresda bikes visit https://www.dresda.co.uk/