Jim Hills: Legend of the Boys Club!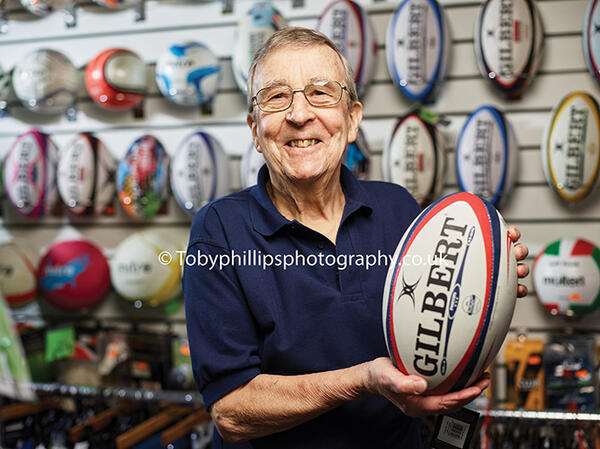 Published on 3rd May 2016
I was born in Motherwell, Scotland, in 1936. My mother was Scottish, and met my father when she came to do housework for a local family. When my mother fell pregnant, she insisted on going back to Scotland so that I had a Scottish birth certificate.
My father worked as a labourer on the railway. We lived in Roffey with my grandparents before moving to Eversfield Road, a council area in Horsham, which had a reputation for being rough and ready. But nobody would do anything rotten. We all knew and looked after each other.
There was a group of us from that area who were the first to pass the entrance exams for Collyer's, which until that time was an independent grammar school.
As a young man, I was small, and was something of a late developer. I was born with crooked legs and slept in splints to straighten them out. This meant that I never starred on the football pitch, but I did play a lot of sport. I was captain of the school boxing and gymnastics teams and was also a member of Eddie Boxall's Juveniles boxing club in town.
My father was very strict. I came home crying one day and got a belting for it, so boxing was me learning how to look after myself. My family never came to watch me do any sports competitions. I just got on with it, which made me grow up very quickly.
I didn't enjoy the academic side of Collyer's. Coming from a background like I did, there were no books in my house as my father could hardly read. In fact, I used to write his work reports. At the time of my exams, I had a terrible flu, which is unlike me as I have barely had a day off work. I was encouraged to study for another year and pass the exams, but I had had enough of education.
My first job was in London, buying steel for the railway lines. Whilst in the city, I joined the Lucas-Tooth Gymnasium on Tooting Street. It was set up to give underprivileged young people the chance to improve their fitness and eventually teach sports. That was great fun, and I left there after two years with a glowing report.
I also joined a boxing club just outside Waterloo. I turned up for training in a suit because I was working during the day. Some of the boys took the Mick, until I proved that I could fight a bit. Usually, I didn't get home to Horsham until after 10pm and I'd be up at 7am to catch the train every morning.
After two years at Lucas-Tooth, I joined the Army for National Service as a Physical Training Instructor (PTI). I was supremely fit and was selected for supreme fitness tests on Salisbury Plain, which meant running around in shorts in December. I also fought in the boxing team and was in the Regiment swimming team, along with a chap who came fifth in the 'Mr Universe' contest.
Army life could be tough, but I could handle the discipline most of the time. My girlfriend lived in Horsham and I would cycle from Aldershot – where I was stationed - to see her, even when I didn't have permission. Somebody would cover for me on a Saturday night and Sunday morning, and I would ride back early Monday morning. Once, I made it back 10 minutes late, which cost me my weekend leave for a full month. I started to argue and they gave me more punishment. I learned to keep my mouth shut!
By the time I finished National Service, I had passed many of the exams I didn't take at school, and was made acting sergeant. I came close to staying on in the Army and was briefly called back because of the Suez Crisis, but decided against it.
I went back to work for the railway company in London, but it had lost its appeal, as I wanted to be a sports teacher. So in 1958, after working as a voluntary assistant at the Horsham Boys Club for 18 months, the post of Full time Youth Worker became vacant. I was appointed on the condition that I attend training sessions in Youth Work over five years, to gain qualifications.
The boys were aged 14 to 21, but very few of them were towards the younger end of that scale. I would take them out in the community; they would do the shopping for old people living in the almshouses. We also had a strong focus on fitness. I ran sessions for boxing, judo,weightlifting and football, and brought in others to run drama and model aircraft clubs. Some parents chipped in too, running cooking courses or helping on Bingo nights.
Our football team did very well. We entered the Crawley league at Under-16 level and after winning the division we quickly moved into senior football. In those days, there were four divisions of the Horsham District League as every village had at least one team. The Boys Club team progressed from the fourth division to the first, and when we won that we moved into Intermediate level football. In doing so, we changed the name to Horsham Olympic, and that team is still going today.
Never could I profess to be a professional football coach. But I was good at training players because of my Army experience. As a PTI, I was responsible for the fitness training of the Regiment's team, which was made up of professional footballers who had been called up for National Service. Amongst the players were Dave Dunmore of Spurs, Gerry Ward of Arsenal and Charlie Hurley of Millwall. There was little or no hope for an average club player to get in the Regiment team!
For a generation, the Boys Club was the place to go in Horsham. I've had people call me a "legend" but all I wanted to do was give youngsters an opportunity to mix and take part in activities.
After a while, I started to organise adventure trips and even holidays for the Boys Club. We went canoeing on Lake Windemere, and arranged holidays to Jersey, Belgium and France, introducing young people to travel. Over the years, ours became one of the biggest clubs in the country.
When girls were first allowed into the club, it was big news! I remember that the Boys Club committee were not initially keen on the idea, so we started off by letting girls become members and come in only for the dance on a Friday night. The club would be absolutely rammed on dance night. It would take half an hour to cross the dance floor and I had to lock the doors to keep others out. We broke all the rules!
Sometimes, we'd see rival Mods and Rockers groups turn up. I would let one group in and I'd talk to the others and say "Look fellas, come back next week and I'll let you in instead." We never had much troublel. If anyone started a fight, they could be banned. Some of them might head up to the pub at the station, but the landlord would call me and ask how old they were!
Another popular aspect the Boys Club was the annual show at the old Capitol Theatre. Somehow, I was introduced to Bill Pertwee (Dad's Army) who came up with an idea of bringing rising stars to the town. Tom Jones came along one year. He was supposed to perform for 10 minutes but was still on the stage after 40 minutes! Bill and his brother John (a future Doctor Who) would arrange all of the acts and I would do the rest. It always sold out.
I married Inge, a German girl who I first met playing tennis. This beautiful girl was watching and that was the only time I lost a game to my friend, as I kept hitting the ball out! Inge and I were married four months after we first met.
I used to take our daughter, Debbie, on Boys Club holidays. We had some real rough, tough kids. I vividly recall one boy, a biker who was often in trouble, reading Noddy books to my daughter by the pool when she was about four years old. The kids always looked after my daughter.
Because of my youth work, I was invited to become a magistrate. It's always a bit of a joke that I introduced the working class into the Magistrates Court! However, I was always made very welcome. I became first a Deputy Chairman in both the Juvenile Court and the Magistrates Court, and in due course Chairman of the Juvenile Court for 10 years and Chairman of the Bench for the maximum period of five years.
I'm told that I was a very fair magistrate. A chap once came to see me after I had sentenced him to six months in prison. He said, "I wanted to tell you that you were very fair and to thank you for the way you treated me in court." Another chap later told me that he was looking at the lions on the crest behind the magistrates, wishing that they would come alive and bite my head off!
Eventually, the set up of youth clubs changed. I was invited to become a Youth Officer, but you lose contact with young people in such a role, and become more of a supervisor. It was the youth club chairman, Frank Ayling, who said 'have you ever thought about setting up your own business?' He helped fund my first shop.
Inge and I discussed ideas. As well as coaching at the Boys Club, I would coach spors every afternoon in local schools. The first was Newells School (now Handcross Park) and then came several other private schools. I also coached boxing and introduced judo to Manor School in Horsham. So really, a sports shop was the obvious idea.
I Purchased a menswear shop and transformed it into a specialist sports shop. We had to sell off some of the menswear stock and Peter Bowles (To the Manor Born) was one of our first customers, buying very long legged trousers! Amongst the celebrities visiting us regularly during the early days were Phil Collins for footballs for his son, and Mike Rutherford for cricket bats and tennis racquets. More recently, David Gilmore has been a customer for his sons. Debbie and I coached his boys Judo at Pennthorpe School.
When I started out, I gave a 10% discount to the big local sports clubs. Gradually, that branched out to village clubs and schools, and before long, players were getting discounts too. When we moved to Coolham, I decided to offer the discount to everyone!
We were in Billingshurst for 38 years. By the time our second lease had run out, I was fed up with the car parking problems in Jengers Mead, because my takings were plummeting. We had people running in for tennis balls and leaving with a £40 parking fine.
Jim Hills Sports is still going, but it's now a Sports Warehouse on Hillside Farm in Coolham. Even after three years, people still say "I didn't know that you were here!"
In addition to coaching Judo for 55 years, my hobby has been watching my Daughter, Debbie and later my grandaughter, Mantha, competing in show jumping. It all started when Debbie was four years old and there were pony rides in Horsham Park. I could not get her off them! She went on to be an outstanding rider and now she trains Mantha, who is also very good and has won many competitions.
We run Hillside Shows for novice show jumpers of all ages. This was started 15 years ago by Debbie and her partner, Phil plus a number of volunteers, myself included. These are a huge success as nobody is eliminated. Competitors travel from all over Sussex, Surrey and Hampshire to ride here.
I am very close to my family. I lost Inge to cancer after 36 years of marriage. Inge was playing with Mantha when she passed away, and that created an even closer bond between us.
I've been receiving treatment for leukaemia and last year had six months of chemotherapy. Last month, a day after my 80th birthday, my family took me to Chessington to feed the giraffes. They usually make me do something exciting for my birthday, like paragliding, but they thought I needed a peaceful day. Ironically, I had a heart attack whilst walking to the giraffe enclosure! The team at St George's Hospital in Tooting were absolutely brilliant, so I'm back at work.
I'm still a trustee of Horsham Youth Centre, although it has changed a lot over time. There are certainly less activities now, and youth clubs tend to be for 10 to 12 year olds. I still feel that, with the right people, youth clubs can become as important as they used to be.
INTERVIEW: Ben Morris
PHOTOS: Toby Phillips