Diana Cooper: An Angelic Existence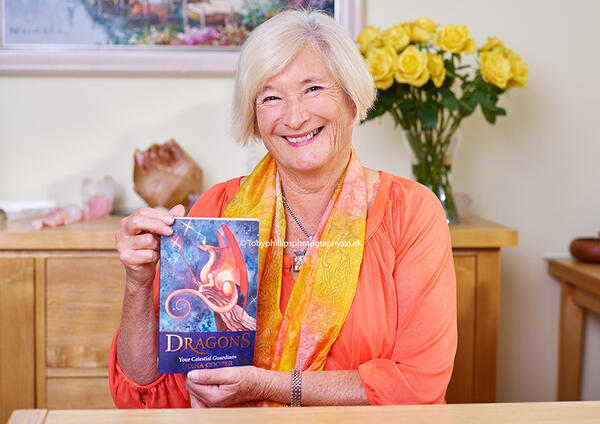 Published October 2018
Diana Cooper's books on hypnotherapy and the angelic realms have sold millions around the world. The Horsham writer tells her fascinating journey to AAH...
I was born in India (now Pakistan) in 1940, just as the first bomb was dropped on London. My father was in the army, working on chemical warfare.
My mum won the Indian Army tennis championships when she was four months pregnant. Two months later, my parents drove down the Khyber Pass into Afghanistan, for a picnic. They were warned to return before dusk to avoid dangerous tribes. Whilst coming back, the car broke down and my mum had to lie on the bonnet to work the jump to get them home! So,my adventures began before I was even born.
My mum worked as a nurse. She loved the job and would often recall a story when she and a colleague were invited to a rural village. When they arrived, people were lining up waiting to be treated, but they hadn't taken any medicine as they thought it was a social visit. Still, they examined every single person and sent a runner back to the hospital to get everything they needed! I think she missed work after marrying.
We returned to England, living with my grandparents in Hampshire before moving to London and later Leatherhead. I was feisty when I was young. When we were coming home on the boat from India, a bully was picking on my little brother. I went for him and vanquished this boy, who went off in tears.
I was a determined girl and worked hard at school. I felt great pressure to pass my 11-plus and no sooner had I passed that we moved to Cheshire. We moved around a lot as my dad worked for Shell. I didn't have any career ambitions so I married when I was 21 to somebody in the oil industry. My first child was born in Holland and after two more children, we moved to the West Indies.
A hurricane struck us once. The sky was fascinating - black and still - and all you could hear was police with loudspeakers, warning residents. We huddled together in the bedroom, with our dog and cat refusing to go outside. Fortunately, the storm veered away at the last moment. We were also hit by a typhoon. I left my son as I crossed the road with the girls and turned around to see a funnel of darkness, sounding like an express train. It took the roof off every house along the road but veered away from ours. My precious boy just sat there on the patio, perfectly still.
I was solely a mother and housewife. It was a more restrictive time for women, although I did write my first book in the West Indies, for my daughter's 10th birthday. Peter's Adventures was based on stories I told my children. Peter had a magic train which would go through tunnels and re-appear in magical lands. It was just for my children though and wasn't published.
I moved back to England when my marriage ended after 20 years. It was a difficult time for me; I couldn't see a future and everything seemed black. I sat down and said: 'If there is anything out there, then show me now!' A golden beam of light entered the room and a being reached out and pulled me out of my body. We flew together over a hall full of people with rainbow auras. I asked the angel: "Am I in the audience?" He replied 'No, you are on the platform. You are to be a spiritual teacher."
I didn't question if it was a dream or an alternate reality. For me, it was a real experience in real time. It felt like a new beginning.
I trained as a hypnotherapist. My first experience of hypnotherapy had been on a trip back from Holland some years earlier. The ferry broke down and I spent four hours next to a garrulous lady who told me how she lost weight and quit smoking through hypnotherapy. It fascinated me and I asked her every question under the sun. I believe there's no such thing as coincidence and felt I was guided there.
I came from a family where anything psychic or spiritual was viewed with skepticism, although my children have always been very supportive. Through hypnotherapy and other courses, I met many people who have shared similar experiences and have a different perspective.
During the next decade, I wrote books about hypnotherapy based on personal development and my experiences with clients. One night, I was seeking guidance for an evening class and the angels returned to me at my home. Until that point, I'd been aware of angels around my clients, but I hadn't properly opened-up to the angelic realms. When the angels told me to write a book about them, I replied: "No way, people think I'm nuts already!"
I wrote 'A Little Light on Angels'. When it was published, I was interviewed on This Morning with Richard and Judy, with the three of us having an aura photograph taken. On GMTV with Eamonn and Fiona, we did a similar thing and my guardian angel stepped into the image behind me. Viewers could see beams of light and angel wings. Thousands called the studio and I was invited back the following day. Viewers said that they too had seen angels but had never dared talk about it.
My guardian angel is called Uriel. I'm not someone who can visually see them around me all the time, as others can, but we do all have a guardian angel with us.
I'm always being judged. In South Africa, Christians once blocked phone lines to prevent me talking on the radio. People are frightened as they don't understand, so some people mock or make a joke of it. It's usually obvious when people have a set agenda; I can tell from their body language and attitude.
One presenter said to me: "You've got two minutes to prove angels exist!" But that's not my job. I share my experiences and if they resonate with you, accept them. If they don't, move on. But overall, I've had many more positive experiences than negative.
It's true that media appearances have a positive impact, from a commercial perspective. I have written over 30 books, including several fictional and children's novels. My books have been translated into 28 languages. In terms of overseas, Germany is perhaps my best-selling market. I also have a following in Japan, South Africa, America and India. I travel to Germany a couple of times every year for conferences and have spoken at events like Angel Awareness Day. I launched the Diana Cooper School, now a Foundation, to train people in the things I write about. We have trained about 7,000 teachers around the world with courses on angels, unicorns, dragons, Atlantis, orbs and healing.
For my 60th birthday, I decided to go backpacking in Australia for six fantastic months. Everywhere I went, I was invited to dinner and stayed with people who enjoy my books. The purpose of my trip was to interview aboriginal elders and learn about their culture. I travelled to Cooktown, on the northern tip, travelling up the east coast and stopping off at places like a macadamia nut farm along the way. Eventually, I met an amazing aborigine who told me incredible stories about his people, which inspired an adventure novel.
I first met a unicorn in my garden when there was an incredibly pure white light alongside me. The unicorns told me to write a book about them. Dragons have had such a bad press, but are amazing things, fully of the angelic realm. They are wise, open-hearted beings and chose a reptilian shape to enable them to move around dimensions.
My latest book focuses on dragons. At the end of Atlantis, the fourth-dimensional dragons were offered the chance of moving to the fifth dimension, but rejected it to help humanity. Atlantis was the last golden age for civilisation. We are now in the middle of a period that is the most awesome opportunity for spiritual growth in the planet's history, as we prepare for a new golden age in 2032. The dragons are helping us, bringing in energies and working with the archangels.
For my 65th birthday, I walked the Camino, a 500km pilgrimage trail through the Pyrenees, which was incredible. For my 75th birthday, I did a skydive. I'll never do that again. Just hideous!
On New Year's Eve at the start of 2011, a lot of children were falling ill because of dark energies. I allowed these negative energies to pass through my body and a few years later, started to become weak and faint. I sought medical help and they discovered a cancerous tumour in my colon. When I underwent an operation to have it removed, a water dragon sat next to me. I had life reviews after my first two operations. The angels asked me: 'Do you want to stay or go?' I said: 'Whatever is for the highest good.' I was concerned about my dogs and grandchildren until the angels showed me that I could let go and they would all be okay.
People are afraid of dying but I wasn't. I always thought that if I was to pass, my body could be used to help others. My recovery took a long time, but it's over now.
I did marry for a second time, but it didn't last long. I have my two dogs here with me, as well as close family here in Horsham, so I'm never alone. I've had an incredible career, as I've worked hard. But there are many things that I would like to achieve and I still love sharing experiences with the 170,000 people who follow me on Facebook.
I'd love to write a film script. I've been approached about one many times, but it's always fallen through. The problem is that filmmakers usually want to turn these real experiences into fantasy.
INTERVIEW: BEN MORRIS
PICTURES: TOBY PHILLIPS/
Diana's latest book, Dragons: Your Celestial Guardians, is available from 16 October. You can find information on Diana's books and courses on her website at www.dianacooper.com