John Jochimsen of Southwater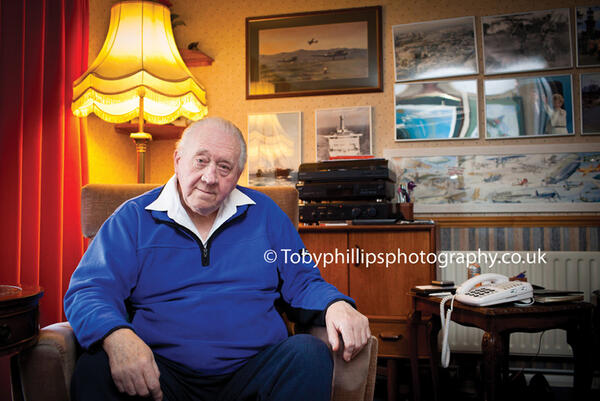 I grew up in the war. During the blitz, my mother would sit with me under the stairs while I did my homework or slept.
My father was a journalist for The Times. I didn't want to learn shorthand, as I thought it was like a foreign language. So rather than become a journalist after I left school, I went into the film industry, joining The Colonial Film Unit.
Two years later I joined the RAF for National Service. It was whilst in the RAF that I took a photography course and decided on my career path.
I worked for the News of the World for 18 months. I used to cover top flight football, but I never liked it. There was no such thing as a telephoto lens so photographers had to get close to the action, and hope we were at the right end. It was always raining and the ball would hit you and knock you over – I hated it!
They used to send me to The Windmill Theatre on occasions to photograph the nudes. If the editor was short on stories, they would send me down there to get a picture.
My last job for the News of the World was taking a picture of a woman who had surgery after an accident. The judge had said that she looked better before the surgery, so the paper wanted a picture of her, of course. I knew she didn't want her picture taken so I crept up an iron staircase, took a quick picture and turned to go. I didn't see a bloke who was in the kitchen, and he came out, got hold of me and threw me down the staircase. I arrived at the bottom bruised and bleeding and I thought 'sod this for a game of soldiers' and that was the last job I did for the News of the World.
There's been a lot or changes in Fleet Street since. Back in those days, we all knew each other and would help each other out. That's not the case these days with the paparazzi. It's cut-throat now.
There was nothing underhand going on at the News of the World back then - it was a great paper to work for.
I started working for the Central Office of Information (COI) in 1952 and for a time it was my job to take photos for the Colonial and Foreign Offices covering Kenya, Uganda and the Sudan. One of my first assignments in Africa was taking pictures of Princess Elizabeth and the Duke of Edinburgh at a Garden Party on a Royal visit to Kenya. It was during this trip to Kenya that King George VI died.
I think I'm about the only person covering the visit to still be alive, as most of the others there were in their thirties and forties and I was only 21.
I like to have a selection of my photos on my wall at home. I find it comforting.
I gave up photography when it went digital.
One of the pictures on my wall at home is of me after I shot a buffalo. I had to take pictures for a feature on tsetse fly, and how do you do that? I learned by chance that white hunters were shooting at a herd affected by the disease to keep them away from another herd. I joined them and they asked if I would like a go. It was a rifle similar to the one I used in the RAF – a Lee Enfield. I fired one shot and an animal dropped like a brick. The hunter, John Milford, looked at me in utter amazement, but I was just as surprised! To have downed a buffalo at full speed from 400 yards is quite something!
I found when I was writing my memoirs that I remembered things that I feel a fool for doing. I got shot at four times and bombed once.
The things you do as a photographer are amazing. You have this feeling when you have a camera around your neck that makes you believe you can do anything.
Things always seemed to happen to me. A friend once said to me 'every time you get on an aircraft I think it'll be the last time I see you! Something always seems to go wrong with you and planes!'
I have taken so many pictures that it's difficult to have favourites. I like the picture of Ronald and Nancy Reagan as I think I caught it right. It was taken as they were boarding Air Force One at London Airport. I also got a picture of Reagan riding a horse with the Queen. I'm pleased with the image of Winston Churchill and Haile Selassie, the Emperor of Ethiopia, at 10 Downing Street. In his left hand Churchill has got a bloody great cigar in it.
Photography has taken me all over the world. I have lived with the Dayaks – the traditional head hunters of Sarawak - was with Sir Gerald Templar in Malaya during the terrorist uprising and was shot at during the Mau Mau Uprising.
I took pictures for Sir Gerald as he fought the guerrilla rebels in Malaya. One day we got ambushed and the only thing I could do was to fall down whilst all the shooting was going on and bullets were whistling above me. Three of the terrorists had been killed, and I was presented with two blood-stained caps. I was lucky to be alive and was happy to get away from the jungle.
Later I became a freelance photographer and did all the work on the QE2 from the start of building to the PR photography for Cunard. My favourite picture of the ship comes from the speed trials off the Isle of Arran.
I think I worked during the golden age of photography. I was in it from glass plates to digital – my time was 1946 to retirement in 1997.
Having retired, I wrote a fictional book called Three Stayed Home – it's a wartime adventure and love story and I'm having it put on Kindle at the moment. I grew up in the war so it was easy for me to write about it. It's a good story and it should be made into a film.
For my memoirs, 80 Years Gone in a Flash, I've had to find pictures that I took back in the 1950s, which is very difficult as the COI got rid of their photo library in 1988. It took a year and a half just to collate all of the images needed. I have four children and eight grandchildren, and I have written my memoirs so that my family can learn a little about my life.