Dr David Skipp of Horsham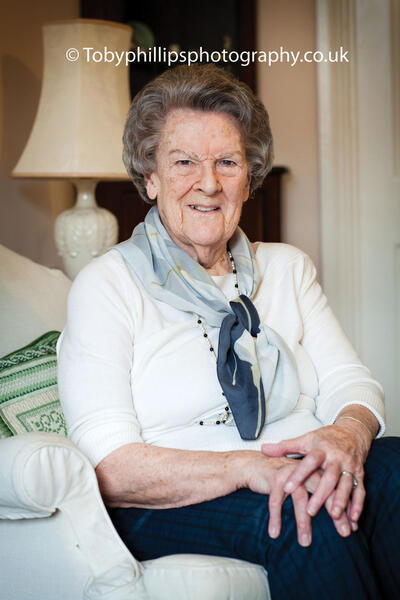 I was born in Kannur in southern India in 1919. My father was out there for many years in Bombay as he was a broker in the tea trade. I have a lot of memories of my early years in India.
We came to the UK when my father was on leave and I moved here permanently with my mother when I was about eight-years-old. My father would return from India every year. It took a fortnight for him to sail from India and he would be here for a while and then head back. My father was very fond of Indian people. There were very few in this country at that time and they would sometimes visit us whilst on leave and we would put them up in our home.
I remember my father had a very smart car called an Arrol-Johnston. You put your luggage on the side of the car and it would trundle along at about 30mph. Not many people had motor cars at that time but there were numerous times that we were stuck on the side of the road with a puncture!
I went to Howell's Boarding School in Wales when I was 11 which I thoroughly enjoyed. Some people wouldn't agree with me but I think the happiest days of my life were spent there. Having moved around so much up until that time I think it was the continuity that I liked.
I did secretarial training after school and went straight to work for NatWest in Liverpool. I was there for about a year when World War II broke out. Like everyone, I wanted to join the war effort so joined FANY (The First Aid Nursing Yeomanry) which was an all-female unit linked to the army. It was mostly driving duties and I enjoyed it very much but then I had a chance to fly.
One of my relations was in the Auxiliary Territorial Service (ATA) and he said I should give flying a go. I said 'I don't know how to fly!' but he said that the ATA would teach me. Men were involved but there were many women in the ATA. Of the 659 pilots in the ATA, 169 of us were female. Sixteen of the women died.
I learnt to fly the Miles Majister, a little single engine plane, which was very nice and the training was very good. They were very short of pilots so they wanted us all to reach the required standard. In truth it wasn't that difficult.
I had to fly many different aircraft– I think 20 in all. I couldn't fly any of them properly -we just had to take off, be careful, and land of course! When I first went up solo in a plane I was terrified. I was worried that I wouldn't be able to get it down, or that I would crash it, or if I couldn't fly maybe I would have to go and work in a factory. But I was determined to make a success of it!
Our job was to ferry planes around the country. I went to Yorkshire to begin with and I flew mostly Swordfish planes up to Scotland, which wasn't always nice as it was so cold flying them. I didn't really enjoy it, but I managed to pull a few strings and moved to a different ferry pool in Leicestershire which was far more pleasant as there were more women there.
My log book is in a museum, but I have a copy of it so people believe me when I say that I used to fly! I flew the Barracuda, Hurricane, Firefly, Harvard, the Lockheed Hudson and of course Spitfires. We were ferrying planes from factories to the squadron and by the end we were ferrying old Wellington bombers to be broken up.
Like most people, I do have my favourite. The Spitfire was a lady! Some aircraft were pretty terrible to fly – the Barracuda was a dreadful thing and the Swordfish was not at all popular. It was much better to have a Spitfire as they were cosy.
I had married Dennis Wilson in 1939. He joined the Territorial Army like most people - everyone was so patriotic in those days. He was called up for service and was made an officer and sent to South Africa. He then went up to the North of Africa and was killed. He is buried with a nice tombstone out there but I've never been out to see it.
I didn't hear about his death until two weeks after it happened. I received a yellow envelope from the army and that was it. People say 'I'm sorry' but the war goes on. It was happening all the time.
Flying a Spitfire was one of the best moments of my life.
The war wasn't enjoyable for me as a whole though. It left me a bit shattered. I had an easy childhood and was well looked after, so to then get married to someone and lose him was shattering. I went numb really. I went to Sri Lanka after the war as I had always wanted to go there and I knew a lot of people there. Everybody wanted to get out of England at that time. I travelled between here and Sri Lanka for several years and I got to know the country a bit. I met my second husband, Sandy, on my way out to Sri Lanka.
We lived in London for a few years. Sandy left the Navy and got a job in the city but I didn't like the city too much. I'm a country person really. So we moved to Warnham and we stayed there for about 30 years.
I have only flown once since the war. I went up in a light aircraft when I was 75 for the first time in 40 years. It was fun but it was a bit like driving a Mini after you've driven a Rolls Royce! But I do think that flying is one of the best things you can learn to do.
When Sandy died about 15 years ago there was no point staying there in a big house so I moved into a smaller place in Horsham.
The ATA was based in Maidenhead. I went there relatively recently as there was a display at an ATA Heritage Centre called 'Grandma Flew Spitfires' and it tells the story of the women pilots of the ATA during the Second World War.
The work of the ATA was not recognised at all at the time. It's a bit late for recognition now as most of the people have died of course. But I'm delighted that the ATA is still operating and that they have put together such a good exhibition.