Natalie van de Braam of Billingshurst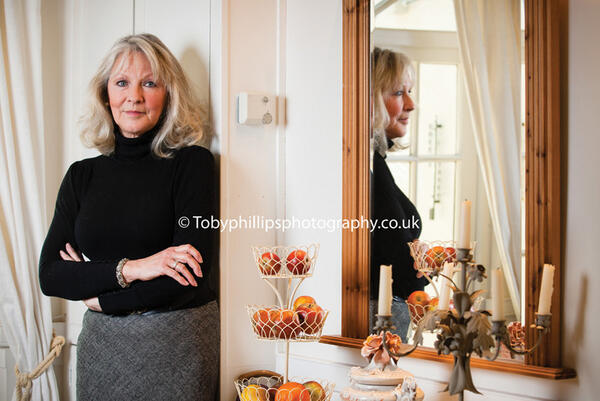 I was born in Hertfordshire. My father designed cranes and my mother was a housewife.
I went to St Francis, a boarding school for girls in Letchworth, Hertfordshire. The nuns had a strong focus on the performing arts and held ballet classes, which my mother wanted me to attend. But I was always in the back row because I was very shy. I loved ballet but I wasn't learning much as I couldn't even see the teacher.
I auditioned for the Royal Ballet School when I was 12, which was a year or two older than most children that audition, but they thought I was a little too tall. All I ever wanted to do was be a ballet dancer, so when I wasn't accepted my hopes were dashed.
I went to Grandison College in Croydon and learnt all sorts of dance styles,including jazz and tap, as well as ballet. I was in a couple of pantomimes as a schoolgirl. I was in Babes in the Wood with Sid James and Dick Emery, touring in Shrewsbury, Sutton and East Ham. That was when I had my first gin and tonic. Dick would
invite the whole cast in to his dressing room for a gin and tonic before each show.
I was in the original line up of what became Pan's People. When I was at school, the pianist in one of the ballet classes had a daughter who was in a dance group called The Beat Girls, along with Barbara 'Babs' Lord and Dee Dee Wilde. They were doing a television show with Dickie Valentine, but the pianist's daughter couldn't do the show so I stepped in for a series as one of The Beat Girls. We did a number with Georgie Fame and the Blue Flames. But I had my hair in a bun, and I think they thought I was really uncool.
I left school and auditioned for a revival of Sunday Night at the Palladium. The show had been one of the most popular shows of the 1960's and they tried to revive it in 1973. I was chosen as a dancer, and performed in live shows from the London theatre every Sunday night, which was pretty scary for somebody who had just come out of school. Everybody else in the group had a lot more experience and was a lot older than me. I was really in at the deep end.
That was in the days of variety shows and the dancers would open the shows. I remember Cliff Richard performed on one of the nights. The show did okay but it only lasted for one series.
Naturally, I met a lot of choreographers. Every show you did, you would meet someone else, a different choreographer or producer. Lionel Blair and Irving Davies were two I worked regularly for. Like actors work well with certain directors, dancers can work well with certain choreographers. I was good for Irving's style of dance so
every time he needed dancers I was there.
We used to go to Elstree Studios quite often. One time, Liberace was recording there, playing The Blue Danube on his beautiful grand piano and we were dancing around in blue chiffon dresses floating around, and he wanted someone dancing around the piano as he played. He chose me!
Irving used to dance in many movies, and even danced with Gene Kelly, and had many contacts. Thanks to him I got to regularly dance on shows such as Cilla. I also performed with the likes of Engelbert Humperdinck, Tom O'Connor and did Quincy's Quest with Tommy Steele. We all played the parts of toys and it aired as a Christmas
Story on ITV in 1979.
I was on The Two Ronnies on a couple of occasions, and there is one I still see repeated from time to time called Crossed Lines. They are on two phones having separate conversations that intertwine and there's a lot of double meaning. I play a girl working at Sainsbury's who comes in with a bottle of Champagne and I go off with Ronnie Corbett.
People were envious of us as television dancers as we earned more than the very talented dancers of the West End. When I get together with some of the girls I used to dance with, we always say 'we really were so lucky'.
There was one time when I was involved in a West End show; Rock Carmen in 1971. It was an awful flop that ran for five or six weeks at the Roundhouse in Camden. It was a rock version of Carmen and starred Terri Stevens
and Elaine Paige. Irving directed it, but it didn't work out.
I married and moved down to Rudgwick in 1976 and joined the Dramatic Society there. The marriage didn't work out, but I had my first son, Charles.
My agent, Ann Zahl, sent me to an audition for Play Your Cards Right, and I became one of four hostesses on the show. Alongside Bruce Forsyth, they had four girls on the show and a male host with Denni Kemp and I staying throughout the eight series run. I missed just one series to have a child. There were always four hostesses alongside Bruce, and a host, which was John Melainey.
It was good fun, but it was disappointing as Denni and I really thought we had made it. We thought we had hit the jackpot, as we were to be television hostesses. But it wasn't like that; you would just see my hand turn a card over. We thought we would be involved more heavily but essentially we were just models.
You would have the occasional line but they would be embarrassing. It was Bruce's show, let's face it. Off screen, he was a nice enough chap, but I didn't have a huge amount to do with him.
'Dolly Dealers' was a phrase Bruce came up with and it stuck. Poor John was a very tall and handsome man who was a very good performer, but Bruce referred to him as his 'male modarl…'You didn't want to go around telling people you were a Dolly Dealer. You weren't proud of it, although the money was handy.
I married for the second time, to Dorian de Braam in 1983, and we had three children, Dorian, Merlin and Portia. In 1986, I went to live in Ireland as my husband had started a mineral water business, de Braam Water. We were able to buy the most amazing place in County Meath as property was very cheap there at this time.
It was hard work setting it up. I would be packing bottles and answering the phone, whilst one baby was riding a plastic tractor, one was in a basket and one was bouncing from a door. It was crazy. I always said the whole time I was there that I didn't belong in Ireland. I belong in Sussex. I missed going to London and being able to go to the theatre, but my children wanted to stay in Ireland.
We faced two court cases, one relating to the business, which we won. I said to Dorian that we were not really cut out for business, and we sold out and moved to a lovely house in Waterford in 1993. Another court case (Dorian was in a crash involving his home-built aeroplane and a helicopter) kept going on, but we still had to put bread on the table so I thought I could start teaching ballet to children.
I started a dance and drama group in the school holidays and we transformed the dining room of our home into a stage and studio complete with mirrors. I wrote a play for the children and we performed it after a week's rehearsals in the school holidays. The parents came to watch it and really enjoyed it. People kept asking if I would carry it all on as there was nothing like it in that area at the time, so I set up the Children's Theatre Workshop.
A short time later, the Royal Academy of Dance suggested that I teach ballet, as there was a shortage in that part of Ireland. I thought I was too old, but I thought about it and decided to go for it. I took my teaching exams which took me three years and The de Braam School of Dance and Theatre Arts opened in 2003.
I wrote to Elaine Paige and asked if she would be the patron. She said yes and even offered to come over for the opening, which was marvellous! The school operated for six years, and it was brilliant. We had 500 students and we performed shows such as Bugsy Malone.
The court case would eventually break my marriage and I came back to West Sussex, moving to Billingshurst. I joined Billingshurst Dramatic Society, which had always crossed over to a certain degree with the Rudgwick Society, and it felt like I'd never been away. I enjoy being involved with that immensely and I still teach ballet twice a week at Farlington School.
The television days were good times. I was so lucky that we got to do what we did, yet it wasn't cut throat at all. My daughter is a dancer and a model and has been trying to get into acting and it's so hard these days. Some of the girls I've trained have gone on to college to do Contemporary Dance and part of me wonders where they are all going to work.
I sometimes wonder if I hadn't encouraged them they might be doing something sensible!