Ted Streeter of Roffey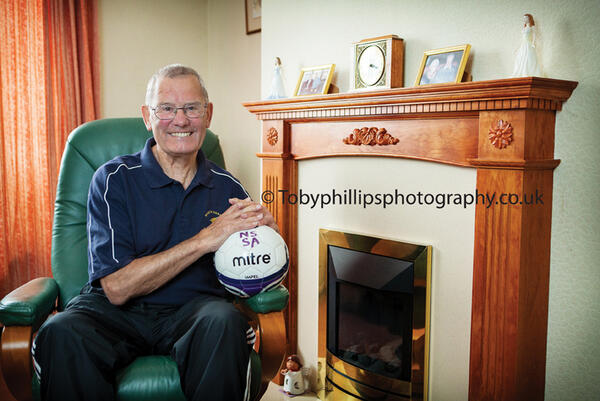 I was born in 1936. My dad was a railwayman and we moved to Horsham when I was less than a year old.
We lived in Bethune Road and it was a great childhood. We would go to the woods to make camps, or play football and cricket in the street because there weren't any cars around. None of us had any money but it didn't matter - if we had a tennis ball to kick about we were happy.
We had a great deal of freedom back in those days, which kids today do not have. I remember we had a few bombs dropped nearby during the war, but as a boy it was exciting.
I went to Clarence Road and Denne Road schools, then I passed my 11-plus and went to Collyer's. I was a small lad but I played cricket and football for the school.
I got the cane twice. The headmaster at Collyer's punished about 40 of us for throwing snowballs. The other time was for interrupting my history teacher. He gave me a note to take to the headmaster which said I should receive two beatings. I put the note in the bin and went back to class pretending I'd been caned. I thought I'd got away with it, but the next day my name was called in assembly and I got six of the best for that stunt!
I joined Horsham Football Club when I was 14. I played for Horsham 'A' men's team. One of the first teams I played against was West Ham A in the Metropolitan league. I made my first team debut for Horsham when I was 17.
I broke my leg when I was 18, which was a huge setback. I was at the hospital for four hours waiting to be seen to. Eventually they slapped my whole leg in plaster. I was covered in mud, and all my subsequent problems with my knee were caused by that as it was never properly re-aligned.
After Collyer's I went to Brighton Technical College to study building and surveying. When I was 20 I got a job with John Laing's construction business, and my first job was building flats in Birmingham. From there I went to the Shell Haven oil refinery, and then to Newport Pagnell to help build the M1 motorway.
In 1958, I married June in Southwater. I couldn't have done all that I have without her. She's put up with me being away with work for many years and going off to football every weekend from the day we met. I think if we were a modern couple she would not have put up with it! My children, Julie, John and Martin, have also been tremendously supportive over the years.
My National Service had been deferred, but they caught up with me in 1959. Once you got over the 'square bashing' it was great fun. I was never posted anywhere because I played for the camp football team. Young men these days could do with something like National Service, as I think discipline is sadly lacking.
After National Service, June and I decided to settle in Horsham. I got a building job with Y. J. Lovell for three years, and started playing for Horsham regularly again. In those days, Horsham had a really good side so I only used to get a game for the Firsts when the likes of Don Cocozza, Mick Browning and Dave Collyer played for the county team. It didn't matter what I did. I scored 35 goals by Christmas for the Reserves, and still I couldn't force my way in. They were good times and I made friends then that I still see now.
I went to Worthing to play first team football and the manager, Dick Tarrant, got me interested in coaching. I started taking my coaching badges.
Over the years, I coached and played for many teams. I went to various clubs - Wick, Petworth, Portfield, and Worthing for a time. But I was always running coaching for young players. I returned to Horsham in 1983 as first team manager but it was a very difficult time for the club. The Board of Directors wanted to disband the team and hire the ground out.
As manager, I fought like mad to keep the club going, along with chairman John Laker. In the end, I gave up the manager's job to become treasurer. I called on some old players and friends and concentrated on pulling the club together financially. After just one year we got the club back in the black.
I had been running my own civil engineering company called Oakley Construction but it all went wrong in 1981. We were sub-contracted by a company doing the drainage on the new Southwater bypass. But they went bust and took me for a lot of money.
We had to sell our house and move to a smaller place in Crawley Road, taking on a bigger mortgage that lasted until I was 72. My company was forced to close. Those were dark days.
I had promised June I would quit football when I turned 50. But then I was offered a job by Brighton and Hove Albion manager Barry Lloyd to be Youth Development Officer. It was what I had always wanted to do - coach at a professional club. I went there in 1987 full time and I was there until 1994.
They were great times. I was on the bench at Wembley for the play-off final in 1991 and my youth team played on the pitch before the main match. We started two centres of excellence and Gareth Barry was one of the youngsters coming through then. We won the Southern Counties Youth League Cup, beating Chelsea on the way.
It ended when Liam Brady came in as manager with his own people. I could have sat back and retired but I felt I still had a lot to offer. That's when I started the North Sussex Soccer Academy. After 18 years we still get 60 or 70 on a Saturday morning in Horsham Park - but at one time it was 120 or so.
We should promote skills and technique with fewer players at youth level. Under-7 is too early to start playing competitive matches - they call them friendlies but there is still pressure to win. Teams shouldn't play 11-a-side until they are 14.
I hear parents saying 'my son's going Chelsea training' and all that. Yes, they may be going to a satellite training camp which you normally have to pay for, but to 'make it' is very hard. Parents give kids these big ideas that they are going to be professional footballers.
It should be an honour to play for your hometown team. That should be what they strive for.
1991 was a significant year in my life as I became a Christian. On TV, they were talking about the Gulf War, and I had a tremendous feeling to go back to the Baptists Church, where I went to Sunday School as a kid to pray that there would not be a war.
If you've ever worked on a building site or been in a football changing room, you'll know what the language is like. I used to swear like a trooper, shout at the kids and lacked patience, but that all changed. I started finding the good in people.
There's no point having faith if you're not going to make use of it by helping and supporting other people.
Being a Christian helped me when it came to having to release young players. I decided which boys would join the Youth Training Scheme at Brighton. It was one of the hardest things I've ever done - these boys dream only of playing football.
Last November, I was getting an indigestion-like pain coming on every time I exercised. I went to the doctor and he sent me up to Redhill for check-ups, where I was told I'd need coronary artery bypass surgery.
I was shocked as I'm a healthy person, don't smoke and my cholesterol levels are good. But still, I went to London and ended up having a quadruple bypass.
It's tough to take that you're getting old.
I'm 76 this year, so I've had my three score and ten and then another six. I don't know how long God has got for me, but I do know that all the time I feel I can do the football coaching for the youngsters, then I believe it's the right thing to do. I'd be lost without it.