Dr David Skipp of Horsham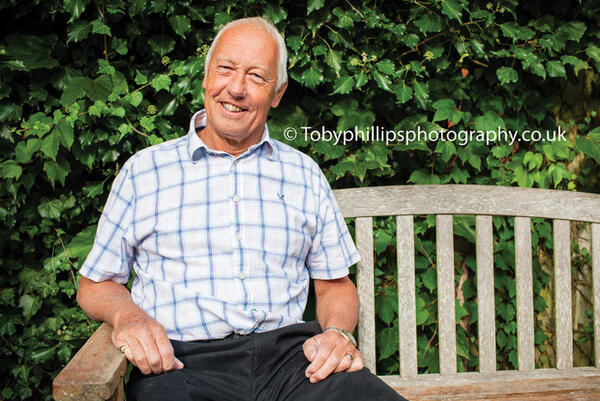 I was born in Workington in Cumberland. It was a steel town and my dad was a Baptist minister there. We moved to Liverpool and then to Kent before ending up in Shoreham in 1959, when I was ten.
I went to Medical School in Charing Cross. From the age of 12 or 13 I wanted to be a doctor. I had a GP called Dr Stafford in Shoreham who took an interest in all of his patients. I was always impressed by this man and because of him I thought I would like to go into medicine. He always seemed collected and calm. He was a big influence on my life.
The Medical School was just off The Strand. I did my pre-clinical there and then moved down to Fulham when the new Charing Cross Hospital was completed.
I married Helen in 1974 and we had our first child, Tim, before I moved to Cuckfield for three years and did the rotation whilst I was preparing to do general practice. I spent three months working with four different GPs in Balcombe, Haywards Heath, Newick, and Ditchling.
Back then you did six years of training and a year of house jobs, which I did at Charing Cross. I then did a year's general practice and two years of medical studies.Once I had done the training I came to Horsham, in 1978.
I went to Horsham Park and didn't move until I retired after thirty years. I ended up as a senior partner and whilst I was there we rebuilt the surgery.
I knew Horsham as when we lived at Shoreham we used to hop on the steam train and visit Horsham Park. It was a good day out and if it was really warm you would go swimming in the open air swimming pool that used to be there.
My wife is also a medic. She spent a few weeks as a medical student in Horsham at another practice. I had been up to see her as well.
My belief was that if you're going to be a general practitioner in a town, then you've got to involve yourself in what is happening in the community. I was never one of those guys that said 'I want to practice there but live somewhere else.' I wanted to live and work in the town and get to know the people.
We did the Police Surgeon's work at Park Surgery. For many years this was carried out by Doctor Gover and when he retired I took on his work. The experience I gained from that meant that Roger Stone, who was Coroner for West Sussex, asked me to be a Deputy Coroner. I've been doing that for about twelve years now.
It's unusual to have a medic these days performing a Coroner's role. Most are lawyers and they come at it from the legal position. That's not to say that they are not interested in the people in the cases they have. But I have always approached inquests from a GP's perspective.
If you have a family who have lost a loved one or been through a traumatic episode, the last thing they want at a Coroner's Court is to be met with legal jargon. I've tried to adapt the way the inquests are run so that the family understand what is happening, get the answers that they want and do not feel intimidated by the system.
At an inquest, you want the answers and you want to know that the person conducting the inquest understands the emotions you are feeling. It is emotional. We've had some very emotional inquests in Horsham, such as the schoolboy who was bullied – these are emotional episodes and you have to help people through it. I think the coroner's inquest is part of the process of helping people deal with bereavement and that's how I approach it.
I've been on the receiving end, so I know what it's like to go to a coroner's court. My first child, Tim, died in 1999. He was a medical representative and went out to Australia to meet a couple of friends. He was due to come home a couple of days after the crash happened.
On the night of his 23rd birthday they were in a car at some traffic lights and a huge lorry just ploughed straight into the back of them and wiped them all out.
That was traumatic. As a parent, you don't get over that. But it did give me an affinity with the families in the coroner's court.
I've known (Leader of Horsham Liberal Democrats) David Holmes for a long time as our children went to Heron Way together. One day he said 'Why don't you take up council work?' and I said 'No way. It's not my
scene. I am not a politician.' There was a meeting looking at health issues in Horsham and at about that time I was involved in Francis Maude's campaign to get a hospital. David said 'You could make a difference' and in a
weak moment I said 'Oh, all right!' and that was how I got into politics.
I thought I might make a difference, but I'm not sure if I've made any difference at all.
The frustration comes from wondering whether any contribution you make in a debate is actually going to be noted or listened to. In all honesty, you go into a debate knowing you are not going to win anything because it's already decided. There's a debate and you can say what you feel, but if it doesn't accord with what the ruling party believes then it's not going to make any difference.
I represent Roffey North on the council and I also sit on a West Sussex County Council committee which gives me an input into health issues. I act as a liaison with the Chief Executive and his team at East Surrey Hospital and I can discuss the issues we have here in Horsham.
A few years ago I really thought we needed a new hospital. Everything went to East Surrey and people didn't like that. It engendered a lot of angst amongst locals, understandably as there were a lot of problems. When
Francis Maude ran his campaign it was the culmination of people's frustrations. It was a good campaign and had a lot of merit.
I've changed my position slightly. A lot of problems can be treated in the community by your GP. East Surrey has also upped its game in the last few years. My view now is that we have a hospital in Horsham that could do a lot more in terms of outpatient work, minor surgery, and the minor injuries unit could offer more.
I'm president of Theatre 48 (Horsham's oldest theatre group) and we are flourishing. We are working a lot more with children, particularly those at Kingslea School in Horsham. It's not unknown for me to be an extra in HAODS productions. There are two or three of us in a rent-a-mob and we are called upon when they need some people to lounge around in the background not doing very much!
I do a bit of Scottish dancing at the Millennium Hall in Roffey too. You'd be surprised how many people there are in the group!
We had four children. Jo is a doctor and lives in Copenhagen. She has given us four grandchildren so we go to Denmark a lot for babysitting! Beth is a nurse at Royal Surrey Hospital in Guildford. My youngest son Ben lectures in music at Oxford.
We set up a charity in Tim's memory as we felt we had to do something positive. It's called The Timios Trust, set up with the express purpose of providing travel bursaries for young people wanting to go abroad and do something positive.
Tim had a strong Christian faith and we tried to set it up according to his beliefs. He went out to Africa and got involved in a number of community projects and we have tried to continue his work. We've supported
nearly 300 people doing various projects around the world.
I've done a couple of marathons to raise money for the Trust. I've also done the Three Peaks Challenge and I cycled from Land's End to John O'Groats.
I don't know how long the charity will go on for but all of the time we have got money and youngsters saying 'This is what we would like to do' we will support them.