The Beat Merchants: Supporting The Stones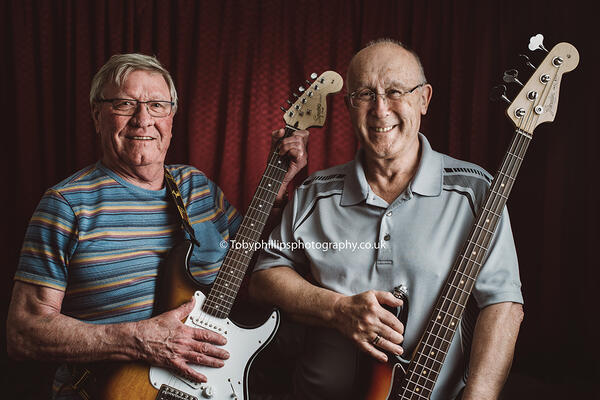 Published 3rd May 2017
Geoff: It was Ralph Worman, our guitarist, who started the band. We met at Forest School, although Chris - who joined the band later - went to Horsham Grammar School. As I was Ralph's cousin, I was roped in to play bass and Gavin Daneski was on rhythm guitar. We were all Roffey boys, as was Vic, who joined the band later.
Geoff: In those early days, it was all about Cliff and the Shadows. A couple of us had been to see Cliff and the Shadows in Aladdin at The Palladium and we were blown away. We started playing Shadows songs together in '61. Our first gig was in the building alongside All Saints Church in Roffey. The second was at Roffey Scout Hut and it was mostly mates from school who came. Peter Toal joined and we became Peter and The Hustlers.
Vic: I joined from another local group called The Texans. By then, we were represented by a local agency, Camida Promotions. They used to host local gigs. They would book a main artist to draw a crowd and use a local band as support. They would regularly cram 600 people into a hall. Freddie Starr was in a band (The Midniters) at the time and they performed in Horsham.
Geoff: It was as Peter and The Hustlers that we supported The Rolling Stones when they played St Leonard's Hall, Horsham in August 1963. I was only 16 at the time and Victor was the old man, as he'd just turned 18.
Vic: The Rolling Stones had just released their first record, Come On. It entered the New Musical Express chart on Friday, the day before the gig. We heard that because they were now a chart-busting group, they didn't really want to play in Horsham, but they couldn't get out of it!
Geoff: It was a sell-out, as word spread fast. Lots of people already knew Come On. However, on the night, just about the only people gob-smacked by The Stones was us. Most of the crowd preferred our performance. We got a hell of a reception and it was probably the best gig we ever played. Then, we stood around watching The Stones, thinking 'Wow!'
Vic: We were to later find out they were intelligent, well-spoken men; but at the time they looked scruffy and we didn't know what to make of them. But The Rolling Stones changed our approach.
Geoff: It wasn't The Stones themselves that impressed us, but the music they played. It was rhythm and blues, with influences from the deep south and even Africa. It sounded different to everything else we had heard. They were playing covers by the likes of Muddy Waters, John Lee Hooker and particularly Chuck Berry. There's a big difference to singing Summer Holiday and Johnny B Goode. In a way, the music of Chuck Berry spread because of bands like The Rolling Stones playing his music.
Geoff: We put together some demo songs at Regent Sounds in London. We recorded four tracks, including one of Gavin's songs, and sent them to Norrie Parramour, the A&R chief at EMI Records. One was an up-tempo version of Hippy Hippy Shake. He didn't like our version, yet six weeks later he released the Swinging Blue Jeans' recording of the song, with absolutely the same arrangement as our recording!
Vic: Peter left for Australia after getting married. He was a few years older than us and although we tried to persuade him to stay, he was adamant. We looked around for a singer and Chris Boyle, who was also in The Texans, joined us. It was then that we changed our name to The Beat Merchants.
Geoff: We signed with another agency in Worthing and played bigger venues across the south, performing regularly for little or no money. We entered a National Boys' Club battle of the bands competition at Brighton Dome. We played a Bo Diddly song called Hey Mama, Keep Your Big Mouth Shut. We won and that gave us coverage in The Telegraph. That put us on the road to something bigger and better.
Vic: I was also working for Redland Bricks as a lab technician. I would go out gigging and often not get back home until 3am. A few hours later, I'd have to get up for work. There were several occasions when the boss came in and found me fast asleep!
Geoff: We went for a recording test for EMI at Abbey Road. We also had a test at Decca with Mike Leander, who had recorded with The Rolling Stones. Both Decca and Columbia offered us a record deal within 24 hours of each other. We wanted to go with Mike as he understood what we were trying to do. But our manager insisted that we sign a six-month deal with Columbia. So we did and we recorded Pretty Face.
Geoff: We thought that we were going to be famous, to a man. We were a good band.
Vic: We were on an ITV television show called Thank Your Lucky Stars, which aired on a Saturday evening at prime time. It was the Top of the Pops of its day. On the same show, Shirley Bassey sang Goldfinger and Sandie Shaw performed Always Something There to Remind Me. Sadly, the videos have all been lost. We also went on Scene at 6:30 in Manchester, where we were interviewed by Michael Parkinson.
Geoff: On another television show, we were performing Pretty Face as it had broken into the Top 50. We were sat in a room with The Beach Boys. They were performing Sloop John B, which was a big hit at the time in the UK. But they couldn't remember how to sing it because by then they had moved on to other hit songs in America.
Geoff: Everything was going well and our reputation was good. We went on a national tour with The Honeycombs, who had a huge number one record, and Lulu, who was even younger than us. Gene Vincent performed on the same bill occasionally. There were several acts in a show that would tour theatres around the country, eachperforming two or three songs.
Vic: We were a combination of many different bands, but we did our own thing. We had a heavy beat defined by bass and drums. It was all new; we didn't have textbooks to work from.
Geoff: There really would be girls screaming at the gigs. We had a white van that was absolutely covered in lipstick with messages like 'I love you' and things you can't print! Sometimes, girls would chase us with scissors to try and get bits of our hair!
Vic: One night, we played with Duffy Power, and Chris was wooing the girls. It was a rockers' town and the blokes were standing at the back whilst the girls were screaming at the front. One of these guys was upset that his girl was showing too much attention to Chris, and hit him. Chris took a second to react and then whacked him back! The guy went down like a sack of potatoes. A lone policeman came up and said we had better leave quickly because he can't protect us all! I remember Duffy Power holding up a heavy microphone stand to protect us whilst we were loading up the van.
Geoff: After six weeks on the road with just two nights off, things were going well. We were being paid next to nothing, but we didn't care about money. We were just playing and doing what we loved to do.
Vic: Pretty Face should have been the start of something good, but things went wrong. Our contract with EMI was for two records over six months. Our manager was waiting for EMI to contact him about the second record and EMI was waiting for him to provide them with it! Sadly, by the time we came around to releasing it, all the momentum had gone.
Geoff: We released So Fine, a song we didn't particularly like, in February 1965. The record reached about number 80. By then, Ralph had left the band and although we continued touring with acts including Herman's Hermits, things fell flat. We tried to get another deal and recorded a few demos, but it didn't happen.
Geoff: We were touring Europe and felt isolated away from England. However, whilst we were away, So Fine was put on the back of the Freddie and the Dreamers record, You Were Made for Me, which was hugely successful in the US. So, we had a million-seller in America! I found the record on eBay so I now have my own copy.
Vic: After the European tour, The Beat Merchants petered out. We didn't get on very well with the singer, Chris Boyle. He felt he was a great singer with a rubbish band and we felt exactly the opposite! We carried on without him and kept the name, with Geoff and Gavin on vocals.
Geoff: We recorded more new tracks, which we were very pleased with, and sent them to various labels, but nobody was willing to take a chance on us. The following year, Vic decided to leave and get married and that was about it. I went to London with Gavin and we become songwriters. Our best effort was Rich Girl, recorded by The Merseys. They had a hit with Sorrow and were going to release Rich Girl as a single, but changed their mind. We also wrote a song for The Monkees TV show. We stayed in music publishing for a couple of years before returning to Horsham to live normal lives.
Vic: A couple of artists have also covered our songs. Jean-Jacques Burnel, bassist with The Stranglers, recorded a version of Pretty Face on his debut album, and Dr Feelgood also recorded it.
Geoff: In 2001, Circle Records released a compilation of our songs, called The Beat Goes On. There was a limited edition run of 2,000 copies which sold out, which was great. It would have been nice to have some of the songs digitally enhanced, but nonetheless it was fun getting all our old demos together. Then, about six months ago, one of our records was played by Brian Matthews on BBC Radio 2. We received £15 in royalties, which is probably the most money we've ever made from a record!
Geoff: For my 70th birthday, I thought it would be nice to play live again. Vic's son, Neil, is a drummer and Dave Strange, who plays guitar with several good bands including Mainly Madness, joined us for a reunion. Sadly, both Ralph and Gavin have passed away, and we didn't part company with Chris on good terms.
Vic: I bought a new Fender Squire and Geoff bought a Fender Jazz Bass. After a few rehearsals, we played at Roffey Social Club. We played about a dozen numbers, including Pretty Face.
Geoff: It was brilliant. It is 50 years since The Beat Merchants disbanded and 45 years since Vic and I had stood on the stage together. Suddenly, we were there performing again. Perhaps, a few months down the line, we might even record a new album.
Geoff: Looking back on the band days, there is some happiness and some regret. They were fabulous times, so you can't be anything other than happy about the experience. But we can't be anything other than regretful that things didn't go our way.
Vic: We have lovely memories and when we get together, nobody can stop us talking about the old days!

INTERVIEW - BEN MORRIS
PICTURES - TOBY PHILLIPS/GEOFF FARNDELL/VIC SENDALL
Interview: Ben Morris
New Pictures: Toby Phillips