Peter Wynne: Singing with the Pop Greats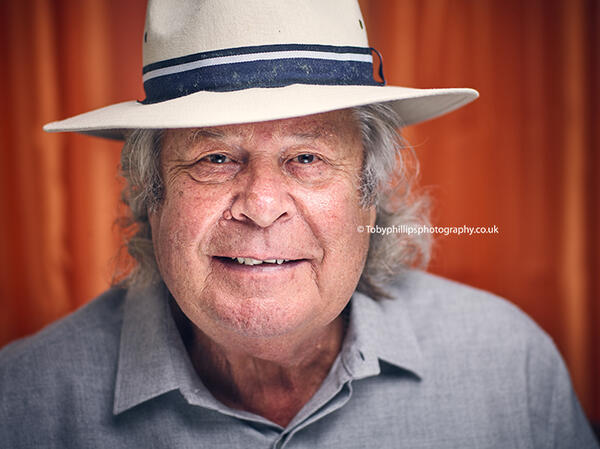 Published 4th February 2016
I was born in Chester in 1939. My mother was originally from North Wales and my father was born in Toronto. He worked as an upholsterer, although served with the RAF during the Second World War. I remember him coming home when I was very young and thinking 'who is this guy?' He was away for the best part of five years.
My parents were both musical people and my grandfather, who was Welsh, was an operatic singer. His brother in fact was an operatic tenor who performed at Covent Garden at the same time as the great Enrico Caruso. I sang in the choir at school in Shropshire. The headmaster used to play the piano as I sang solos and it was him that really improved my singing.
One of my big heroes was Al Johnson, and I would sing his songs sometimes. During the 1940s, I would listen to swing and big band music by the likes of Frank Sinatra, but I also listened to a lot of operatic songs by the likes of David Whitfield, who had hit after hit. When Elvis came out with 'Heartbreak Hotel' I remember thinking 'what a funny way of singing!' I wasn't really into rock 'n' roll as I liked ballad singers like Frankie Laine, who sang 'I Believe' and 'Answer Me'.
I entered a competition at a theatre in Kidderminster when I was 15, singing 'Smile' from a Charlie Chaplin film. I asked the lady who was playing the piano at the theatre 'can you play it in the same key as the David Whitfield version?' I was musically illiterate so that was the only way I could describe it. Anyway, as I stepped out on stage, she played in a low key and I couldn't sing along. People were laughing as I tried to sing in a deep voice! I came nowhere!
I was a bit of a Teddy Boy in those day. I wore tight trousers with a suit or waistcoats, with combed back hair with a quiff. But I was always performing. I was in the police cadets for two years and then on to the Grenadier Guards and I would regularly sing for friends. People thought that I should go into show business. So I entered another competition in London when I was 20, singing a Pat Boone song called 'April Love', which I won.
This led to an audition for Hughie Green, who devised Opportunity Knocks. I think the audition was in Baker Street. Halfway through the song, Hughie said 'Hold on a minute!' and he made a phone call. He shouted 'Sing it again' and held the phone up to the air. On the other line was Norman Newell, who was an A&R manager for Parlophone Records, part of EMI. Norman then invited me along for another audition, when I sang Gigi with Russ Conway, who had a big hit with Side Saddle, stepping in to play the piano for me.
I signed a contract with EMI that same day. The deal was for about one penny per record, so I needed to sell one million copies if I was to make much money, but I didn't care. It was the thought of recording at Abbey Road that excited me.
The record company picked me a ballad as my first release in 1959 called Chapel of Dreams, which was originally recorded by Dubs, an American vocal group. I performed it very differently with a faster tempo, but it wasn't a hit. EMI thought it was going to do very well. Hughie Green picked the B-side, Twilight Time, which was a well-known song by The Platters. The B-side was perhaps the more commercial song, and the A side wasn't played much on the radio. Unfortunately, I never had the chance to pick my own songs. I was so in awe of everything that I dare not argue with the choices that were made for me.
I was one of of pop manager Larry Parnes' singers, and he also managed the likes of Billy Fury, Marty Wilde, Joe Brown, Vince Eager and Eddie Cochran. We would be constantly travelling up and down the country together, performing live. Larry would decide who played where and on which nights. Sometimes you would finish a show at 10pm and then travel 300 miles overnight so you could sing the same four or five songs the next night! It was tiring work.
On most nights, I would perform about four songs along with several others before the big star, be it Billy Fury, Gene Vincent or Eddie Cochran. The Americans did have something a little bit extra that most of us didn't have. Gene had a great look with the black leather suit, leather glove, and had a fantastic song in Be-Bop-A-Lula. He looked a bit like Alvin Stardust, and he would lean forward with his legs stretched back and the girls loved it. Then Eddie would come on with his guitar and sing 'C'mon Everybody.' It was brilliant rock 'n' roll.
The music press would have a dig at Larry Parnes and his stable of singers. All of the books say that Larry picked a lot of boys based mainly on their looks and would change their names – Billy Fury, Duffy Power, Johnny Gentle, Vince Eager. He never changed my name though. Peter Sellers actually took the Micky out of Larry Parnes and his artists in 'So Little Time' which plays on the assumption that we were a bit thick. To be honest, the criticism went over my head as I was just a young man enjoying myself.
The girls didn't scream at me, but I always received a standing ovation. They liked us ballad singers, but the younger girls loved the danger of rock 'n' roll. I remember one night at the Glasgow Empire, some people were throwing ash trays whilst Billy Fury was playing. The local guys were so jealous because the girls were screaming for Billy!
I supported Eddie Cochran at his final show at the Bristol Hippodrome in April 1960. After the show, I was travelling with Johnny Gentle back to London, and Eddie had asked if there was space for him and Gene. We both had our girlfriends with us, so they had booked a taxi instead. The driver crashed and sadly Eddie was killed. I have a copy of a concert poster that was on days later in Liverpool, where I was supporting again. Gene Vincent tops the bill, but they had just scribbled out Eddie's name.
My second song, again recorded at Abbey Road, was 'Ask Anyone in Love, which was recorded by Tony Bennett five years previously, with the B-side being 'I Need You Close Again.' The third song was 'Our Concerto' which was another ballad. I wrote the B-side to that song, Your Love.' I recently heard 'I Need You Close Again' on Sounds of the 60s on Radio 2 - not that I've seen any royalties come through! The fourth song I released with Parlophone was The Wall/You're Mine.
There was a TV show called Oh Boy! Produced for ITV that had really helped launch the rock 'n' roll movement in this country and did wonders for Cliff Richard too. This only ran for two seasons and was followed by a similar show called Boy Meets Girls. I performed regularly on this show, along with the likes of Marty Wilde, Freddy Cannon, Jess Conrad and Duffy Power. Sadly, I tried to track down copies of these shows, but they would record over the top of them because film was so expensive. Every episode of that show was wiped and does not exist. I wish I could see them one more time so my wife could see how I performed when I was 20 years old!
I feel there were missed opportunities. I gave a really strong, emotional performance of a popular song called 'It's Only Make Believe' on TV. I knew it had gone really well, so later that week I went to the record shop in Birmingham and asked 'Have you got a record by Peter Wynne?' I knew I had recorded 'Ask Anyone in Love' but the record shop didn't have it as it still hadn't been released. They said "We've had loads of people asking about him since he was on TV.'
I performed my fourth record, The Wall, on 'Thank Your Lucky Stars,' which was a TV programme which attracted the likes of Cliff Richard and Ken Dodd. I remember Don Black, who wrote a lot of hits for Matt Monro, telling me afterwards that it was going to be a hit, but it didn't happen. Sadly, none of my songs with Parlophone managed to break into the UK charts, although I was told that one of my songs reached number two in South Africa.
The Beatles had joined EMI and I was recording at the same time. To be honest, we didn't have a chance against rock 'n' roll. People like Matt Monro still had some big hit records but most of the others vanished from the charts. I was really a couple of years too late. After my fourth record, my contract with EMI was finished.
In 1964, I travelled to Hamburg and recorded one record for Polydor, 'I'm a Fool to Want You,' previously recorded by Frank Sinatra. It's unheard of over here, but strangely it is still being played even now in Germany and particularly Belgium. There are a few posts of my version on YouTube and between them they've had about 15,000 hits.
I toured with the musical Camelot for several months, playing one of the lesser known knights and acting as the understudy for Lancelot. Then I met bandleader Cyril Stapleton, who led a big orchestra. He wasn't quite as well known as Ted Heath, but Cyril was playing large venues in those days. I took a job singing with his band for a time, and performed with them on a tour with Shirley Bassey. I didn't have a great deal to do with Shirley as she was the star of course, but she was a terrific performer, as she still is.
Throughout this time, I had continued to write songs. Bob Barrett, a producer at EMI, felt I should have had a hit record and he helped me release a song called 'And This is My Beloved' on Columbia Records, under the name of Simon Smith. It was from the musical, Kismet, and we had high hopes but it didn't reach the Top 40. I think was probably a mistake to change my name, as that was in 1967 and there would still have been fans of Peter Wynne out there.
My last big chance was out in America, where I continued to perform as Simon Smith. Somebody had been impressed by my recordings, so I flew out to Florida. I was based at Pompano Beach near Miami, and I sang at all the hotels along the Strip including the Fontainebleau where Frank Sinatra had performed. It was essentially a cabaret act and my big number then was 'Joy to the World,' better known as 'Jeremiah was a Bullfrog.' It was actually going really well out there, and this led me to Nashville.
I arrived and met quite a few big country and western names performing, including Jerry Reed. He had written a song called 'My Kinda Love,' which I recorded in Nashville with Jerry on guitar. I sang that song on a TV show, which again is lost I think, along with 'It's Only Make Believe' and I got a standing ovation. I was wearing a suede waistcoat with tassels on, with tight brown leather trousers and cowboy boots as I was trying to fit in with the country style!
Johnny Cash was doing a show in the same auditorium in Nashville. I did meet him backstage and he was a big man. In my imagination he was small, but he had a big broad back and was dressed all in black, of course. It was only a brief chat and he said 'Nice meeting you.'
Suddenly, I was being talked about in Nashville and Capitol records were interested in signing me. But some agent from New York who had offered to help me demanded £20,000 in advance for my signature and Capitol walked away. It's another nearly story and I do have some regret over that.
Larry Parnes had once labelled me as "the new golden voice of 60s." I remember seeing Georgie Fame in 1969 and he joked "you've only got one year left to prove yourself!"
I came back home and had a regular slot at the Double Diamond Club in Cardiff. But gradually work started to thin out, so I moved to North Wales in the 70s. I started singing at clubs all over the north of England, in Manchester, Bolton, Sheffield, wherever, just performing for one night before moving on. It started to get a little bit demoralising doing one night stands at tiny clubs. Eventually, enough was enough.
It wasn't a good time for me, as I had to take a job as a porter in a psychiatric hospital, which I hated. Whilst I was doing that, I was offered a job as a cruise ship performer, but it meant being away for six months. I was married with two children at that time and needed to be near my family, so I spent two and half years taking meals to psychiatric patients and collecting the laundry.
During the 80s and 90s, I worked in various places, including a pottery factory and for a furnishings company. For many years – really since my performing days, I have suffered with Chronic Obstructive Pulmonary Disease (COPD) which means I have trouble with breathing. I think that can be attributed to the clubs I used to sing in, as they would just be full of smoke. Nonetheless, I do still perform occasionally if I'm in good health and am always open to the idea of charity music nights.
Back in 2008, I played at a show with Brian 'Licorice' Locking, who was bass player with The Shadows. He is still a friend now, so he joined me on stage and that brought back some good memories. This led to me recording a CD with the help of Daniel, who is the son of my wife, Amanda. It's mainly up-tempo numbers like Elvis' That's All Right and Achy Breaky Heart. Another old friend is trying to get all of my old songs released through again, but we need to get in touch with Universal, which took over EMI, to find out if they're still protected by copyright.
I married Amanda six years ago and we moved to Billingshurst to be near her family. To keep myself busy, I like to paint, which is something I've only done since I retired. I painted a native American for my wife and she thought it was nice so it's up on the lounge wall. I'm in my shed painting fairly regularly. I have a little stove in will paint until it's dark sometimes.
My one regret is that I didn't have a number one record! Still, it was an enjoyable time. One of my records sold about 25,000 copies, which back then wasn't enough to give you a big hit. It would probably get you quite a long way up the charts today.
It's funny, but whatever age you are you never really give up. You never give up. You still want to hear that applause and see people smile. That want is still there for me, no matter what age I am. I miss it.
For more on Pater visit his website at https://www.peterwynne.org.uk