Jack Cottingham: A Model Citizen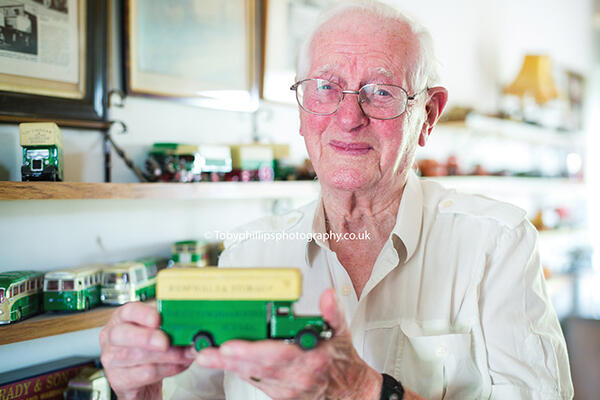 Published on 3rd August 2016
I was born at Star Cottages in Rusper in 1919. My grandfather rented Great Benham's Farm in the village. He bought a horse and cart and would travel to Ockley to collect coal, then distribute it around Rusper.
Eventually, my grandfather bought a Foden steam lorry with a trailer, and needed somebody to wake up early and fire it up, so that became my father's job. They set up their own business, Cottingham Removals, transporting goods between Horsham and Crawley. It took a long time, because they were travelling at 5mph.
My father, George, served in the First World War and was married in 1918, a year before I was born. He then bought a second-hand Army lorry, which could reach 12mph! Cottingham Removals moved to Nightingale Road, where the old market was. They had a good name, but when he died, his brothers needed to sell the business to pay off death duties. It was bought by Pickfords.
My parents bought a house in New Street, Horsham, and I went to East Parade School on Clarence Road, then Oxford Road School. I passed grammar school exams, but my parents sat me down and said, 'Son, you've got two brothers, and if you carry on with school it's going to be a real job for us to carry on living as we are.' So I said 'Scrap this grammar school idea, I will go to work.'
When I was 12-years-old I left school. I didn't want to go into the family's business, as I was interested only in motor cars. Even at that age, I knew a guy with a lorry and on Saturdays he would let me drive it around.
My dad took me to Rice Brothers on Springfield Road and they offered me a three-year apprenticeship. I was paid half a crown per week in my first year, five bob a week in my second year and seven and six in my third year.
The Rice Brother's was a huge three storey building. We had the electricians at the bottom, carpenters in the middle and the paint shop up top. Then we had panel beaters and the garage, so it was really something. Jackson's Garage was at the other end of Springfield Road, so we had a friendly rivalry as we sold Morris cars and they sold Austins!
I didn't go out much in Horsham, as people didn't have the money. Even on my low wage, I used to ride a lot though, and would ride my push bike to Brooklands race course in Weybridge. I must have been bloody mad!
War broke out when I was 19-years-old. They wanted people with motor engineering experience, so I went down to The Drill Hall on Denne Road with a friend and we both signed up. They didn't have enough uniform for everyone, so one of us was given a forage hat and the other a coat! There were so many volunteers for the 4th battalion that they formed a duplicate - the 6th Battalion of Royal Sussex Regiment. As I was young and uneducated, I went into the 6th.
We travelled to Chichester, where they plucked out half a dozen of us for Bren Gun carrier training. It was a light armoured vehicle and we were taught how to drive, fix, maintain and operate it.
Eventually, we went to France in 1940. Our initial aim had been to build a bakery that could provide bread for the troops, but that never happened as we were pushed back by Jerry. My job was to unload whatever arrived at the port and transport it to various places, but soon we were part of the evacuation from Dunkirk.
We set down in the port town of St Nazaire. It was a scary time, as we were waiting for a ship to take us home, but we knew that RMS Lancastria had sunk with the loss of 4,000 men off St Nazaire. It was pandemonium. People didn't know whether to surrender or try and get back to Britain. In the end, we chose the latter.
I would have liked to have been more involved in the war effort. But like many others, I simply did as I was told.
Meanwhile, my father, who had fought in the Great War, had men from the Ministry knocking on his door. They commandeered one of his lorries to help the 4th Battalion, and during the Blitz he used to take workers from Horsham to London, so he certainly did his bit.
Some of us from the Royal Sussex Regiment were placed at various aerodromes around Cambridge. I served at a satellite drome at Duxford and it was there that I met my wife, Dolly. She arrived with a telegram, delivered from the local shop. It was a long ride to the base, so I used Dolly's bike to deliver the message to one of my crew, Albert Noble. His daughter had just given birth to a son. I took one look at Dolly and thought, 'She's a good 'un!'
There were a few scary moments. One night, we were camping out on the airfield when a Wellington bomber landed in the field. We were quite fortunate it didn't come down on us! I later moved to RAF Thetford to train new recruits on the bren gun carriers.
The war stoked my interest in motors. The whole transmission of the bren gun carrier was made by Ford and it had a beautiful V8 engine. There's nothing to touch it today. If the spark plugs were clean, it would run like a dream.
I found an old Lanchester 18 car with no engine at a depot. There was a box full of Ford V8 parts, so I bought the car and engine for a score, and towed it back from Edenbridge. I put the car together and it started first time. Then I found out you had to pay £1 per horsepower and there was no way I could afford £30. So instead I registered the car as a Hackney carriage, which only cost £12! When I found out that what I was doing was against the law, I sold it for £35!
I was demobbed and didn't know what to do. I had married Dolly in 1942, and we had to move in with my parents in New Street, whilst I went back to work for Rice Brothers.
I took a chance when I was offered a job with George Boseley, who ran the timber yard at Faygate. I looked after his timber trucks, which meant working with bigger diesel engines, cranes and bulldozers too, which I hadn't done before. The work was okay, but Mr Boseley would treat you like he owned you.
One day, he drove me to Skegness in his Jaguar to look at three bulldozers. He ended up buying all three, then said to me 'If you get them all back to Horsham in one week, I'll give you a bonus.' We had a huge AEC Matador, which could do 30mph but only 25mph with a bulldozer on the back. So I hardly slept, driving more or less 24 hours a day to get the 'dozers back to Horsham. But I did it!
Why my wife never left me, I'll never know! I was always off on long trips or heading out in the middle of the night as a timber truck had broken down. They were always having trouble, as Mr Boseley didn't believe in buying anything new!
My first son was born whilst Dolly and I were squatting! After the war, Duxford Aerodrome was left with some beautiful timber Army huts, complete with running water. Some of Dolly's old friends were squatting there, and we went there for a while. I found work at Aero Research Ltd, where Norman de Bruyne made Aerolite glue. It was a good job and I'm not entirely sure why I left!
Briefly, I worked for Caffyn's in Horsham, and my second son, Stephen, was born three years after Maurice. I was headhunted by J.S Agate, who was now operating the sawmills at Faygate (now the site of Durrants retirement village). Agate's modernised the mill, and I helped bring the new equipment down from Perth, Scotland.
I worked hard and everything went more or less according to plan, until Dolly was diagnosed with cancer. Fortunately, they caught the cancer quickly which gave Dolly a couple more years. I spoke to Jeffrey Agate, and said I would need to help my wife attend radiotherapy, so could he alter my wages He was very good, and said 'You don't need to worry about that.'
As I was nearing retirement, Dolly and I were invited to Australia to see family. We weren't sure if she should make the journey, but we decided to go for it. I'm very glad we did.
Since the visit, I've enjoyed watching TV shows about outback truckers, driving on straight roads for hundreds of miles. Still, it's nothing like as tough as driving an old Matador, with the gear stick rising high up in the air and a huge steering wheel with no power steering. The whole cabin would shake as it was made of wood, so there was no danger of falling asleep back then!
I lost Dolly when we were living at New Street, now in our own place of course, after 44 years of marriage. New Street was very different then. Now, you have cars parked all the way along the road, but when I lived there hardly anybody had a car!
After losing my wife, I started going on coach trips. You have to fill your life. You mustn't let life get you down.
On these trips, I made many new friends, but gradually over time some have passed away. I particularly enjoyed battlefield tours to Germany, Italy, Belgium, France and other countries. You might find it queer, as I served in the Army, but to me Germany is the most incredible country. It is always clean, and the people are warm and respectful of history.
I once visited the Reichswald Forest War Cemetary. I was taking pictures of graves displaying the Royal Sussex Regiment emblem. A couple of other chaps on the coach trip asked me about my interest, and I told them about a school friend, Fred Winch, who had joined the RAF and who I believed had been shot down.
These two chaps managed to track down my friend's grave. Frederick John Baulch Winch died in July 1940, aged 21. He is buried at Reichswald. I still remember him as the boy from my class at Oxford Road, who was my friend because he had a Hornby train set.
I've loved model toys since I was a little boy and for years, we bought models for Maurice. He was diabetic, so we couldn't give him sweets. On his birthday, we'd buy him a Dinky toy instead.
I feel sorry for my family, as when I pop my clogs, boy, have they got a job on ther hands! I have models all over my house and most of them have boxes that are scattered all over the place! Some I've made up and painted myself in honour of companies I have worked for. So I have several models of Cottingham Removals vehicles and trucks in J.S Agate colours, which were all orange. I won't forget that colour, as I used to paint the real thing too!
I'm still active. I have a good family around me and visit my wife's grave at Hillside Cemetery every week. We always watched Songs of Praise together and Dolly would often help out at the St Mary's Church flower festival. So I still watch Songs of Praise on a Sunday.
I refuse to be old. I'm happy where I am and want to finished my days here. I don't want to go to a home. I have a friend, Linda, who pops in and helps me whenever I need it. That, to me, is a true friend.
Hundreds of thousands of young men died in the two World Wars to make this country what it is today, and now we've got a load of scum here. People don't always like what I say, but it's how I feel. I think the world today is a bloody disgusting place and that's mainly down to greed. Some people just want money, no matter who they're pushing down.
Having said that, I think Horsham is a lovely place. I met a woman whilst out walking, and she had just moved here from London. She found it amazing that she could walk out of her front door and in five minutes be beyond the cricket ground, over the railway line and in the countryside. I think we take that for granted.