Andrew Bernardi of Coolham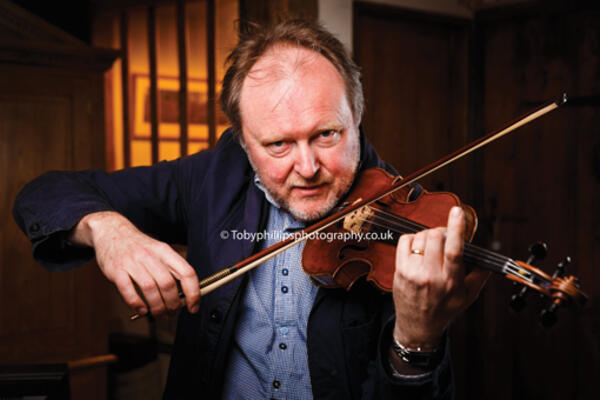 I was born in Stafford. My parents both played the piano, my grandmother was a successful opera singer and we recently found out that one of my ancestors was a soloist at many of Handel's concerts in England. So there is a strong musical background to my upbringing.
Because of that, my parents were keen that I wouldn't choose a career in music! I would enjoy it but would have a more stable occupation where I could earn decent money. My parents knew the dangers - the professional insecurity,intense competition and backstabbing. But right from the beginning I wasn't having any of that.
I can clearly remember the moment when I was five years old that I knew I wanted to be a violinist. My dad always played music in the house and I heard this amazing sound which I later found out was Yehudi Menuhin playing a violin concerto. I thought 'I have to do this.' My parents didn't have a violin but my godmother gave me a violin that I still have today and I just absolutely loved playing.
It was always violin for me. I did study the organ at University and I play viola too, but never professionally.
I joined the church choir but didn't go to choir school. I gained a very high mark my 11+ exams, and was very lucky to be awarded a place at The Skinners' School in Royal Tunbridge Wells. The school was brilliant for me.
Skinners' School helped me progress, and it was clear that I was going to have a career in music. I wanted to go to The Royal College of Music, but instead I chose an academic degree at Leeds University, which proved to be a great education for me. I was there during the miners' strike and that had a profound influence on my thoughts about society and the impact music could have in a community.
I could see people losing their jobs in the towns and villages around me. I would play to quarry workers with the choir, as the vicar used to go on the picket lines and talk to people. This gave me a real education as I had the chance to meet people who aren't so lucky and witness first-hand what they have had to contend with.
As a violinist from Tunbridge Wells, I could have been a figure of considerable hate, but instead I was made to feel welcome because of the impact of the music we played. I think this had a profound effect on my character and outlook.
In my later teens, my playing really took off. I won scholarships to study with outstanding teachers and that was the foundation of my career. My teachers included Hugh Bean CBE and John Ludlow, who was the first leader of the National Youth Orchestra.
There was a job available to lead an orchestra in Spain and it was my intention to go, but as I had never interviewed for such a position, I decided to interview for a job at Worth Abbey, for the practice more than anything. This interview went really well. Father Stephen Ortiger, who became the third Abbot of Worth, invited me along to teach. So I declined the job in Spain and went to Worth Abbey.
I found that I could teach - which was a surprise to me - but I knew that it wasn't my calling in life. Whilst there, I hope I inspired a lot of children to play music. Along with a colleague, I set up a Chamber Orchestra at the Abbey and we would raise money for good causes through concerts. Because Worth is so well connected, there would always be a strong turnout and it really worked.
I would teach GCSE Music, play a round of golf on the school course, and then carry out my other duties in the evening, so it was a really good life for me. With the money I earned there, I was able to buy my first professional violin, a Claude Pierray from 1700.
I was nearly 24 and I still wanted to be a professional violinist, so I auditioned as a mature student for Trinity College and the Royal College of Music, and both offered me a postgraduate scholarship. At that time, Trinity was to an extent the one you went to if you didn't get in to the Royal College, but I had a call from the Head of Strings at Trinity and we spoke about bringing communities together through music and how I felt it was important to be more than just a violinist. They increased my scholarship! So I took the unusual step of choosing it above the Royal College.
When I left, the Principle, Philip Jones CBE, said to me 'you're probably going to be one of the best violinists of your generation, but what you've got that others don't have is the ability to bring people together.' I didn't really understand what he meant at the time, but in retrospect, musicians can be reclusive, whereas I wanted to be involved in and serve the community.
I left before the year finished because I was offered so much professional work, even as a student. I played with the Chamber Orchestra at Worth Abbey and with the likes of Guildford Philharmonic, BBC Philharmonic and the Royal Philharmonic.
Once people know you and you are trusted, it does become easier to find work, but you are only as good as your last concert. The top orchestras want the best players, so it is very competitive and there can be a dark side to the music business. I think that I'm quite an outgoing character so I tend to be involved with pleasant groups of people! Certainly though, you have to gain your reputation and when you have it you have to work hard to look after it.
I was playing in professional concerts and leading orchestras, which was a huge privilege. I thought this would carry on for some time, but I was asked to lead a professional orchestra in Portugal. At the time, it felt like a big break as I would be concert master and there would be national broadcasts too.
Shortly before that opportunity had arisen, I was just asked if I would mind leading the amateur orchestra in Horsham for a concert. I had a free term so I agreed to do that. I couldn't let the Horsham orchestra down, so I flew back to carry out my obligations here! That was where I met my wife, Lucy, who played with the
Horsham Symphony Orchestra.
After a couple of months in Portugal, I realised that the Portuguese Orchestra had reached its peak with the set up that supported the group. You have to ask what drives you, and in truth it's doing something as well as you possibly can that drives us. I enjoyed my time there, but I reached the limit of what I could achieve in that setting. Life is a journey and you have to constantly try to be better. For me, that means making better music and to try and inspire more people to be involved in music.
That is why I love music making in England, because it is a fantastic place for musicians.
My passion for contributing to society through music led to me setting up the Shipley Arts Festival in 2000. We had moved to Coolham, and I received a call from a local lady asking if I would put on a concert for Shipley Church. At that time, I couldn't afford to do many things for free as I was an impoverished musician, but I decided that I could contribute local concerts for free if it was for a good cause. I decided that would be 'my thing.'
The concert went well, I met some lovely people and I thought 'this is fantastic.' It led to another charity concert in memory of the former vicar at St Mary's Church in Shipley, Dan Pope.
I found out that the composer John Ireland was buried at Shipley and this inspired me to talk to the community about putting on a festival. I thought I could combine local talent and schools with my musician friends to stage an international-standard arts festival. I also thought we could commission a new piece to reflect the fact that John Ireland is buried at the church.
To begin with, we were just planning to present a weekend of music, with a jazz evening at The Selsey Arms and a concert in the church and raise a little bit of money. We had the benefit of my Bernardi Chamber Ensemble which already had a core of top international level players. We continue working together to this day both in the UK and abroad, with offers coming in to play from as far afield as Hong Kong. We have significantly extended the string repertoire and also raised the bar in terms of string playing and musical standards. The group has remained central to the Festival. However, people still joke about that first concert, as my music fell down the side of the radiator! It was really successful but quite low-key.
Gradually, the festival grew. Unexpectedly, Lord Lytton asked if we could hold a concert at his home in Dragons Green, and before long we had seven concerts and everybody was strongly supporting us. Mark Burrell, who was the first patron, said 'Watch out Aldeburgh!' which was founded by Benjamin Britten and is perhaps the best known festival of this kind in the arts world.
Although I'm not a composer, certainly not in the way Benjamin Britten was, I have similar values about bringing a community together through music. We formed several projects in schools to encourage people to play string instruments and that formed the basis of the County Youth Orchestra.
That in turn led to our Gifted and Talented String Academy project, which we formed six or seven years ago. We now have a two-year project with Yehudi Menuhin School, which is a world beating institution. They bring their musicians to play with our string academy musicians at a festival concert, which is a brilliant experience for the young players.
Shipley Arts Festival has continued to grow. We now have concerts at Christ's Hospital, Lackenhurst, Knepp Castle, Windlesham School, Borde Hill and The Blue Idol. We have some fantastic support from festival friends and patrons, and sponsors such as Spofforth's and Toovey's. Last year, Nigel Kennedy opened the festival at The Capitol. I go to Aldeburgh every year and perhaps the Shipley Arts Festival is the bigger of the two now. I'm proud of what we have achieved.
We've even had success in the classical music chart with a commissioned piece. I was introduced to Jon Lord from Deep Purple by a mutual friend. I was a bit in awe of him, what with him being in one of the most successful rock bands of all time. He was also a well known composer too, and I asked Jon if he would write a new piece for the festival. It was too short notice for him, but he came up with an alternative idea.
He based the commission on music he had written in memory of his great friend, Sir John Mortimer. The piece was called 'To Notice Such Things' which is the last line of a poem by Thomas Hardy. We premiered it at Nuthurst, and it was so successful that we kept playing it and the recorded version reached No.4 in the classical music chart. I believe it's his best work, outside of Smoke on the Water of course!
Very sadly, the last concert that Jon Lord ever played was with us in Nuthurst.
The festival itself has grown beyond Shipley, but the central theme remains the same in that it brings the community together. At a time when the music profession has got smaller, we are bucking the trend and I think that is because of the values behind it. It is not me just trying to create more concerts for my musician friends, but a celebration of music for all.
In my professional career, there are moments that stand out. I played with Montserrat Caballé, the opera singer who sang Barcelona with Freddie Mercury, at the Royal Albert Hall, and a separate concert with the late Lord Yehudi Menuhin in the Athens Concert Hall. Yehudi is still is my greatest musical hero. I was also a soloist with guitarist Gordon Giltrap, which required quite a lot of improvisation when I discovered that my colleagues were Rick Wakeman and Jasper Carrot!
Playing at the Albert Hall is amazing – it's the world's most famous concert hall for good reason. I play there regularly and love it every time, as you know you're standing on the same spot that Yehudi Menuhin stood as a nine-year-old, where Muhammad Ali had world title fights, and where the world's finest musicians have played. It feels magical.
I never thought of that I would be lucky enough to play a Stradivarius violin. It is in a class of its own because of its incredibly beautiful sound, which is rich, aristocratic and very powerful. For a long time, I had been speaking to close friends about forming a syndicate because the violins have become so expensive and individual musicians just can't afford them.
The one I now have made national news headlines as it was stolen from a musician in London. The thieves couldn't actually sell it, even for £100, as it was so distinctive and of course nobody could touch it! Eventually it was recovered after the insurance pay out had been made.
After it had been recovered, I was asked if I would consider playing it and I said 'Of course.' I immediately thought it was extraordinary. The violin, called the 1696, was expected to sell for about £2 million pounds but for various
reasons it didn't happen and our syndicate was given five months to raise the money.
I've now had the violin for six months and it just gets better every day. It has transformed my own playing, as everyone said it would. It's like having a Formula One car to drive to work in every day. I just feel lucky and privileged to play it. I feel even more strongly about music now than I did as a child, as I've seen its importance to society and the difference it can make. I just love doing what I'm doing.
When I'm sat down with a bit of time to myself, my favourite composer must be J.S Bach, but I am very happy to listen to Deep Purple too, with my wife Lucy and son Joshua.
I am very grateful to all our supporters including the Festival Friends, our patrons, sponsors Toovey's and Spofforths, my (very forgiving) musician colleagues, Trinity Laban Conservatoire who not only gave me a
scholarship but then have subsequently employed me for many years, and the many orchestras and promoters who support my violin playing in this country and abroad. The greatest privilege is to be able to share music at the highest level with my friends and supporters.
For details about the Shipley Arts Festival concerts this year please visit www.bmglive.com/shipley-arts-festival/