Doug Eaton of Ashington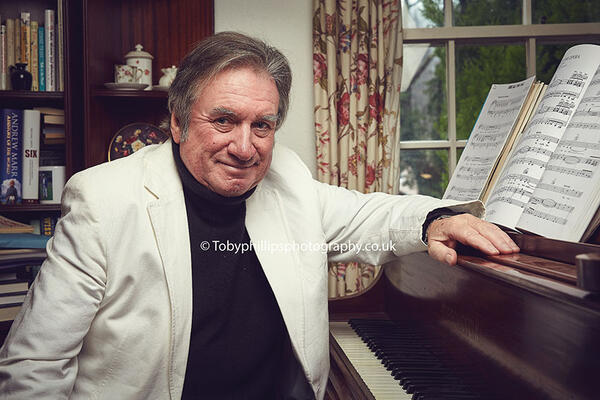 Published on 2nd March 2016
I was born in Liverpool in 1943. My father worked for an electricity board, counting the stock of appliances in shops. The real business power in the house was my mother, who ran a draper's shop selling everything from wool to women's lingerie. One of her customers was Bessie Braddock, the MP for Liverpool Exchange.
At primary school, I played football and cricket as I was a sporty child. I was never the best player, but I was captain of the cricket team, as I must have shown some management skills. I sang in the choir too, and when every school was asked to send one child to perform in the Philharmonic Hall during Coronation year, it was me they selected.
As well as choir singing, my mum sent me to piano lessons, which I'm always incredibly grateful for. I was playing Beethoven and Chopin at the age of 10 and you don't want to do that when you are young, so I lost interest for a while. But as a teenager I started listening to skiffle music, and Lonnie Donegan was my musical hero. 'Rock Island Line' was the first record I bought and that record gave me the idea of forming a band.
I could play the piano and had bought the Lonnie Donegan songbook. If you played three chords on the guitar you were made, so I would use a vamping style to copy a tune from the piano and play it on guitar! My best mate, John Morris, was good on the cake tins so we went scouring for a drum kit and found an old British Legion bass drum and snare drum for him. Then my brother, Roger, said he wanted to be in the band. We came across an old, cracked double bass and asked the music teacher if we could have it. He agreed and that day we took it on the school bus.
We heard a window cleaner singing. He was very handsome with a fabulous voice but he had a terrible stammer! He couldn't do it, but he told us about his cousin, Henry, and he joined us as singer instead. We changed his name to Dean Stacey and called ourselves The Dakotas. Then somebody told us the name was taken, so we became The Detonators.
Our first gig was at the West Derby Village Hall in 1961. The audience was very old and the local newspaper ran a picture with the headline 'Old Folk Love Rock 'n' Roll!' That got us a few more gigs. Like the other 200 groups in Liverpool at the time, we were playing covers of songs by American acts like Jerry Lee Lewis, Fats Domino, Gene Vincent and Buddy Holly.
One of the interesting things about Liverpool was that sailors were coming back to port with American records that were not available in the UK. Brian Epstein, who then ran NEMS (North End Musical Stores) record store near Everton football ground, started importing these records from the States. I used to look through the records and the manager said 'You're in here all the time, so why don't you work here?' So I did, as a record sales assistant.
Whilst I was at Liverpool Collegiate Grammar School, which was a 10-minute walk from The Cavern Club. We would go to the club and watch lunchtime sessions at The Cavern in 1961. The big three were Gerry and the Pacemakers, The Beatles and Billy J Kramer. It was fantastic music, but there was nothing to suggest it would be a global phenomenon!
I was going to The Cavern Club at lunch and playing in my band in the evening. The person you had to convince you were good enough to play The Cavern was Bob Wooler, who was a DJ there but was actually much more than that. I don't believe that the Liverpool Sound would have happened without him. We played The Cavern for the first time in 1962 and played there 22 times in all.
It was special. The atmosphere was unbelievable. It was an old fruit and veg warehouse and there were two distinct smells. One was rotting fruit coming out of the brickwork, and the other was disinfectant. In those days, there was no drinking, but it would be full of cigarette smoke. The band room was tiny, and you'd have two bands squeezing in. It has these three arches and they make the acoustics fantastic. On a good night, the walls would be dripping with sweat!
The Cavern was the number one club, but you also had other great clubs in Liverpool like The Mardi Gras, where The Swinging Blue Jeans played regularly. We also went to The Aintree Institute and the Tower Ballroom at New Brighton, which was great for me as they had a white grand piano and I could play my Jerry Lee Lewis and Fats Domino songs.
We had no dreams of being a professional band though – we were just enjoying ourselves and earning some decent money.
We did play on the same night as The Beatles, many times. There was no rivalry between bands, as everyone was mates. We would swap chords for various songs, as in those early days The Beatles were mainly playing covers too. They were always a cut above us, there was no doubt. Their on-stage reverence was brilliant as they would take the Mick out of each other and shout at the audience!
The interesting thing about The Beatles, and this is after The Quarrymen days, is that they had Pete Best on drums. Ringo had not joined the band, although I did see Ringo play at a Butlins camp in North Wales with a band called Rory Storm and the Hurricanes. Pete Best was a handsome guy and he'd wear Italian suits and Winklepickers. He was the one that the girls loved. The other lads were Scouse scallies, and were loud and rude on stage. John Lennon later said that Pete Best was the better drummer, but Ringo was the better Beatle.
I decided to go to university, but it was a difficult decision as I had The Detonators, was working at NEMS and had also become an agent for a few other Liverpool groups. So I retired from The Detonators in 1964 and my brother took over. The band turned professional and toured all over. They were a Liverpool band so people loved them, but at no point – with me or without – were they ever going to be as big as The Beatles or Gerry and the Pacemakers.
At Liverpool University, I became social secretary of the student union. I studied commerce, as I had entrepreneurial ambition. My mum used to call me 'Mr 10%' as I was always looking for commission. As a boy, I noticed that not many of my friends had books, whereas my mum had always made sure we had plenty. So I opened a library, charging my friends a penny a book! As social secretary at university, I was booking some fantastic acts, including Wayne Fontana and The Mindbenders. I booked them for £80 and they were top of the charts!
Venues in other northern towns like Leeds would pay good money to Liverpool bands to play live, but transport was always a problem as bands didn't have vans! I was lucky, as near our drapery shop was a tobacconist, who owned a pick-up truck. There was enough space for two people in the front, but the others had to pile in under the tarpaulin! Because I made money as an agent, I was able to buy a Ford Anglia. Students didn't own cars in those days!
Whilst at university, I met the future Mrs Eaton, Pam. Having fallen in love, I didn't think that a life of sex, drugs and rock 'n' roll would work well with marriage so I joined the corporate world. I'm still performing with The Elderly Brothers, singing songs from the 1950s and 60s, and play piano at home, but music has been on the backburner.
I joined the marketing team at Unilever. They made you work in every department to give you an insight into the whole business. It ensured students didn't come out of university thinking that they know it all. Eventually, I became brand manager on 'fast moving consumer goods.'
Unilever went through a tough time and it was difficult to progress my career there, so we moved south and I became brand manager for wallcoverings at Crown Paints. Later, I worked for Chesebrough Ponds, which produced Vaseline. Whilst there, I was sent on a three-day marketing course in London and fell in love with the idea of training people.Before long I had a consultancy role, helping to train salesmen.
I particularly enjoyed working with the Irish tourist board and spent a great deal of time there, but after three years I decided to join one of our clients, Intertruck. I joined as a consultant and put together a very different kind of marketing plan that involved launching an Intertruck magazine, a new training school, a Miss Intertruck competition, and a £20,000 conference in Monte Carlo!
We took 120 of our customers to Monte Carlo and they loved it, so it worked. A year later, we took over the Hilton in Corfu. Our guests included Michael Barratt and Lord March and our after-dinner speaker was Eric Morecambe. We did splash the cash, but it worked as our turnover soared to over £10million. I was with Intertruck for five years, and left when it was taken over.
One of Intertruck's major customers was Cape Industries, based in South Africa. I joined them as general manager for two years. Then one night in 1982, I was having dinner with a friend who told me about a job at Barratt Homes. I said 'I don't know anything about housing!' to which he replied 'What have you known about anything you've ever done?' So I wrote to Lawrie Barratt and three months later was a sales and marketing director.
I moved to Ashington from Kent. Pam was not keen on moving as she was involved with the Tenterden Operatic & Dramatic Society (TODS). One year, I wrote a fairytale with all of the hallmarks of a pantomime. The play was called Secrets of Salty Sam and two years later I wrote a second production called Black Kate. The fairy was a 16-year-old called Nicki French, who later sang in the 2000 Eurovision Song Contest.
With Barratt, I had some fabulous years and the business grew considerably. We welcomed Prince Charles to open a development in Bracknell, as we were always seeking publicity. I became known as 'the retirement king' as we built retirement home developments, before I headed one of Barratt's timeshare operations, for which I was not always popular. The Daly Mail loved to have a dig at timeshare firms! Unfortunately, Barrett was badly hit by the 1991 recession and retreated from everything except its core business, which was housebuilding in Britain.
The 1990s were tough. I joined a recruitment company, before working with trade union GMB. I later joined Business Link, a government-funded scheme that allowed small businesses to work with consultants.
One on the companies I helped was P&M Products Ltd, which produced the Blo Pen, used to spray ink and create different effects. The directors of P&M had discovered the inventor demonstrating the Blo Pen on Brighton Pier. The business was ticking along, but they didn't really know anything about business plans and marketing, so I joined them as Managing Director.
Within a few years, we were turning over £20million and won the Queen's Enterprise Award. We re-branded the company as Colour Workshop and made the Sunday Times Fast Track 100 for two years in succession. Out of the blue, an American subsidiary bought the company, which was fantastic. I didn't want to work for the Americans, although they did offer me a position.
Later in my career, I become a mentor to companies and organisations in the developing world, by working with Oxfam. This work has taken me to countries including Uganda, Nigeria and The Philippines, with much of the work focusing on women's co-operatives. I also like to do a bit of mystery shopping, but it is my publishing work that takes up much of my time.
I was walking along Warwick Street in Worthing when I came across a blue plaque to Shelley, who had some of his poetry printed there. Around the corner was a plaque for Oscar Wilde and there was another one commemorating Harold Pinter. I thought about putting together some walks based on plaques but for commercial reasons switched my focus from Sussex to London. I compiled a book, London Plaques – 5 Fascinating Walks, based around Mayfair, Marylebone and St James's. I loved doing it because I've learnt a phenomenal amount about many interesting people.
I thought the plaques would make for an interesting talk and so put something together for the Women's Institute. That talk was well received, so I began to build a portfolio of talks covering The Cavern, plaques and all kinds of other subjects. I have just returned from my seventh cruise in two years as a guest speaker. My wife is always saying that I love talking about myself, so it's perfect work for me!
Doug's book on London Plaques is available through Amazon.